Reviewed by NEAL GENDLER
Mordechai Anielewicz is honored and memorialized for leading the Warsaw Ghetto uprising, in which several hundred Jews fought the German army nearly as long as had all of Poland four years earlier.
But it was Isaac Zuckerman, a Socialist Zionist youth leader since before the war, who organized and — as best he could — armed that fighting force, the larger of two in the ghetto.
If his name is unfamiliar, it's because he didn't lead the April 19, 1943, rebellion. Zuckerman was stuck outside, as liaison to the Polish underground's Home Army. Members of the Jewish Fighting Organization (ZOB) that Zuckerman and future wife Zivia Lubetkin created in July 1942 had chosen as revolt leader the recently arrived firebrand Anielewicz, age 23.
Zuckerman, 24, had founded a Labor Zionist Underground on Dec. 31, 1939, in Soviet-occupied Lvov, from which Lubetkin, 25, was sent to Warsaw to start a resistance organization. Bickering Jewish political factions — heavily leftist — had a hard time unifying. Rightist followers of Vladimir Jabotinsky formed their own Jewish Military Unit, with about 250 fighters to ZOB's 500.
Matthew Brzezinski has U.S. newspaper credentials from Moscow and Warsaw, where he became curious about the ghetto fighters. His interest intensified after marrying a Jew whose company assigned her to Poland for three years — her office situated in the heart of what had been the ghetto.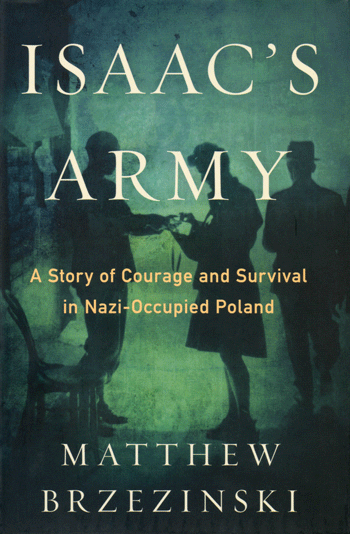 Isaac's Army draws on interviews with surviving ghetto fighters, Polish publications, unpublished diaries, archives and Zuckerman's "detailed and brutally frank memoir."
The result is compelling, easily read, and so unusually thorough in telling of the occupation — and Zukerman's efforts to build a coalition of fighters and to obtain weapons — that the revolt doesn't start until page 247. Details include Warsaw food allocations: 669 daily calories for gentiles, 184 for Jews, and 2,613 for German colonial administrators and ethnic German collaborators.
Gentile Varsovians depended on the black market and smuggling for 70 to 80 percent of their food, the ghetto, nearly 90 percent — much carried in by children and people who could pass as Aryan. Most valuable as ZOB message couriers were young women with good Polish, preferably blonde and attractive; they looked Aryan and often could flirt or charm their way through checkpoints. Some were caught and killed.
Lubetkin, who would fight in the uprising, looked too Jewish for outside work, but Zuckerman's fair complexion and hair enabled him to pass. No coward, he went to the occupiers' labor office to protest the taking of his Young Pioneers. Arrested, he was sent to a labor camp, interrogated and heavily beaten. Bribing his way out, he returned to Warsaw, then set off to warn Jews in other towns.
Rejected by a Home Army generally hostile to Jews, he reluctantly led his group into the Soviet-sponsored People's Army, which promised training and weapons. Few ever reached the ghetto, which depended mostly on the dribbles Zuckerman wheedled from the Home Army.
Brzezinski describes the deportations that by September 1942 had claimed more than 300,000 Jews, including 2,000 Jewish ghetto policemen. He gives a broad treatment to the revolt, subject of much writing by others, but follows a few lead characters.
As the revolt was collapsing, Lubetkin and fighter Marek Edelman organized an escape through sewers. Jews outside hired a truck to spirit away 80 weak, filth-covered fighters. Lubetkin and Edelman returned to Warsaw, where an estimated 28,000 Jews remained hiding in and around the city that October. ZOB's mission became helping them survive.
Zuckerman's People's Army rank paid off after the war, giving him a pass to travel anywhere, and access to food and other supplies for the estimated 11,500 Warsaw Jews who had survived the war, joined by returnees from the USSR. He ultimately persuaded Poland to allow Jews to leave.
Pregnant Lubetkin left with an immigrant group in June 1946, wanting to give birth in the eretz. By October, 115,500 Polish Jews had left, and Zuckerman, his work done, left to join his wife. She died in 1978, he in 1981.
Zivia's fighting genes live on in her granddaughter, Roni; in 2001, she became Israel's first female fighter pilot.
***
Neal Gendler is a Minneapolis writer and editor.
(American Jewish World, 11.23.12)