Reviewed by NEAL GENDLER
If you've ever wondered what America would feel like to someone from another planet, A Beginner's Guide to America is your answer.
Earthling Roya Hakakian arrives in the mid-1980s as an older teen, she and her mother fleeing a society so different it almost might be another world: Iran.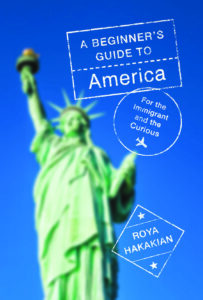 Here, she finds women in tank tops, hair uncovered; people talking aloud, not whispering; couples openly embracing and kissing; and big cities noisy in "all the ways that a people who have not been cowed into silence exercise their sonorous existence."
Here, one needn't fear large groups, which previously "meant a demonstration and riot police," she says.
Entering school, backpacks aren't inspected for forbidden books and CDs, your body not sniffed for forbidden perfume.
You log instantly into an uncensored internet. Arriving, you see the names on officers' uniforms: "Sanchez, McWilliams, Cho, Al-Hamad — and by God, all of them Americans!"
With a "white card," she says, an immigrant "will be a 'resident alien,' able to live and work in the United States, though for your foreseeable future you will feel the alien far more than the resident."
The hardest thing? "Learning to live with a heart that is not beating to the rhythm of some perpetual foreboding."
A Beginner's Guide is the third book by Hakakian, teacher at a writing workshop at Yale and a fellow at its Davenport College.
American life means great changes — for the better, but with practical, linguistic and emotional difficulties she describes with charm. Her witty insights — like Americans' obsession with weather — also are a delightful education for the American-born, helping us to understand the difficulties of the immigrant experience and to see ourselves anew.
"You wonder if the native-born truly grasp that the pairing of 'inalienable' and 'rights' is an invention as groundbreaking as that of the steam engine," she says. "Only you, whose ambitions had always to be tamed, by the fear of God, elders or the Leader, can recognize the majesty of the American design."
To such an immigrant, birdwatching may seem frivolous, but it is possible "because large swaths of time open up in the lives of those who no longer have to stand in line for basic staples or be anxious about the conflicts and crises that authoritarian governments invent to keep the masses busy."
But Hakakian's enchantment doesn't obscure observations of peculiarities and negatives, from what she considers the ungenerous oddity of "going Dutch" in restaurants to charity taking extremes of ostentatious fund-raising galas.
The second part of her book is called "Welcome to Selifstan," a nation in which a person believes that "the common individual [has] the same social standing as the nobility. So he believes he has inherent value."
One result is the particularly American drive for self-improvement.
In a section titled "Where 'I' is King," she says: "You should learn sooner rather than later that 'you' and 'I' are America's most celebrated pronouns."
Children are taught "to boldly begin with 'I' and forcefully state what the 'I' sees, hears, feels and believes in…. You, on the other hand, had to dodge the censors and other bureaucrats all your life. You worked hard to master the art of disguise, hiding your feelings and intentions….  to avoid arrest, interrogation and imprisonment."
But elevation of the self can lead to arrogant national self-centeredness.
The fancy rich "readily blame their government for much of what is wrong in the world," she says "Among this elite, being critical of America is not an opinion. It is faith.
"This kind of self-deprecation may be mistaken for modesty. But it is, in fact, a disguise for narcissism, for it places America at the center of all events, where her mere intervention, however brief, can forever alter a nation's destiny."
Eight pages lament the lot of undocumented immigrants, ever fearful of deportation and typically laboring at low-wage jobs Americans won't take — from picking crops to cleaning.
A Beginner's Guide to America, which deals cleverly with American norms, including romance, is "part memoir, part reportage and part a work of imagination." How much is the last scarcely matters.
"My greatest hope has been to give an unmediated access to a narrative that has become disfigured by overzealous emissaries on both sides of the political debate," she says.
The story of immigration "is the drama at the heart of the American identity," typical not of the rich or supremely talented immigrant, she says, but of those who will say: "We arrived with no English, only a few dollars, and no one to depend on. It was hard at first. Work was grueling, but look at us now."
***
Neal Gendler is a Minnesapolis writer and editor.
(American Jewish World, May 2021)