Reviewed by NEAL GENDLER
Life can be difficult when you're torn among three loves.
Mickey Simhoni is a graduate of Israel's famed Bezalel academy whose paintings and drawings sell readily, if under someone else's name.
Religiously unobservant, he loves Israel, risking his life an extra year in the army.
And he's consumed with slender, beautiful Niki, a half-Japanese Canadian he met by chance in Tokyo during a post-army trek across Asia.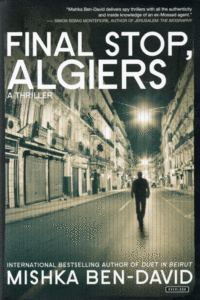 By the middle of Mishka Ben-David's interesting Final Stop, Algiers, Mickey has managed to draw these three loves together, if uncomfortably.
For one thing, he's living his professional life as Ronald Friedlich, to whom he bears such a strong resemblance that Mossad recruited him after coming across Friedlich's passport on the black market. Mickey believes that drug-addled Ron died somewhere in the desert and was buried by Beduins.
Mickey, 28, is troubled by impersonating the son of a Toronto couple that doesn't know he's dead.
Mickey had lived two childhood years in Canada and was a ready Mossad recruit after a Tel Aviv bus bombing killed and maimed people coming to his first exhibit. The dead included some of his high school art students and Dolly, with whom he was headed toward marriage.
Through Mickey, author Mishka Ben-David writes briefly but insightfully of the life-changing consequences of terror attacks for the survivors and for the families of both survivors and the dead.
Mickey's father, a son of Shoah survivors, is a combat survivor, terribly burned when his tank was hit during the Yom Kippur War. He has a brother living abroad about whom he refuses to speak. Mickey's mother is from an old Jerusalem family.
Final Stop, Algiers combines espionage and romance, the latter somewhat taxing credulity until an epilog in which almost everything is tied together happily, if rather too neatly.
Mickey's Mossad team leader, Udi, sends him to Toronto to learn all he can about Ron. (Astute readers will get a hint on page 89.) When Mickey visits Ron's college to find his records, who does he encounter working there but Niki! A decade after Tokyo, she's also working in her family's printing business, finding authors and developing her Japanese pride with martial arts.
"The best thing that could happen to me was happening at the worst time," Mickey says. "Who would I say I was? What would I tell her?"
They resume their torrid Tokyo romance, eventually he tells her, and Niki agrees to move with him to Israel. Even more, she decides to put her bright mind and samurai skills to work as a Mossad agent, telling Mickey she's doing so in loyalty to him, and not — like him — to Israel.
Some erotic detail helps us understand the depth of his love for Niki, but the strongest, most interesting and credible pages give us an idea of Mossad's deep, intensive training and meticulous mission planning.
Novelist Ben-David draws on his 12 years in Mossad to show how every foreseeable detail of an operation is planned and memorized: faces, places, cities, cover stories, actions and escape routes. Anything or everything might go wrong, so agents must be quick, flexible and creative to accomplish the mission without revealing their employer or being captured or killed.
An agent couple pretending to be lovers or spouses makes for good cover, but Niki's addition to Mickey's team begins to ruin their relationship. When Niki and graying, bulky Udi are out on a mission without him, Mickey becomes suspicious, then crazily jealous.
The title comes from the couple's last operation together, when they are arrested in Algiers.
An Israeli certainly could love a Canadian gentile with a Japanese father — and at the end, we learn why she so-readily took to him — but the conflict she creates in Mickey's Mossad career, and the apparently instant, unconditional embrace of her by his fiercely Zionist family, made me squirmy.
Still, Final Stop, Algiers, with a few typos and British terms, is a suspenseful, easy read, more realistic than many spy novels — and aren't they supposed to make readers squirmy?
***
Neal Gendler is a Minneapolis writer and editor.
(American Jewish World, 1.26.18)