As part of the Twin Cities' largest Hanuka party, traveling folk musician Ami Yares and Sagol 59 (Khen Rotem), an Israeli artist and rapper, will perform 7:45 p.m. Saturday, Dec. 12 at the St. Paul JCC, 1375 St. Paul Ave. The concert is for ages 21 and older.
The two musicians collaborated on the 2015 album The Promised Land: The Grateful Dead / Jerry Garcia Hebrew Project, which features Hebrew covers of songs by The Grateful Dead and Jerry Garcia. Vodka and latkes will be provided after the concert.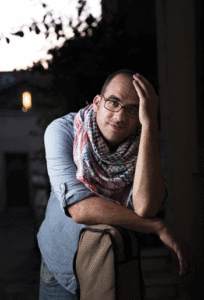 Yares will appear as part of the Culture Blvd 5 series, presented by the Israel Center of the Minneapolis Jewish Federation (12-4-15 AJW). His performance is co-sponsored by Temple of Aaron and the St. Paul JCC.
Tickets for the concert are $5; visit: http://bit.ly/amiyares, or contact Joshua Fineblum at 651-698-8874, ext. 103, or: joshuafineblum@templeofaaron.org.
The concert will be preceded by an all-ages family celebration from 6 to 8 p.m., with a glow-in-the-dark dance, light-up activities — including Ga-Ga and Laser Tag — Hanuka treats and a community candle lighting.
For information, visit: www.stpauljcc.org.