Renowned guitarist Jorma Kaukonen returns to Minneapolis with his Hot Tuna mates for two nights this month
By MORDECAI SPECKTOR
Near the end of A Serious Man, the 2009 film by the Coen brothers (who shot most of it in the Twin Cities), Bar Mitzva boy Danny Gopnik visits the elderly sage Rabbi Marshak.
The rabbi says, "When the truth is found. To be lies." He clears his throat and continues, "And all the hope. Within you dies. Then what?"
Rabbi Marshak clears his throat again: "Grace Slick. Marty Balin. Paul Kantner. Jorma…"
"Kaukonen," says Danny.
Hot Tuna at the Dakota July 21-22
"Something," says Marshak. "These are the members of the Airplane."
Then Rabbi Marshak hands over Danny's transistor radio, which had been confiscated during his Hebrew school class.
"Be a good boy," Marshak advises, in parting.
Rabbi Marshak apparently was captivated by the Jefferson Airplane's song "Somebody to Love," which appears on the group's 1967 album, Surrealistic Pillow. The Airplane exemplified the San Francisco psychedelic rock sound; and Rabbi Marshak was stumbling over the name of the ensemble's lead guitarist, Jorma Kaukonen (YOUR-mah COW-CO-NIN).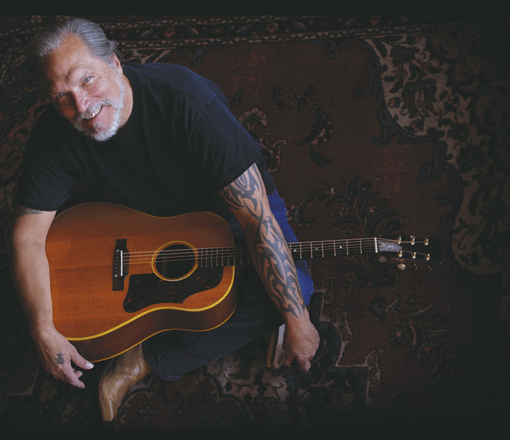 Although Kaukonen, 73, certainly doesn't have a stereotypical Jewish name, his maternal ancestry is Russian Jewish and he's comfortable talking about Judaism these days.
Post-Jefferson Airplane, Kaukonen has established a durable musical relationship with Airplane bassist Jack Casady; their group, Hot Tuna, has been recording and performing for about 45 years. Hot Tuna, which plays a unique blend of rock, folk, blues, bluegrass and spirituals, returns to Minneapolis for two four shows, July 21-22, at the Dakota Jazz Club.
It will be an acoustic show — "There won't be drums," says Kaukonen — and musical wizard Barry Mitterhoff, who plays mandolin and a variety of other string instruments, will round out the ensemble.
Kaukonen recently talked to the AJW by phone from his home in the hills of southern Ohio. Our last interview was in March 1996, when Kaukonen played the Ordway, as part of a Guitar Summit show. His most recent album then was titled Land of Heroes, a slice of Americana that was dedicated to his parents, Beatrice (née Levine) and Jorma Kaukonen, "as well as all the Kaukonens, Palmquists, Levines and Haskevitchs who came to America and made all this possible for me."
Since our chat in 1996, Kaukonen has learned more about the Levine branch of the family, with the help of his maternal grandmother's "last living first cousin, who's still alive." He mentions that these relations came from the Old World and "all raised tobacco in Connecticut. Go figure."
Kaukonen attended Catholic schools while living abroad; his father was in the U.S. Foreign Service. When we talked in 1996, he mentioned that his "spiritual context… tends to be Christian." The Rev. Gary Davis (1896-1972), a country blues legend, was a musical mentor.
But the musician's religious landscape has changed.
"What happened for me that was a really good thing, is about 10 years ago, my wife converted to Judaism. When she did this, I became involved in the whole process also," he explains.
"I never went to Hebrew school; but for whatever reason, over the years… most of my friends have been Jewish, many of the musicians have been Jewish."
The Kaukonens have become active members of the Jewish community in Athens, Ohio, home of Ohio University. He mentions that a lot of Jewish activities revolve around the campus Hillel.
"There is a vibrant Jewish community around here," he adds. "There's a big synagogue in Huntington, West Virginia, that I've been to a number of times, where when you come in, the guy with a cowboy hat [at the front door] actually says, 'Shalom, y'all.'"
Kaukonen says that he never misses the High Holidays services and plays for the shul's kids' services. "I feel very comfortable with everybody."
And the Kaukonen's have an adopted daughter from China, Israel Love (named after her paternal grandmother, Beatrice Love Kaukonen), 8, who's being raised Jewish, and will be starting Hebrew school soon. "She knows the words to the prayers, she knows all the songs," the musician proudly declares. "So, if I need to know something, I can ask her and she fills me in."
And a story about Jorma Kaukonen should mention Fur Peace Ranch, the family business located near their home, which combines a guitar camp with a busy performance space. You can click on the Fur Peace Ranch channel on YouTube and watch dozens of videos by musicians who have performed at Fur Peace Station, a 250-seat theater. The ranch also hosts youth Yom Kippur services.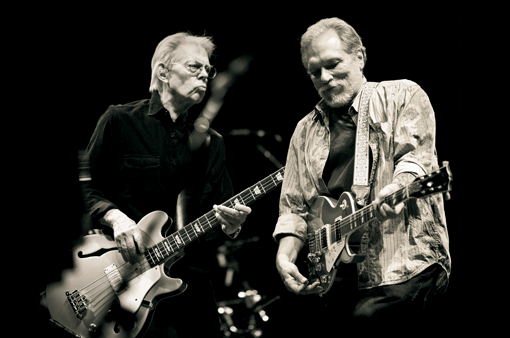 When I ask Kaukonen if he stays in touch with his old comrades from the Jefferson Airplane, he mentions that Marty Balin has performed at Fur Peace Ranch recently, and that he talks occasionally with vocalist Grace Slick — who no longer sings. However, Fur Peace Ranch has opened the Psylodelic Gallery (the main structure is a grain storage silo), which is showing artworks by Slick.
Getting back to Hot Tuna — the group's last studio album, Steady As She Goes, is on the local Red House Records label — while Kaukonen was extolling the talents of Barry Mitterhoff, I mentioned seeing him play mandolin with Margot Leverett and The Klezmer Mountain Boys, in 2004 at the Cedar Cultural Center. As it happened, Kaukonen was one of the guest artists on the group's 2008 album, 2nd Avenue Square Dance. He plays electric guitar on the title track and on "Electric Kugel," and plays acoustic guitar on the traditional "Tumbalalaika."
"Everybody in that band's a heavyweight, but Margo's brilliant, too," Kaukonen comments, about the hybrid klezmer and bluegrass ensemble.
So, Hot Tuna is available for Bar and Bat Mitzva parties?
"Well, funny you should mention it: I don't know about Hot Tuna, but Barry and I have done Bar and Bat Mitzvas, absolutely," replies Kaukonen, who adds that they're not so much the kids' musical choice, as that of the parents.
Asked about his repertoire of Jewish music, the former psychedelic guitar hero says, "Barry knows a lot of Jewish music, and he's taught me some stuff; and I'd have to review it before I play, because it's not second nature to me. Although I did learn how to play 'Shalom Aleichem' on the mandolin — that's my one mandolin tune."
***
Hot Tuna will play acoustic shows at the Dakota Jazz Club and Restaurant, 1010 Nicollet Ave., Minneapolis, 7 p.m. Monday, July 21, and Tuesday, July 22. NOTE: 9 p.m. shows have just been added for both nights. For tickets, call 612-332-1010, or go to: dakotacooks.com.
(American Jewish World, 7.4.14)