By MORDECAI SPECKTOR
It's unfortunate that it turned out this way.
The Minneapolis-St. Paul International Film Festival (MSPIFF) scheduled screenings of Iris, a documentary about 93-year-old New York fashion maven Iris Apfel.
Albert Maysles, who directed the film, died on March 5. He was 88.
Perhaps Maysles would have attended MSPIFF to promote Iris (reviewed below). Instead, his daughter, Rebekah Maysles, 37, traveled to Minneapolis, for a round of press interviews and a Q&A at the April 14 film screening.
(The film will have a theatrical release beginning Friday, May 15 at the Landmark Edina Cinema.)
She talked to the Jewish World about her father's work and legacy last month in the lobby of The Depot hotel, in downtown Minneapolis.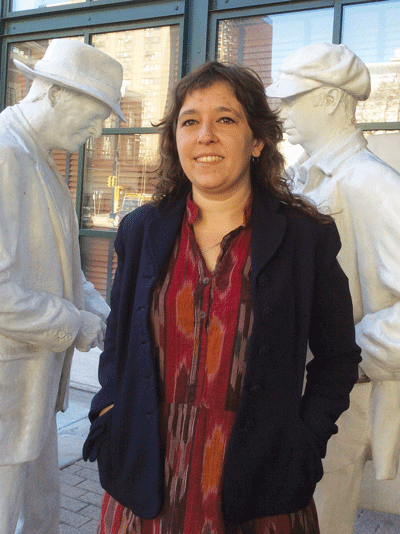 In the way of background, Albert Maysles and his brother, David Maysles, were among the most acclaimed documentary filmmakers in the world. They are best known for Salesman (1968), about itinerant Bible salesmen; and Gimme Shelter (1970), about the star-crossed Rolling Stones tour of America, which ended in a fan being murdered on camera at the Altamont concert in California. Both of those films included Charlotte Zwerin as a co-director.
The Maysles (rhymes with "hazels") brothers also created 1975's Grey Gardens, which focused on the elderly aunt and middle-aged cousin of Jacqueline Kennedy Onassis, two eccentrics living in a derelict East Hampton, N.Y., mansion.
David Maysles died in 1987, at the age of 55. After his untimely death, Albert Maysles continued to direct films and commercials. Much of his documentary work, both as a cameraman and director, focused on renowned musicians, including classical pianist Vladimir Horowitz, conductor Seiji Ozawa (Ozawa), opera singer Jessye Norman, soul singer Otis Redding, and the Beatles (The Beatles: The First U.S. Visit).
"There were a lot of work-for-hire projects that he did in the '80s, a lot of beautiful music films, that didn't really go that far," Maysles commented, regarding her father's work that she's been catching up with over the past two years.
"He loved classical music, really loved it," she added.
Maysles also mentioned a film called Showman, about legendary Hollywood producer Joseph E. Levine, featuring actress Sophia Loren. The film has never been shown publicly.
And Rebekah Maysles also is the managing director of Maysles Films, Inc., the Maysles brothers film archive based in Harlem. The nonprofit organization includes a movie theater and educational programs to encourage the next generation of documentary filmmakers.
Regarding Iris, the ostensible topic of the interview, Maysles allowed that traveling around in support of the film, so soon after her father's death, "has been a little bit intense. It's been kind of strange. He would definitely be at all the festivals and all the premieres, if he was well."
She said that the original plan was that "Al and Iris" would travel around promoting the film and do all the press interviews.
"He did get to see it at the New York Film Festival, which was great, to see it on a big screen" last October. Iris Apfel also attended the screening and the after-party.
Iris had its origins with co-producer Jennifer Ash Rudick, whose mother was a friend of Iris Apfel. "Jennifer came to us and said, I think you should meet this woman, she's really amazing, she's a really hard worker, you should make a film about her," recounted Maysles. Albert Maysles finally met Iris, and "they really hit it off."
Filming Iris took place over several years, according to Maysles, who said she came into the project during its "second wave" and did "what producers do … figure out what the loose ends are, make the shoots happen, work and consult with the editor. It was a definite collaboration. Laura Coxson was the other producer, and she stayed with it from the beginning."
Albert Maysles, in addition to his directing credit, also was the main cameraman on Iris.
Her father "was always against the role of director," but acknowledging his "sensibility … and approach to filmmaking, he definitely directed the film."
Maysles said that she was "raised around film and raised around artists."
She recalled her "first project" with her father, a trip to North Korea, when she was 16. He needed a photographer. "It did not become a film. It was a very crazy project … but it was great to travel with him and be with him. I'd never been to Beijing or Asia."
Maysles also mentioned that her father tended to become friends with the subjects of his documentaries. She recalled Keith Richards, of the Rolling Stones, calling the house to talk with her father. Paul McCartney also would call.
In addition to her film work, Maysles is an illustrator, and she recently did the illustrations for Chef Marcus Samuelsson's new cookbook, Marcus: Off Duty, which was published last year. Samuelsson — who was the proprietor of Aquavit in Minneapolis (Aquavit, the New York City restaurant, is still open) — is a family friend.
Albert Maysles also finished shooting a film called In Transit, which is about the Empire Builder, the Amtrak passenger train that runs from Chicago to Seattle.
Since the Great Northern Railway, the precursor of Amtrak in the Northwest, was operated by 19th century tycoon James J. Hill, of St. Paul, perhaps Rebekah Maysles will consider returning to the Twin Cities when the film is released.
(American Jewish World, 5.8.15)
Michael Fox's review of Iris is included below the film's trailer.

Review: Sages Iris and Albert share the secrets of life
Flamboyant interior designer Iris Apfel and her husband, Carl, have done work for every White House from Truman to Clinton
By MICHAEL FOX
Reaching an advanced age, in and of itself, is no great achievement. But living the golden years with brio, purpose and creativity is a feat that deserves to be celebrated.
That's the ethos and appeal of the vibrant documentary Iris, which shakes out as an homage to elderly Jewish icons on both sides of the camera. A portrait of the 90-something New York interior designer, collector, model and fashion maverick Iris Apfel, the film also serves as a eulogy to its director, Albert Maysles, the cinema vérité pioneer who died in March at 88.
If that sounds like a recipe for self-congratulation and self-indulgence, you don't know Iris and Albert. They're much too preoccupied with today's to-do list to waste precious time loitering over past triumphs or honors.
Iris opens Friday, May 15 at the Landmark Edina Cinema.
Iris introduces its anything-but-shy subject modeling a couple of her vivid ensembles for Albert's camera, accessorized to the hilt with multiple bracelets and necklaces. She has no rules, she tells us. If it works, it works.
What she does have, we come to realize, is style and taste. Admittedly, it's an advantage to be able to mix and match impeccably crafted designer pieces made from top-drawer materials, but let's be honest: Very few people could pull off Iris' iconoclastic combos. (Or her cartoonishly oversize glasses with the black frames.)
Consciously integrating (wearable) art into her everyday life, Iris embodies the spirit of freedom. By extension, her flamboyant approach gives everyone on the street permission to go a bit further out on the limb.
It takes a certain confidence — or indifference to what people think — to dress and live that way, but thankfully Iris is neither dogmatic nor conceited. That's what makes it so much fun (a word she uses a lot) hanging out with her. She is who she is, and has no problem accepting it. Asked about plastic surgery, she dispatches the notion with a couple of incisive insights and a pithy one-liner, "Some very important people I know, they come out looking like Picasso."
Albert's films unfold in the present, so he doesn't explore his subject's Jewish background. The only insight we get into her upbringing is that her mother went back to work when Iris was 11 and she felt so abandoned that she decided never to have children lest they resent her for putting her career first.
We do get a glimpse of the Christmas train that's permanently set up in Carl and Iris' expansive Palm Beach pad. The association with a certain holiday aside, the snippet confirms a friend's affectionate description of the couple as "children."
Carl and Iris got into interior design after the war, and started a company called Old World Weavers that obtained quality fabrics and furnishings from around the globe for their high-level clientele. How exclusive were they? Let's just say the couple did work for every White House from Truman through Clinton. (It's too bad Iris cuts Carl off when he starts to dish about Jackie Kennedy.)
The business supported a Park Avenue lifestyle and Iris' endless shopping expeditions. One of the film's highlights is a visit to their storage loft — loft, not locker — that evokes the breadth of Carl and Iris' decades of travels and purchases. They ought to offer tours of the place.
Near the end of the film, Iris observes, "Most of the world is not with me, but I don't care." She's referring to her unwillingness to be impressed by prettiness in other people, but she could be talking about practically anything.
Iris exudes the joy of marching to her own drummer, but she makes no bones that her path — or fashion in general — are for everyone.
"It's better to be happy than well dressed," she declares at one point. As with every other pearl of wisdom Iris drops, we know she means it.
***
Iris opens Friday, May 15 at the Landmark Edina Cinema, 3911 W. 50th St.
(American Jewish World, 5.8.15)