Alexander Fiterstein will be the featured artist for the Oct. 20 TAMID fundraiser at Adath Jeshurun Congregation
By MORDECAI SPECKTOR
Alexander Fiterstein likely isn't a household name in the Twin Cities; but in classical music circles, the 35-year-old clarinetist is gaining a wide following.
This month he released his first album, Carl Maria von Weber (Bridge Records), which is comprised of two clarinet concertos and the Concertino in E-flat major, all penned by the German Romantic composer. In December, Fiterstein will perform at the Kennedy Center in Washington, D.C., with his ensemble, the Zimro Project, in a concert of Russian Jewish chamber music that hasn't been played publicly for nearly 100 years.
The clarinet professor at the University of Minnesota also was named co-artistic director, with cellist Nicholas Canellakis, of the Sedona Winter Musicfest, which takes place in January, in Carefree, Ariz. And Fiterstein has an April date to perform in New York City with the Chamber Music Society of Lincoln Center. Before heading east, he has two Minnesota Sinfonia concerts set for late March, and will play Weber's Clarinet Concerto No. 1 in F minor, op. 73.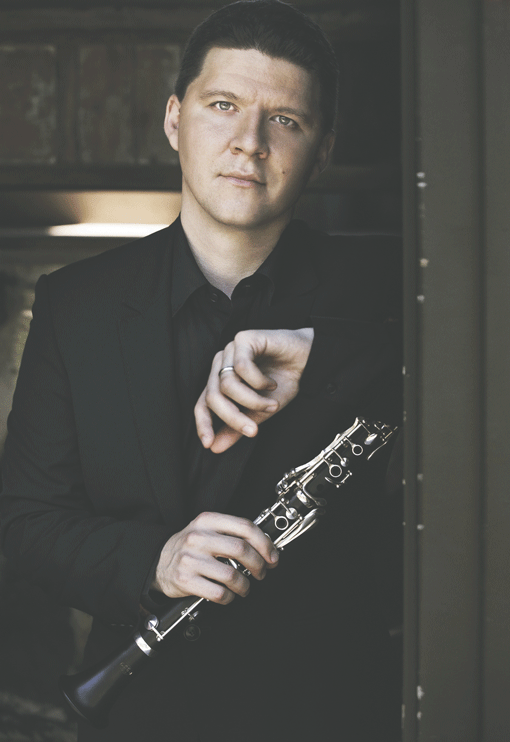 On Oct. 20, Fiterstein will be the featured artist, performing with a cast of virtuoso musicians, in what promises to be an enchanting evening of music at Adath Jeshurun Congregation in Minnetonka. The program is titled "Classics to Klezmer," and the event is the annual fundraiser for TAMID (Theater, Art, Music, Israel and Dance).
In a telephone interview last week, Fiterstein told the AJW that the concert will feature classical works with a chamber group in the first part. After a brief intermission, Fiterstein will let loose on some lively klezmer numbers.
Actually, the division between classical and klezmer will not always be so distinct.
Fiterstein notes that the concert's opener, Overture on Hebrew Themes, by Sergei Prokofiev, is "kind of a mix between classical and klezmer or Jewish music." The work feature Fiterstein on clarinet, with a string quartet and a pianist.
The piece was commissioned, in 1919, by the Zimro Ensemble, when Prokofiev and the Russian sextet were all in America. The group's clarinetist and leader, Simon Bellison, gave Prokofiev a notebook of Jewish folksongs. (One source says that Bellison, who later became principal clarinetist of the New York Philharmonic Symphony Orchestra, composed the melodies himself.) Prokofiev quickly completed the Overture on Hebrew Themes, which had its premiere in New York, on Feb. 2, 1920, with the composer as the guest pianist. The Zimro Ensemble, which disbanded in 1922, performed the work two more times at Carnegie Hall.
In 2008, Fiterstein formed the Zimro Project, which brings Jewish art music into chamber music programs. The group draws inspiration from the old Zimro Ensemble, from St. Petersburg, Russia. As previously mentioned, the Zimro Project will perform at the Kennedy Center on Dec. 1. The Hanuka concert, "The Voice of the Clarinet in Jewish Classical Music," will be presented under the auspices of Pro Musica Hebraica (promusicahebraica.org).
Getting back to the Oct. 20 concert at Adath Jeshurun, Fiterstein commented that the first portion of the evening also will feature Mozart's Clarinet Quintet, which he said is "one of the greatest chamber music pieces ever written for clarinet and strings."
After an intermission, Fiterstein will play Darius Milhaud's Suite for violin, clarinet and piano, Op. 157b. The French Jewish composer's piece "is mostly classical, but has some folk elements," explained Fiterstein. He added that his wife, Meira Silverstein, will join him on violin. The couple came to Minnesota three years ago, when Fiterstein was hired to teach clarinet at the U of M. They have two children, a boy, Dani, 5, and a girl, Adinah, 2, and live in Minneapolis.
Leading off the klezmer part of the bill is a tune called "Zogeches and Freilachs," about which Fiterstein comments, "We don't know who wrote that piece, it's obviously 19th century." He said that the title was written in Yiddish on the manuscript.
"It's a magical piece, especially the slow part of it," he says. "It's very intricate and interesting, and it has like a cantorial or almost a religious quality to it."
Fiterstein said that he commissioned Lev "Ljova" Zhurbin to arrange the klezmer tune of unknown provenance. Zhurbin, who was born in Russia, plays in klezmer groups in New York and writes movie music scores; he attended Juilliard with Fiterstein. The klezmer portion of the TAMID concert will include two other songs also arranged by Zhurbin, from the repertoire of the late, great klezmer clarinetist Dave Tarras (1897-1989), "Zaide's Tanz (Grandfather's Dance)" and "Sirba."
The concert also will include a performance of Israeli composer and pianist Ronn Yedidia's "World Dance." Fiterstein played on Yedidia's album of contemporary chamber music, Impromptu, Nocturne and World Dance (Naxos).
"World Dance" is a spritely piece that weaves the instrumental voices in an intriguing way. Its opening passage recalls Aaron Copland's Americana pieces. Is it classical music, or what?
"Yeah, it's hard to explain," Fiterstein responds. "It's definitely classical, in the sense that it's written out and it's conceived in a classical way — everything is thought out." He adds that "World Dance" has "this kind of easygoing quality about it."
The personable clarinetist was born in Minsk, Belarus, then emigrated to Israel, at the age of two. In Israel, his musical talent was recognized and the American-Israel Cultural Foundation provided the means for the young clarinetist to take private lessons. So, young Fiterstein took the bus once a week from his home in Nazareth Illit to Tel Aviv.
As a teenager, Fiterstein attended Interlochen Center for the Arts, in Michigan, and then studied at Juilliard in New York City.
In addition to playing with chamber music groups around the world, Fiterstein has appeared as a soloist with leading orchestras in the United States and abroad, including the China National Symphony Orchestra, the Czech Chamber Orchestra, the Danish National Radio Symphony Orchestra, the Israel Chamber Orchestra, the Jerusalem Symphony, the Orchestra of St. Luke's at Lincoln Center, the Simon Bolivar Youth Orchestra of Venezuela, the Tokyo Philharmonic, and the Vienna Chamber Orchestra.
In 2009, he received the prestigious Avery Fisher Career Grant.
Classical music critics praise the young clarinetist's playing: reviews note his "beautiful liquid clarity" (New York Times), and how he "treats his instrument as his own personal voice, dazzling in its spectrum of colors, agility and range" (Washington Post).
What is Fiterstein thinking about and attempting to accomplish when he plays clarinet onstage?
"I'm trying to make [the music] come alive… bring out the essence of what the piece is. I always keep working on my skills, to be the best player that I can be in order to do these things. So it's a never-ending quest to keep getting better — and you always want it to be better than the last time. Also, connecting with the audience, feeling that feedback when they really get what you're trying to do; it's a great feeling."
***
Alexander Fiterstein and Friends will perform "Classics to Klezmer" 7 p.m. Sunday, Oct. 20 at Adath Jeshurun Congregation, 10500 Hillside Lane W., Minnetonka. A dessert reception will follow the concert, which is a benefit for the shul's TAMID program. For tickets, call the TAMID hotline at 952-215-3930, or go to: adathjeshurun.org/tamid.
(American Jewish World, 10.11.13)