Running to Make a Difference, by Leonard Levine, Bascom Hill trade paperback, 236 pages, $17.95
Reviewed by NEAL GENDLER
Leonard Levine says he's "lived the American dream": a university education, success as a college athlete, elected seven times to the St. Paul City Council, eight years in former Gov. Rudy Perpich's cabinet and then success in business.
But in Running to Make a Difference, which Levine says he wrote as a record for his family, he calls being the father of three successful children his greatest accomplishment. He notes that once he and his wife, Carole, became parents, they worked out their schedules to almost always have dinner as a family.
Sounds like someone with the right priorities.
Levine's life isn't rags-to-riches, but money was tight in his Lower West Side St. Paul family. His father was a union printer who sometimes needed to work a second job. Lenny, the younger of two sons, worked in college. As a politician, he campaigned with labor endorsements and generally tried to make life better for ordinary folks.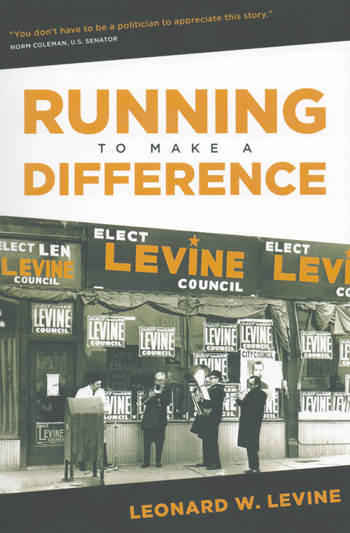 The title apparently plays off those efforts and his three-letter, record-setting track stardom at the University of Minnesota, where, on a Folwell Hall stairway, he spotted the pretty Duluth girl to whom he's been married since 1963.
Both became teachers (Carole for 31 years in St. Paul public schools). Named Outstanding Young Educator of 1967 by the St. Paul Junior Chamber of Commerce, Levine was encouraged to run for city council in 1968. He lost. Succeeding in 1970, he began a 20-year political career for which he credits much of his success to his ability to bring people together. That caught the attention of Gov. Rudy Perpich, who made him welfare commissioner in 1983.
At City Hall, Levine pushed for the creation of neighborhood health clinics and chaired the Transportation and Development Committee, presciently proposing re-use of Union Depot as a bus and commuter-train terminal. He later served simultaneously on the Metropolitan Transit and Airports commissions. In 1970, he advocated having city firefighters become paramedics; they later rescued his father and uncle.
After heading city public utilities, he was moved — demoted, in political eyes — to head libraries, where he learned that to make room for new books, 30,000 to 40,000 worn or unpopular volumes were destroyed annually. That seemed wasteful, so in 1971, he organized the city's first library book sale, where block-long crowds bought all but 15 books.
Perpich, whom Levine twice calls Minnesota's best governor, installed Levine as commissioner of welfare — the 7,500-worker department he renamed Human Services. His grandmother's sad experience led him to end a requirement that elderly homeowners seeking public assistance must sign over ownership to the county.
Perpich was "a visionary, with tons of ideas," Levine says, and working for him was "always a great adventure." Some ideas got Perpich labeled the hurtful "governor goofy." Levine says reporters occasionally set up outside the governor's mansion, hoping he'd emerge with a juicy quote. Instead, he says, the Perpiches would leave by a back door and drive to the Levines' in Highland Park for coffee, tea and watching the nightly newscasts.
Made commissioner of transportation, Levine traveled across the state for 17 months building public support for a badly needed gasoline tax increase. He also sponsored what became Metro Mobility, the "Adopt a Highway" program, and naming the airport charter terminal after Hubert Humphrey.
After Perpich's slender loss to Arne Carlson in 1990, Levine began a consulting business. Once a government official to whom people came to get things done, now he was on the other side of the desk. Levine makes some pointed observations about succeeding governors and would-be governors who lost by not waiting their turn in party seniority.
Running is pleasant to read and generally avoids boasting, although Levine succumbs when writing about his adult children (and who doesn't?). For writing help, he credits long-time assistant Gloria Chada, editor Marly Cornell and my former Star Tribune colleague Joe Kimball, who now reports for MinnPost.
Photos range from immigrant grandparents through 2011. One of the loveliest is from 1962: snappily dressed Leonard and Carole perched on stools, holding hands, almost glowing.
***
Neal Gendler is a Minneapolis writer and editor.
(American Jewish World, 2.15.13)