The festival will celebrate its 20th year with award-winning international films, Minnesota premieres and a lineup with something for everyone
AJW Staff Report
Jerome Felder was born in Brooklyn in 1925, and afflicted with polio in his youth. Still he dreamed of becoming a heavyweight prizefighter — the first-ever champion on crutches. As a teenager, Felder reinvented himself as a blues singer; with the stage name Doc Pomus, he performed and recorded with black musicians and for mainly black audiences in Harlem.
Although the young Jewish kid held he own on the bandstand belting the blues, Doc Pomus made his mark in the culture as a songwriter (working with the legendary team of Leiber and Stoller, and then with longtime partner Mort Shuman), with such R&B and pop classics as "Save the Last Dance for Me," "This Magic Moment," "Can't Get Used to Losing You," and "A Teenager in Love."
The incredible life of this American original from a Jewish immigrant family is captured in A.K.A. Doc Pomus, a documentary that will open the Minneapolis Jewish Film Festival on Feb. 28.
Pomus also wrote tunes for Elvis Presley, who was churning out movies that required many musical numbers. Pomus and Shuman brought Elvis a song called "A Mess of Blues," then penned "Viva Las Vegas," "Little Sister" and "Suspicion" for the King of Rock 'n Roll.
This affecting biopic, directed by Peter Miller (Jews and Baseball: An American Love Story) and Will Hechter, charts the ups and downs in the life of Doc Pomus. The film features interviews with Jerry Leiber (who died in 2011) and Mike Stoller, Dr. John, B.B. King, Ben E. King, Dion, daughter Sharyn Felder (who conceived the film and an earlier tribute album, Till the Night Is Gone), and close friend Lou Reed, who reads from the songwriter's private journals.
A.K.A. Doc Pomus kicks off the 20th anniversary season of the Sabes JCC annual Minneapolis Jewish Film Festival at 7 p.m. Thursday, Feb. 28. An opening night reception will follow the screening.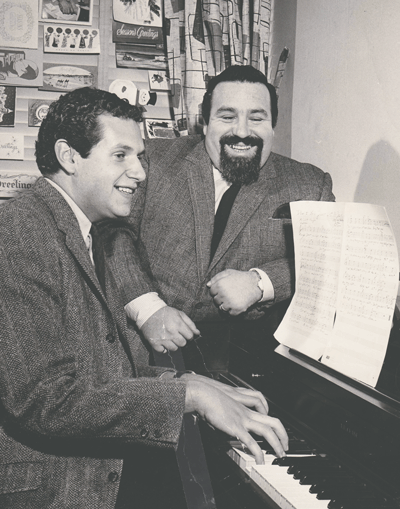 Nineteen films — 18 of which are Minnesota premieres — will be shown, from Feb. 28 to March 17, ranging from drama to comedy to adventure, as well as several powerful documentary films.
The festival will close with The World Is Funny, Israel's number-one box office hit, on Sunday, March 17 at the Walker Art Center in Minneapolis. A closing night reception will follow the film showing (food will be non-kosher, dairy only).
All films will be shown at the Sabes JCC, 4330 Cedar Lake Rd. S., St. Louis Park, unless otherwise noted. The festival schedule, after A.K.A Doc Pomus, is as follows:
• Life in Stills, 8 p.m. Saturday, March 2 with visiting speaker Ben Peter, followed by a gallery opening and reception in honor of Lil Raen; and 2 p.m Sunday, March 3. Ninety-six-year-old Miriam and her grandson, Ben Peter, join forces to save her late husband's shop, The Pri-Or PhotoHouse, which is destined for demolition, and its nearly one million negatives documenting Israel's defining moments. The accompanying art exhibits will include photos by Rudi Weissenstein and local artist Ann Ginsburgh Hofkin. Presented with support of Rimon: The Minnesota Jewish Arts Council, an initiative of the Minneapolis Jewish Federation.
• Short film: Music Man Murray, 2 p.m. Sunday, March 3 (prior to Life in Stills screening). This delightful documentary reveals how 90-plus-year-old Murray Gershenz collected more than 400,000 albums, making his Hollywood store one of the largest music libraries in the world.
• 6 Million and One, 4 p.m. Sunday, March 3. An eloquent and surprisingly humorous portrait of documentary filmmaker David Fisher and his siblings, as they retrace the footsteps of their late father — a Holocaust survivor who was interned in Austria.
• Room 514, 7 p.m. Sunday, March 3. Anna, a Russian émigrée and police investigator in the Israeli military, is ordered to interrogate a senior officer who is alleged to have abused an Arab family, but then advised to stop. She steadfastly pursues the case, but her idealism might have far-reaching consequences.
• Supporting Characters, 7 p.m. Tuesday, March 5 at St. Anthony Main Theatre, 115 S.E. Main St., Minneapolis. Best friends Nick and Darryl are a New York film editing duo hired to salvage a botched comedy, and what starts as a simple job quickly sends their relationship reeling. The film offers a "hip, fun and sharp, 'knowing' take on life and love in the big city." Hosted by the Minneapolis St. Paul International Film Festival, presented by the Film Society of Minneapolis St. Paul.
• The Last White Knight, 7 p.m. Wednesday, March 6. Decades after a violent run-in with young Ku Klux Klan thugs, Jewish civil rights activist and Emmy Award-winning filmmaker Paul Saltzman returns to Mississippi for a riveting conversation with his assailant, the son of the man convicted for assassinating NAACP leader Medgar Evers. Supported by the Jewish Community Relations Council of Minnesota and the Dakotas (JCRC).
• Arab Labor, 7 p.m. Thursday, March 7, with special guest, Sayed Kashua, one of Israel's most celebrated authors and the creator of Arab Labor, a raucous and irreverent, critically acclaimed comedy series. The series centers on Amjad, a Palestinian journalist and Israeli citizen in search of his identity. Co-sponsored by the Israel Center of the Minneapolis Jewish Federation as part of Culture Blvd II, the Israeli author series. (The AJW will feature an interview with Kashua in the March 1 edition.)
• No Place on Earth, 8 p.m. Saturday, March 9, with visiting speaker Chris Nicola, followed by a reception and book signing. In 1996, Chris Nicola, a former New York City cop and world-renowned cave explorer, made a discovery in the largest cave system in the Ukraine, where five families had lived for more than 500 days to escape the Nazis — the longest recorded underground survival in human history.
• Max Raabe in Israel, 2 p.m. Sunday, March 10. When wildly popular Berlin-based singer Max Raabe and his Palast Orchestra travel to Israel with their show of 1920s and '30s German hits — written primarily by Jewish songwriters who didn't survive the war and made famous by such talents as Marlene Dietrich and Irving Berlin — the reaction is dramatic. With support from the Howard B. and Ruth F. Brin Jewish Arts Endowment Fund.
• Short film: Becoming Henry (world premiere), 4 p.m. Sunday, March 10 (prior to I Shall Remember screening). Based on a true story from the book An Unbroken Chain: My Journey through the Nazi Holocaust by the late Henry A. Oertelt, a member of the local Minneapolis community.
• I Shall Remember, 4 p.m. Sunday, March 10. Based on a true story set in a small seaside town in occupied Southern Russia. Thirteen-year-old Vadik lives by the rules of the street. The historical drama is an evocative tale of courage under the most difficult of circumstances.
• Paris Manhattan, 7 p.m. Sunday, March 10. Under constant pressure to marry from her increasingly anxious Jewish parents, 30-something Alice seeks refuge in the world of Woody Allen, engaging in imaginary conversations and surrounding herself with images of the iconic filmmaker.
• The Other Son, 7 p.m. Tuesday, March 12. In this compelling and provocative fictional narrative film, Joseph takes a blood test in preparation for military service, which reveals that he isn't the biological son of his Jewish parents. After a surprising discovery, the lives of two boys, one Israeli and other Palestinian, and their two families are turned upside-down (11-9-12 AJW).
• Roman Polanski: A Film Memoir, 7 p.m. Wednesday, March 13. This documentary tells the extraordinary story of internationally renowned film director Roman Polanski's life. And perhaps most moving are the harrowing accounts of his childhood in the Kraków Ghetto, where he narrowly escaped Nazi capture.
• Melting Away, 7 p.m. Thursday, March 14. This heartfelt Israeli drama is the story of a Tel Aviv family drawn into crisis after the parents discover their son is secretly a cross-dresser and expels him from home. It is the first Israeli feature film dealing with parents learning to understand their transgender child.
• The Day I Saw Your Heart, 8 p.m. Saturday, March 16. Mélanie Laurent stars as a 20-something struggling with commitment issues in this touching French comedy-melodrama that tackles thorny father-daughter relationships.
• In Heaven, Underground, 12 p.m. Sunday, March 17. Award-winning director Britta Wauer paints a "charming portrait" of the peaceful and secluded 130-year-old Weissensee Jewish Cemetery, which lies north of Berlin's city center. It is the largest Jewish cemetery still in use in Europe and was one of the few institutions to remain in Jewish hands during the Nazi regime.
• The World Is Funny, 4 p.m. Sunday, March 17, with closing reception to follow, at the Walker Art Center, 1750 Hennepin Ave., Minneapolis. After eight years, a young man awakens from a coma, bringing to light a big secret from the past. Meanwhile, a travel agent discovers she is pregnant, although she has been celibate for years. At the same time, a radio host decides to revive an Israeli comedy group, HaGashash HaHiver, in order to save his love. The film garnered a record-breaking 15 Ophir (Israeli Academy) Award nominations.
For tickets and information, visit: www.mplsjff.org, call 952-381-3499 or e-mail: tickets@sabesjcc.org.
(American Jewish World, 2.15.13)