By MORDECAI SPECKTOR
After 16 years on the job at the Jewish World, I have met Jews from all corners of the world. Last week I met my first Jew from the Congo.
Specifically, the Democratic Republic of the Congo, the homeland of Kabuika Kamunga.
She has been attending a Jewish studies course at Bais Chana Women's Institute, a Chabad-Lubavitch initiative in West St. Paul. Following a lecture by Rabbi Manis Friedman, the Bais Chana dean, Kamunga talked to the Jewish World about her path to Judaism and her studies.
Regarding her upbringing, Kamunga left the Congo at age 18. She has been living in Chicago, so when people ask where she is from, she replies, "From ChiCongo."
As it turns out there are both Jewish immigrants and Congolese Jews in the DRC (which was formerly Zaire, and not the same as the Republic of Congo, which lies to the west of the DRC). Kamunga said that there is a Chabad House in Kinshasa. When asked who are the native Jews, she replied, "Us, the Luba people."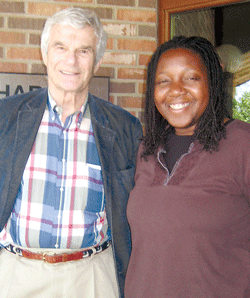 Kamunga could not say anything definitive about the Jewish roots of the Luba tribe, one of the many ethnic groups in a country with a diverse population of nearly 71 million. "I am still researching it and interviewing people," she said, regarding the Luba-Jewish connection.
Eight years ago, when she was 35, Kamunga converted to Judaism, under Conservative auspices. When her father announced at a family gathering that his daughter "is Jewish now," one of Kamunga's uncles told her that their Luba ancestors have always said that they are from Jews.
During a recent visit to Rochester, Minn., she met Rabbi David Greene, who runs the Chabad Lubavitch center there. He recommended that she look into Bais Chana, and Kamunga said that she has been enjoying the intense seminar on Torah and Tanya, the Hasidic book of biblical commentary.
Regarding her conversion, Kamunga said that "it felt right. I was inexplicably drawn to Judaism…. Maybe it was the Jewish family values that were familiar to me, much more so than the values of mainstream Americans."
Kamunga is working on earning an MBA from Maharishi University in Fairfield, Iowa. She has worked as a journalist in the United States and South Africa. In Chicago, she hosted The Global Overnight Show for Chicago Public Radio.
Kamunga blogs at: kabuika.freehostia.com/wordpress. If you go to her blog, you can watch her Web video titled "Life at Bais Chana," which will give you an idea of her experiences here. (You can also see the AJW editor davening with tefillin, at 1:48.)