Reviewed by NEAL GENDLER
Vasily Grossman's writing sneaks up on you, its simplicity building to powerful impressions as he records the small things that occur in people's lives as they experience — or endure — larger events.
The Road is a short anthology in five sections with introductions — indispensable for most of us Westerners — describing his life and the distinct Soviet periods in which he wrote. The most compelling pieces are from World War II, when Grossman became one of the USSR's best-known war correspondents, writing for the newspaper Red Star.
Particularly interesting is his struggle with political correctness — the original version — so rigid that some works didn't appear for decades. The book he considered his masterpiece, Life and Fate, was "arrested" in 1961 by the KBG, along with his carbon papers and typewriter ribbons, and not published in Russian until the late 1980s — in Switzerland.
Grossman was born in 1905, in Berdichev, a heavily Jewish Ukrainian city. His educated, Russified middle-class parents named him Iosif but called him Vasily. They separated in his childhood, and he was raised by his mother.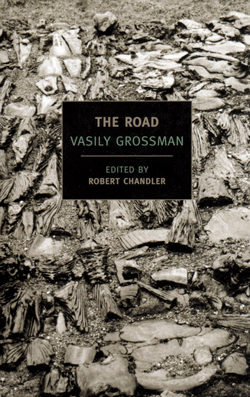 Grossman won admiration from accomplished writers for a 1934 short story, set in Berdichev, about the Polish-Soviet war. His later story about the massacre of Berdichev's Jews has a subtlety and restraint that empower its ending — or what should have been the ending. Instead, there's a propagandistic conclusion that he either believed or needed to attain publication; it reminds me of Scarlett O'Hara's "I'll never be hungry again!"
One of the Berdichev Jews murdered on Sept. 15, 1941, was his mother. The pain of this loss shows in letters he wrote on anniversaries of her death and seems to appear in the many mentions of mothers in his stories.
In autumn 1942, Grossman was sent to Stalingrad, where he lived for three months with troops in combat. His reports brought him renown, and he continued to cover major battles to the fall of Berlin — including Kursk, the world's largest tank battle.
Later, Stalingrad became the subject of what Chandler calls two epic novels. One, For a Just Cause, led to such a struggle that the state archives contain 12 typed versions. The book's type was set and then broken up three times, and Grossman even wrote to Stalin in 1950, seeking a decision. It finally appeared in 1952, in a periodical.
The Soviet army reached the remains of Treblinka in early August 1944. Grossman's "The Hell of Treblinka," dated September, begins with typical simplicity, but gains a penetrating momentum, almost unnoticeably switching tone and point of view among victims, perpetrators and nearby peasants. The result is a spellbinding description of the workings of mass murder and the subsequent attempt to hide the evidence by exhuming and burning hundreds of thousands of bodies. Grossman's errors are corrected in notes and a valuable appendix.
From 1943 to 1946, Grossman and Ilya Ehrenberg worked for the Jewish Anti-Fascist Committee, writing a documentary account of the destruction of Polish and Soviet Jews. The Black Book was ready for production in 1946, but withheld; the printing plates were destroyed in 1948. (Their usefulness over, most committee members were destroyed, too.) It was published in Tel Aviv in 1970, and in Kiev in 1991.
Grossman was successful in the second half of the 1950s, but his last years were troubled by the loss of Life and Fate. His health declined, and by the time he died of lung cancer in 1964, he had become a Soviet non-person.
The Road is an important introduction for those unfamiliar with Grossman. It includes a useful chronology and valuable footnotes that are listed by page number at the end. Oddly and annoyingly, the text provides no clue that the footnotes exist. But don't let that be a deterrent. This compact book is a bargain.
***
Neal Gendler is a Minneapolis writer and editor.
(American Jewish World, 6.24.11)