Born Survivors: Three Young Mothers and Their Extraordinary Story of Courage, Defiance and Hope, by Wendy Holden, Harper, 385 pages, $26.99
Reviewed by NEAL GENDLER
Eva Clarke likely is the youngest survivor of a Nazi death camp.
She was born April 29, 1945, as her mother, Anka Nathanová, sat atop a heap of sick and dying women on a wagon entering Mauthausen, where prisoners were worked, beaten, thrown and shot to death in a quarry atop a hill overlooking one of the loveliest spots along the Danube.
Anka weighed 70 pounds. Eva weighed three.
Anka had survived a death train shuttling from place to place for 16 days, its starving, dehydrated cargo crammed into locked cattle cars or open coal cars thick with black dust and human waste, including the dead, who were thrown out whenever the train stopped.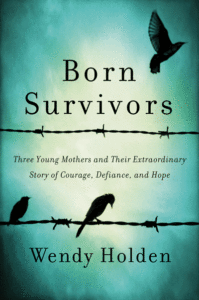 Although Eva wouldn't know for decades, two Jewish women and their infants also were on that train. Hana Berger Moran was born April 12 in a slave-labor factory to Priska Löwenbeinová, a teacher and accomplished linguist from Bratislava, Slovakia. Mark Olsky was born April 20 amid coal-car filth to 70-pound Rachel Friedman, married into a textile-business family and one of the last Lodz ghetto deportees.
Anka, a law-school student in Prague, reached Auschwitz from Terezin with her husband; earlier, she'd turned down chances to go to Britain or escape to Shanghai.
After surviving the Auschwitz arrival-platform selection, they stood outdoors, hairless and naked, in a line of women. They lied to SS Dr. Josef Mengele as he walked along asking each if she was pregnant. Those who answered affirmatively, or from whose breast milk squirted when Mengele squeezed, were sent to death.
Born Survivors' description by Wendy Holden, an experienced author and former newspaper reporter, conveys the shock, terror and bewilderment of innocent women suddenly immersed in an unimaginable hell where they sometimes stood naked in mud and rain for hours.
Too late to interview those mothers, Holden weaves their written, oral and recorded accounts, plus an array of historical records, into a spellbinding story of perseverance amid systematic abuse as expendable inputs in war's machinery.
Reaching Auschwitz in autumn 1944, they were relatively healthy and soon were sent to work making aircraft parts in Freiberg, Germany. Starved, slapped and beaten during 12- to 14-hour workdays, they concealed their swelling bellies inside loose, ragged clothes.
When the factory shut down, they were packed onto the train. Without food or water, scores died. Survivors' lives were saved by the decency and courage of one man: Antonin Pavlíček, stationmaster at the Czech town of Horní Bříza, where the train was forced to pause. Risking death, he argued with the train's SS commander, insisting that the prisoners be fed, then getting them water, food and clothing abundantly donated by the locals.
Pavlíček tried to get the SS to abandon the train and flee, but the commander — who'd said these people "meant nothing to the world" — refused.
Treated and healed after liberation, the mothers, with their babies, returned to their pre-deportation cities, seeking husbands they didn't know were dead. The oldest mother was 29. Rachel, the youngest, said: "I was an old woman when I came out at 26."
Their three children learned of each other after Hana contacted their liberators, the U.S. 11th Armored Division Association, in 2003. When they met in 2010, they immediately felt like siblings and they remain close.
Holden writes clearly and compellingly, though she is a little vague about early history, saying that in 1943, "the Red Army was slowly taking control." In fact, that Dec. 1, Soviet forces still were in Belorussia and Ukraine. She says "the Allies achieved air supremacy thanks to the Battle of Britain." Air supremacy over Europe — with continuing losses — wasn't gained until late 1944. She says the land of Israel is "considered to be the Jewish homeland." Considered?
Several times, a word is missing, and readers need to accept British terms, including someone being "poorly" — like the archaic "sickly;" we'd say "was doing poorly." Photos appear throughout, but regrettably, there's no index.
Born Survivors proves that even seven decades later, surprising Shoah stories emerge. I can't imagine reading this vivid account without admiration — and outrage.
***
Neal Gendler is a Minneapolis writer and editor.
(American Jewish World, 5.22.15)