Tango music was born in late 19th-century Argentina in communities of newly arrived European immigrants, many of them Jews
By ANTHONY WEISS
LOS ANGELES (JTA) — The music that packs the Skirball Cultural Center's stately courtyard — Yiddish tango — is a musical hybrid twice over.
On the tango side, it is a blend of African-born rhythms and a potpourri of European music styles. On the Yiddish side, it combines mournful liturgical melodies with folk songs.
Tango, too, is famous for its sensual dance, while Yiddish music is rooted in the festive freylechs of traditional wedding bands.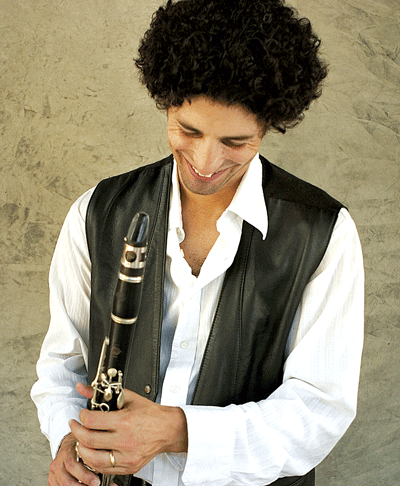 In combination, the two prove irresistible, as the concert crowd stands and sways to the tangled rhythms.
For Gustavo Bulgach, 47, bandleader of Yiddish Tango Club — the star attraction at the Skirball on Aug. 21 — the music is also a reminder of his childhood in Buenos Aires in the 1970s and '80s. Born to a family of Russian Jewish immigrants, Bulgach grew up in Argentina learning Jewish folk music at the feet of his grandfather, a passionate music lover, and in the synagogue founded by his grandfather.
At the same time, he says, "Tango is more than the music you hear in Buenos Aires, it's something you breathe."
Bulgach is far from the first to combine Jewish music and tango in a heady combination. Tango music was born in late 19th-century Argentina in communities of newly arrived European immigrants, many of them Jews.
As Jewish musicians learned to play in the increasingly popular style, they added their own musical and linguistic flourishes — not only joining major tango orchestras, but also composing new tangos in Yiddish. Max Zalkind, for one, composed both in Yiddish ("Odesa Mama") and Spanish ("Mi Quinta in Castelar").
At the same time, as tango music became an international sensation, the genre swept across Eastern Europe. Records and music journals filtered into cities and shtetls and created a new tango style even in places never visited by touring Argentine orchestras.
For example, as Lloica Czackis, a musician who has researched the history of Yiddish tango, noted in an article written for the Web site of World ORT, Poland "quickly became one of the capitals of European tango at a time when most of its musicians, both in the classical and popular scenes, were Jewish."
The result was a pre-World War II profusion of Yiddish tango in Argentina, Eastern Europe and even America, as Yiddish-speaking Jews joined in the tango craze and made it their own.
The Holocaust also created its own grim chapter in the history of Yiddish tango, as the Nazis encouraged concentration camp orchestras, or Lagerkapellen, to play tangos, which they considered less encouraging of rebellion than American jazz. Indeed, as Czackis notes, Paul Celan's famous poem on the concentration camps, "Death Fugue," was originally titled "Death Tango."
Bulgach's own renditions of Yiddish tango draw on these traditions and, at the same time, offer a fresh take on the genre. In some cases, Yiddish Tango Club plays traditional klezmer songs but with elements of tango, such as using the Argentine bandoneon rather than an accordion.
In other instances, Bulgach combines tunes and rhythms from both genres more freely, as in his self-composed "Librescu Tango." And in other pieces still, the combination is already inherent in the music — for example, Bulgach notes that legendary tango composer Astor Piazzolla often said his favorite 3-3-2 rhythm was influenced by the Jewish music Piazzolla heard as a child in Brooklyn.
Jewish tango music also has experienced something of a revival. Bulgach says it has become common practice at Jewish concerts in Argentina for the musicians to perform an old Yiddish tango as part of the repertoire. At the same time, documentaries and concerts of Jewish tango music have sprung up across the United States, and Jewish tango music has even reappeared in Eastern Europe, repeating the patterns of nearly a century ago.
Above all, though, Bulgach says tango is more about a feeling than a specific harmony or rhythm.
"To me, the tango is like the blues," he says. "It's an attitude. It's darkly lit. It's ecstatic. It's out of control."
Likewise, in both tango and klezmer, Bulgach says the test of success is whether people are inspired to get up and dance.
By the end of the Yiddish Tango Club concert, the Skirball courtyard is crowded with dancers joyously swept up by the spirit of Yiddish tango. A few dance expert tangos in pairs, while most bop and bounce informally to the music.
As the evening comes to a close, Bulgach leads the band and his audience in a tango-ized version of "Hatikvah," turning the anthem of hope into a lilting, dance-like melody.
(American Jewish World, 8.29.14)