By MORDECAI SPECKTOR
Rabbi Moshe Weiss, director of Yeshiva High School of Twin Cities, says that his school is "between a rock and a hard place."
The school for Orthodox Jewish boys has been paying for its property in Cottage Grove on a contract for deed over the past three years. However, last year the Minnesota Baptist Conference, the seller, decided that it needed to cash out the deal, and proposed a new contract with a significantly smaller principal amount.
Weiss stresses that the Baptist group was "extremely generous" in reducing the loan principal from $960,000 to $660,000. The yeshiva signed a new contract last September and put $40,000 down. Now an early December deadline has passed, leaving Weiss and his colleagues scrambling to finance the remaining $620,000 by Feb. 1, in order to salvage the contract.
The alternative, says Weiss, is "to vacate the building."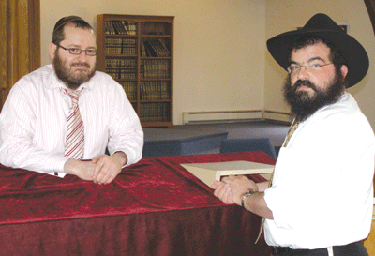 Yeshiva High School has been struggling "to keep above water," to meet day-to-day operating expenses, according to Weiss; so, the financing deadline contributes to a "perfect storm" of money problems.
The 40 yeshiva students, who come from across the United States, typically pay less than half of the $20,000 per year for tuition, room and board. In the economic downturn, more parents are out of work and struggling to make ends meet, which puts additional pressure on the yeshiva to raise funds from charitable donors.
"This year, we don't have one parent [paying the full cost]," Weiss notes.
Also, many of the students attending the school in Cottage Grove have failed in other yeshivas, and come from troubled family situations. The Yeshiva High School provides a "lifeline" to these teenagers.
"To turn a kid away, especially one who is already here… is just not an option," says Weiss. "This is their final hope, really."
He adds that the school has been "amazingly successful" over recent years. It has earned national accreditation — "the same accreditation that Cretin-Durham Hall has." Also, the bochrim, yeshiva students, have forged great relations with their neighbors in Cottage Grove, volunteering in the community and, in turn, using the local high school's gym, swimming pool and hockey rink. The bochrim also volunteer at the Sholom residences.
"We're part of this community; we're part of the Minnesota community," comments Weiss, who allows that "the only obstacle at this point is money. We're sort of faced with an emergency right now…. The option of 'Oh well, we'll go somewhere else,' is not available; it's not even an option. There's too much invested here and this is where we need to be."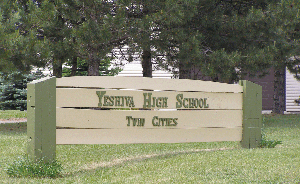 So far, no solution has materialized. It is especially difficult for a nonprofit, which relies on charitable support, to get financing in these straitened times.
Weiss says that they are trying to find private financing or a donor who "would be very proud to put their name on this institution." A philanthropic angel would have the satisfaction of knowing that he or she was backing an institution that "is literally saving children's lives," Weiss says, with a tone of urgency. "And I'm not just talking about their Jewish soul; I'm talking about their physical livelihood."
Anxious parents have offered testimonials about the transformations they have seen in their children, who in many case were failing at school and hanging out with a rough crowd on the streets, according to Rabbi Weiss.
One mother sent her son to the yeshiva with the message, "Please save my child," says Weiss. She later contacted the yeshiva and said that she "never imagined" that her son would enjoy gemara class, or "any class in the yeshiva."
An e-mail from a parent, forwarded from Yeshiva High School to the Jewish World, stated, in part: "We have noticed a very meaningful improvement in [our son's] general demeanor since he has been attending your yeshiva. He is much more relaxed, positive, comfortable and happy with himself, and this is a very welcome and positive change."
As is their custom, the rabbis are looking both to society and to the Creator for help.
"We are hopeful and expecting good things to happen, expecting a good outcome," says Rabbi Mottel Friedman, dean of Yeshiva High School. We're doing good things and God will do His part to help us continue. Hashem has many messengers, and the messenger that He sends to buy this building… is taking his time, but he's coming. He or she is on their way."
Friedman adds, "As soon as we pass this temporary crisis, we're back on top of the world, back to throwing all of our efforts to helping the bochrim."
***
For information, go to: myyeshiva.org; or contact Rabbi Moshe Weiss at 651-398-4850, or e-mail: RabbiWeiss@MyYeshiva.org.
(American Jewish World, 12.25.09)