Reviewed by NEAL GENDLER
The difficult experience of divorce doesn't necessarily end with the court decree.
It may be only the beginning.
In Crooked Lines, Jenna Zark, divorced from the cantor of a Conservative congregation, reveals her actions, thoughts and emotions while trying to fashion and maintain a Jewish life for herself and her son, Nate.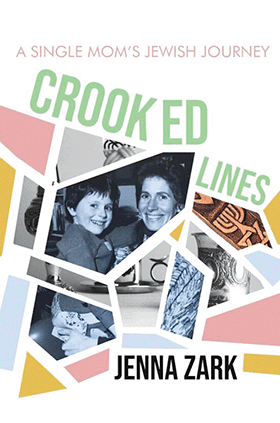 "I didn't have the first idea of how to manage being a single mom," Zark says. "Nor did I know how to raise my son alone in a world where everyone I knew was a couple or becoming one."
One change was positive: liberation from congregants' scrutiny.
The family house was across from the synagogue, and "being so close … always made me feel like I was being watched," Zark says. One day she erected a precut sukka. "I remember thinking the sukka gave me more privacy than the house."
Other predivorce events are scattered quietly throughout this collection of 55 columns for the online magazine TC Jewfolk (tcjewfolk.com), writing "about the Jewish side of my journey."
But a reader needn't be divorced or even Jewish to connect with Zark's thoughts and experiences; many are universal.
For example: "For the first year of my son's life, I was done wanting to be an award-winning playwright or write novels or musicals. All I wanted to do was to sleep. I did not succeed."
Nor need one live in the Twin Cities area, although that adds enjoyment.
"It was late August and I was packing up everything I own to move across town to the bottom half of a duplex," Zark says. "My son, age 4, would live there part of the time with me and part of the time with his dad in our old house," she says.
"I was moving to St. Anthony Park, hardly known for its Jewish traditions." But she brought two sets of dishes to continue keeping kosher and confronted the new experience of buying a mezuza.
Single, "my invitations dried up. … I discovered that Jewish Minnesota can be a notoriously close-knit community." (Amen.) She writes movingly about efforts to get invited to a seder. The pieces in Crooked Lines are brief, insightful and easy to read — unsurprising from an award-winning author.
The collected columns cover more than two decades; by book's end, son Nate is in his first job as a cantor. Zark is surprisingly revealing about the difficulties of being a working single mother; needing to learn more about Jewish traditions; deciding which to observe and how; and choosing a second husband.
With that focus, there's nothing about why the 13-year marriage ended, alimony or child support. There are hints that she and her ex are on civil terms.
She tells of lying in bed during her last night in the family house, two days after Tisha B'Av, very capably mixing in lines from Lamentations fitting her feelings.
She has interesting thoughts about mikva, which inspired her play, A Body of Water. It's "the second in a trilogy of one-acts about women and water rituals."
And she writes about Jews "marrying out" and her feelings about having done so.
Particularly moving are her chapters about death and the emotional value of saying mourner's Kaddish in a minyan — the traditionally required group of 10.
To correct two small errors: Only Lot's wife, not his family, becomes a pillar of salt, and although Zark loves how Rebecca "falls off her horse when she sees the man who will become her husband," that's more colorful than my Jewish Publication Society Torah translation that says "she alighted from the camel."
Those are piffles amid charming pieces that sometimes address questions about religious belief, ritual and tradition.
Opening the curtains on her life isn't self-indulgent but perhaps therapeutic — even to readers, assuring us that our anxieties and insecurities are common and that life can be pleasurable despite them.
And some of her candid and gently expressed views come with a zing.
"I have had Christian friends who said they envied Jews for the beauty and richness of their culture and religion," Zark says. "I wish I could ask them to explain that to other Jews, who don't seem to notice it at all."
***
Neal Gendler is a Minneapolis writer and editor.
(American Jewish World, August 2022)