Playwright and actor Aaron Davidman portrays himself and 17 other characters in one-man show about the Israeli-Palestinian conflict
By MORDECAI SPECKTOR
Over my 20 years of working at the American Jewish World, I've edited hundreds of articles and op-eds about the Israeli-Palestinian conflict. I've interviewed dozens of Israeli and Palestinian luminaries — diplomats, scientists, authors, musicians, filmmakers, etc. — and heard just about every shade of rhetorical cant related to the long-running war.
A lot of folks think they know how to solve this seemingly intractable conflict. They're likely wrong.
So I'm looking forward to hearing 17 more views, when Aaron Davidman performs his one-man show, Wrestling Jerusalem, at the Guthrie Theater. The show, which is directed by Michael John Garcés, runs Oct. 16 through Nov. 1 in the theater's Dowling Studio.
Wrestling Jerusalem at the Guthrie
Oct. 16-Nov. 1
Wrestling Jerusalem was presented last year at Intersection for the Arts, in San Francisco, Calif. It also ran last year at PlayMakers Repertory Company, in Chapel Hill, N.C. Joseph Haj, the Guthrie's new artistic director, comes here from PlayMakers Rep, and chose Wrestling Jerusalem for the Guthrie's current season.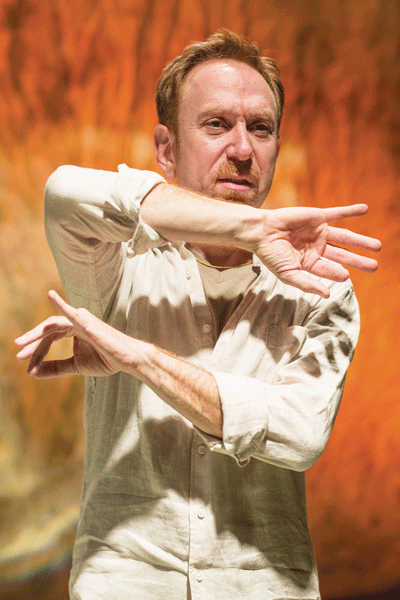 The Guthrie is billing the play as "a personal story that grapples with the complexities of identity, history and social justice."
Reflecting on audience reactions to past performances of his play, Davidman says, "There's a real connection to the message of the piece, which is that it's not simple, it's not black and white, it's very complicated, and it takes some real work to understand this."
The feedback generally reflects "a lot of appreciation for the nuance and complexity" in the dramatic piece, according to Davidman, who talked on the phone with the Jewish World last week from his home in Berkeley, Calif. He'll be traveling to Minnesota soon to work out the details of his play prior to opening night; he's never visited the Twin Cities.
Davidman says that Wrestling Jerusalem is part of a trilogy on the Palestinian-Israeli conflict. A play called Blood Relative, which was presented by San Francisco-based A Traveling Jewish Theatre, was produced about 10 years ago.
"When I became artistic director of A Traveling Jewish Theatre, I thought it was really important to tackle this topic; so that was the beginning of a journey back to Israel, and lots of research, and we created an international collaboration at that time called Blood Relative, with Israelis and Palestinias, and American Jews and Arabs," explains Davidman, who led the Jewish theater troupe from 2002-2011. "That was the beginning of my digging much deeper into this topic, and I've kind of been at it ever since."
The impetus for Wrestling Jerusalem came in 2007, when Ari Roth, then the artistic director of Theater J, in Washington, D.C., commissioned Davidman to develop a solo performance.
Davidman went back to Israel and the West Bank and interviewed a range of people about what Israelis euphemistically call ha matsav, "the situation." In the course of workshops for the one-person play, Davidman decided that the interesting approach was exploring how he, a self-described "progressive American Jew," goes about understanding the conflict.
"It's trying to go beyond the headlines and really understand the complexities at play… It's me and 17 other characters that I meet," he comments. "I transform into them and they speak their truths and their stories."
The concept reminds me of Anna Deavere Smith's amazing one-woman show, Fires in the Mirror, in which she portrays 26 characters, mainly black and Jewish, involved in the 1991 Crown Heights riots in Brooklyn.
"Anna Deavere Smith, of course, opened all of our hearts and minds to that multi-character and very documentary look at ethnic conflict, with Fires in the Mirror," responds Davidman. He adds that he has referred to Wrestling Jerusalem as "kind of a hybrid between memoir, journey, solo material of Spaulding Gray and the transformational work of Anna Deavere Smith. It's really both. And it's also very written; it's not just verbatim texts transcribed and set…. Some of the text came from interviews, but then still transformed from there. Some are composites of characters put together; some are really written from different people that I met, just inspired by people that I met, or pieces that I read."
Davidman comments, "That said, the journey itself is completely true. It's totally based on my experiences in Israel and the West Bank, and talking with people all over."
And the third play in Davidman's trilogy focused on the Israeli-Palestinian conflict is a multi-character work called Home. The playwright says that it has yet to be staged.
Wrestling Jerusalem is part of the Guthrie's Singular Voices/Plural Perspectives curated series of performance and community dialogue. Every performance will be followed by a conversation, which is similar to what Joseph Haj did with the play last year at PlayMakers Repertory Company.
Davidman's play was presented in a PlayMakers Rep series "that was designed around an idea about community dialogue," says Haj. "So we chose plays in that series that wrestled with important themes and issues, and we thought, well, there are hardly issues that are longer lasting and more present than that Palestianian-Israeli divide."
Haj and Davidman have known each other for many years, and collaborated on the earlier play, Blood Relative. As it happens, Haj is the son of Palestinian immigrants; his wife is Jewish.
Haj talked about Wrestling Jerusalem during a brief phone chat last week.
The conversations after performances of Wrestling Jerusalem at PlayMakers Rep were "so rich, rigorous, smart, broad-minded, generous. It was really rather extraordinary," recalls Haj.
In the way of providing context, Haj notes that PlayMakers presented another play about the Israeli-Palestinian conflict, in 2007. When the Bulbul Stopped Singing, by Palestinian human rights lawyer Raja Shehadeh, is a solo play adapted from a book about the author's experiences while trapped in his home during the 2002 Israeli siege of Ramallah. Haj portrayed Shehadeh in the PlayMakers production.
"That was really challenging to the audiences in any number of ways," remarks Haj, about When the Bulbul Stopped Singing. "And what I really love about Aaron's play is that he finds himself in much of the same territory, and he gives full voice to many different perspectives in the piece, which leads to a conversation that just allows for a little bit more ambivalence, more shades of gray, a little more nuance in a conversation where many people are firmly in one place… There's something beautiful about the way he's made this piece… It invites a bit more tolerance on all sides."
***
Wrestling Jerusalem runs Oct. 16 through Nov. 1 in the Dowling Studio at the Guthrie Theater, 818 S. Second St., Minneapolis. For tickets, call the Guthrie Box Office at 612-377-2224 or go to: guthrietheater.org.
(American Jewish World, 10.9.15)