Businessman who grew up on Northside owned Timberwolves for eight years
 By JOEL RIPPEL
Over a span of 25 years, Marv Wolfenson and his business partner, Harvey Ratner, tried to prevent one NBA team from leaving Minneapolis, made a bid for the Minnesota Twins to keep them from leaving town and bid to bring an NBA team back to Minneapolis.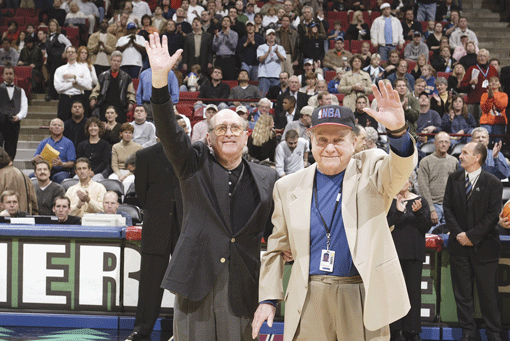 Wolfenson and Ratner, who were raised in North Minneapolis and were business partners for more than 50 years, viewed those opportunities to give back to the community they had been raised in.
After being awarded an NBA expansion franchise in 1987, Wolfenson and Ratner built the franchise (the Minnesota Timberwolves, which began play in 1989) and its arena (Target Center) from the ground up. Wolfenson and Ratner sold the franchise to Glen Taylor in 1994.
Wolfenson died at his home in La Jolla, Calif., on Dec. 21. He was 87.
"Marv and Harv were very successful together," former Timberwolves executive Bob Stein told the AJW. "[Before pursuing the Timberwolves], they had been interested in sports for a long time. Their first pro sports introduction was when they were among a group of buyers who tried to buy the Minneapolis Lakers from Bob Short, who moved the team to Los Angeles [in 1960].
"They tried to buy the Twins when Calvin Griffith put the team up for sale. Griffith turned them down even though they offered better terms and more money and sold the team to Carl Pohlad. They made an offer for the Utah Jazz, which [owner] Larry Miller accepted, but he eventually found a local buyer."
Around that time, the NBA announced that it was considering expansion. Wolfenson and Ratner spent two years putting together their application bid. In April of 1987, the businessmen were awarded a franchise (the fee was $32.5 million).
"I was a lawyer and represented some athletes," said Stein, who attended St. Louis Park High School and played football for the University of Minnesota and in the NFL, "and they asked me to come work for them and help with the process. The process was a competition. A lot of communities and markets wanted a team. They liked the idea of bringing a major sports team to their hometown. They were visionary guys."
Wolfenson had been interested in sports since high school. Wolfenson played baseball and basketball at Minneapolis North High School. As a senior at North, Wolfenson was named the top Jewish scholar-athlete in the city.
After serving in the U.S. Army during W.W. II, he graduated from the University of Minnesota. Wolfenson and Ratner, who died in 2006, started their business partnership in the early 1950s with real estate and apartment buildings before creating a chain of health/fitness clubs.
The Minnesota Timberwolves issued this statement following Wolfenson's death: "The Minnesota Timberwolves organization is deeply saddened by the news of the passing of Marv Wolfenson. Marv, along with his business partner Harvey Ratner, realized his dream and vision to bring professional basketball back to Minnesota. Marv will long be remembered by our organization as not only an original owner of the franchise, but more importantly a mentor, friend and incredible businessman who helped us all establish the Wolves in this market. Our thoughts and prayers are with his family at this time."
Wolfenson's funeral was Dec. 26 at Temple Israel in Minneapolis. Wolfenson is survived by his wife of 60 years, Elayne, daughter Ellyn, sons Ernie and David, four grandchildren and three great-grandchildren.
(American Jewish World, 1.3.14)