Soul to Soul: A Guide
by Judy J. Weinberger will be published in February by Two Harbors Press
By ERIN ELLIOTT BRYAN /Â Community News Editor
Local artist and writer Judy J. Weinberger began by asking questions, much like an "angry, cynical man" in the book of Ecclesiastes: What is the point to life? Why do we need to work hard and be kind, ethical people?
The Talmud concludes "that all is futile under the sun. Therefore, we should focus our efforts on what is above the sun."
Weinberger came to a different conclusion and shares her thoughts and beliefs in her new book, Soul to Soul: A Guide, which will be published Feb. 1, 2010, by Two Harbors Press.
"I don't believe that all is futile in this world," Weinberger writes in the book's introduction. "For my own knowledge and to guide my children, I have searched, studied and have come up with what I believe are reasonable responses to the questions posed in the book of Ecclesiastes. This book is meant to be a guide to answering these questions in a manner that allows us to wade through this sometimes difficult, sometimes amazing journey we call life."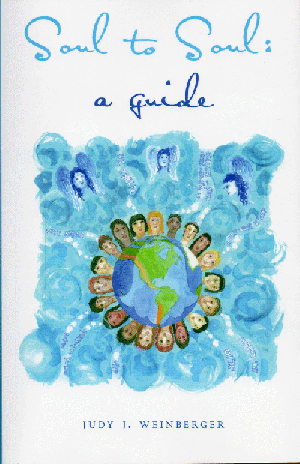 For the past 25 years, Weinberger has studied theology and spirituality, taken classes in energy as a life force and read extensively about why things happen as they do. Her insights are illustrated by real-life experiences.
In alignment with her Jewish background, Weinberger's book is divided into 18 chapters, "as it is a guide to living life" (the Hebrew word Chai, which means "life," has a numerical value of 18). The chapters each focus on a particular theme, including "Our Immortal Soul," "The Secret Laws of Energy Attraction and Creation," "Life Purpose" and "Letting Go: No Grudges."
Weinberger is also an artist and earned her bachelor's degree in art from the University of Minnesota. She has exhibited extensively in various media, including acrylics, oils, watercolors, batik and ceramics, and each chapter of the book includes at least one painting that reflects her Judaic background.
She also has studied hands-on healing and the inner healing art form of Tai Chi Chih from the Japanese and Chinese cultures, and has a black belt in Tae Kwon Do-style karate.
Judy J. Weinberger
"It is very personal to me," Weinberger says of her book, "because it reveals my life's journey and my pursuit of knowledge that sometimes came from intense emotional pain, and sometimes from the unusual miracles I experienced. I offer this book to help others build a relationship with God, to have a better understanding of their journey through life, and to live more peacefully."
***
For information, visit: www.soultosoulaguide.com.