After botched probe, Claims Conference chairman Julius Berman addresses accountability
By URIEL HEILMAN
NEW YORK (JTA) — Now that it's clear that the top leaders of the Claims Conference were involved in investigating an anonymous accusation of restitution fraud in 2001, the question is who bears the responsibility for failing to detect that a broad fraud scheme was underway.
The person at the center of the 2001 allegations, Semen Domnitser, turned out to be the ringleader of the $57 million fraud; he was found guilty at trial on May 8.
For most of those who played a role in two botched probes in 2001, the question is academic.
Karl Brozik, the director of the Claims Conference's German office who oversaw the initial internal organizational probe in June 2001, died in 2004. Gideon Taylor, the then-chief of the Claims Conference who commissioned a second, independent probe of the anonymous allegations, has quit Jewish organizational life and now works in real estate.
But Julius Berman, who as counsel to the Claims Conference in 2001 oversaw the second probe, is now the restitution group's chairman — a position he has held for more than a decade.
That probe was conducted by a paralegal in Berman's law office of Kaye Scholer and resulted in an eight-page report filed on Sept. 4, 2001. In the report, which was obtained exclusively by JTA, paralegal Ryan Tan recommends further questioning of Domnitser and calls for more investigation.
There is no evidence that its recommendations were implemented.
In a May 22 interview with JTA, Berman refused to discuss the details of the 2001 episode, saying he'll withhold comment until the committee of Claims Conference board members he has assigned to look into the matter recommends a course of action.
But he made clear that he believes he is not to blame.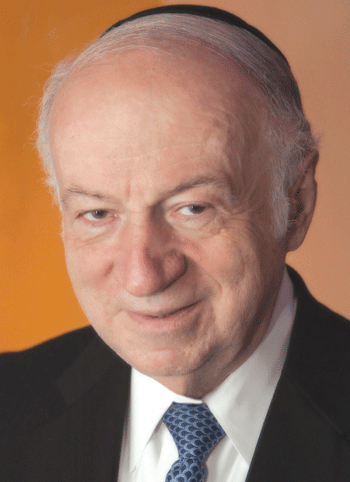 "Somebody dropped the ball. That's this issue," said Berman, 77. "My conscience is totally clean on the role I played."
Berman said his role in 2001 as counsel, a pro bono position that required fielding the occasional phone call and showing up to one-day-a-year meetings, did not make him privy to the internal processes of the Claims Conference. After the report he oversaw was produced, Berman passed it along to the head of the Claims Conference, Taylor, who told JTA that he gave it to Brozik.
Whatever subsequent actions were taken were not enough to stop the fraud, which continued until 2009.
All the while, the Claims Conference, which was established in 1951 to negotiate Holocaust survivor restitution with Germany, continued its work reviewing claims and processing billions of dollars in German payments to survivors. Since its founding, the conference estimates it has handled more than $70 billion.
In the interview, Berman stood by comments he made to JTA in late 2011 saying he felt "no fault at all" for the fraud, that the controls in place at the Claims Conference to prevent fraud were "reasonably adequate" and that the deception discovered in 2009 was as impossible to anticipate as the attacks of 9/11.
"Until it happens once," he said at the time. "Then you're on notice that something you never foresaw can happen."
Asked last week if the 2001 episode qualified as the "one-time" warning that should have put the organization — and Berman — on notice, he said it did not.
"Once you set up a procedure you believe covers the situation, you usually don't go back and review it again and again," Berman said. "You may have to trust the people you trust.
"Only as a matter of hindsight it becomes clear," he added. "If Y and Z are in cahoots, then you really haven't done anything."
As chairman of the Claims Conference, Berman said it wasn't his place to investigate allegations of mishandled claims, nor was he privy to such complaints. Berman said the 2001 episode was the only time he was ever aware of allegations of fraud at the conference.
"Do I know with any kind of authority one way or the other? I say no, I proudly say no," he said. "I can't get involved in that kind of minutiae."
Berman did, however, acknowledge that the 15-year fraud scheme — which he said was first brought to his attention in November 2009 by the Claims Conference's executive vice president, Greg Schneider, who told Berman he had discovered a large number of suspicious cases — represented a failure for the organization.
"There was a failure, yes," Berman said.
Asked if the Claims Conference had apologized or should apologize for the fraud, Berman said an apology would have been misinterpreted by Holocaust survivors who would have thought they had been injured by the fraud. In fact, the cost of the fraud was borne entirely by Germany, which paid out $57 million more in claims than it needed because of the Claims Conference's failure to weed out some 5,000 false petitions.
The Germans were informed of the fraud scheme soon after it was discovered, when the fraud figure was approximately $300,000, Berman said. In the early part of the investigation, U.S. authorities had been concerned that if word leaked out, suspect employees, whose actions were being monitored by the FBI, might obstruct the probe. Once the FBI began making arrests, it gave a green light for the Claims Conference to inform its board.
"We immediately notified the Germans, and the Germans said thank you for informing us and keeping us informed," Berman recalled. "The Germans were informed in the appropriate contrite fashion."
Asked if the Claims Conference owes an apology to anybody else for the affair that has sullied the reputation of the Jewish organization representing survivor interests — whether survivors, the Claims Conference board or the Jewish community — Berman said the thought never occurred to him.
"I never sat down and considered whether there was a need to make some public contrition," he said. "I think the best contrition is to make sure [survivors] receive more than ever and we do whatever's necessary to ensure the pipeline continues."
As for his own role, Berman said now that he's coming under increased fire from critics, there's no question about staying the course.
"I have no choice whatsoever but to continue on because of this. It would look to the world and to posterity and to myself that I was driven out because of this stupidity, and I am not going to do it," he said. "Every once in a while I say, 'What do I need this for?' And what picks me up? Another column by Isi Leibler. I refuse to buckle in to that kind of nonsense."
On May 22, Leibler, a former Jewish organizational leader from Australia who now lives in Israel and writes a column for the Jerusalem Post, published a piece headlined "Claims Conference leaders must resign now." Leibler noted it was his 21st column calling for reform of the Claims Conference.
Berman, who is also a member of JTA's board, said he'd be happy to spend time on other things, but now is not the time to step down.
"It's not really on my agenda today because I would only focus on whether I've had enough when this is over, this is behind us and we're moving forward," he said. "I'm a fighter. And I'm proud to be a fighter. I make mistakes, too, but if people blame me for making mistakes, I'm certainly not going to cave."