Reviewed by NEAL GENDLER
Hirsh Goodman used to be infuriated by the question of whether Israel can survive; of what other country is such a question asked?
But now, he says, "there is much merit to the question, for both Israel and its enemies."
Goodman answers the question seven pages from the end of the book: "Of course it can. The question is what kind of Israel it will be and what kind of neighbors it might enjoy." The excellent Anatomy analyzes why those questions exist and suggests some solutions.
South Africa-born Goodman, an Israeli journalist now at the Institute for National Security Studies at Tel Aviv University, deals early on with one of Israel's two existential problems, Iran, which he says "is maniacally dedicated to Israel's destruction… Not since Hitler have the Jewish people theoretically faced such a problem."
The facts he presents argue against risking that even a single nuclear bomb might hit the coastal plain, home to 70 percent of Israelis and one-third of the world's Jews. Yet despite saying that Iran's "calculations cannot be put into a rational context," he concludes that "huge obstacles, military, political and moral," make an attack by Iran or Israel on each other "a last-resort scenario." The cost to both "would be vast and enduring. It is strategically nonsensical." Besides, he says, the United States, "Israel's guardian angel," is dedicated to Israel's defense.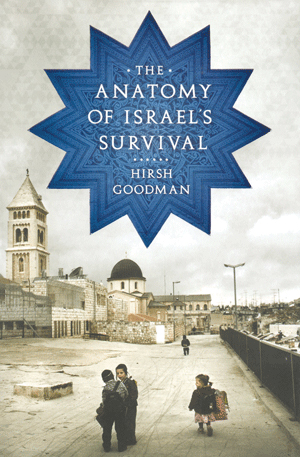 But how does strategic sense fit with maniac behavior or summoning a hidden Mahdi? And if an Iranian nuclear attack destroyed Israel, what motivation would an American president have to start a war with Iran?
Palestinian Arabs are the other existential question. Goodman makes a solid argument that Arab birth rates and the negative effects of continuing control of Judea and Samaria make withdrawal necessary and desirable. He seems to have little hope for keeping cities built just over the 1949 armistice line, which he mistakenly calls a border.
He says Jerusalem can be part of the solution, with Israel giving up Arab villages on its fringes that now cost it millions in services to noncitizens. Also critical: Jerusalem increasingly is a city of haredim and Arabs, "two communities that are growing fast and are not exactly Zionist."
Anatomy is less reading than its 253 pages of text suggest, because it's very pleasing to the eye: large type with generous space between the lines. But don't be deceived — every page is jam-packed with ideas and information written with great clarity and wit. A reader's basic knowledge of Israel and its history would be helpful.
Goodman mentions offers that most say were beyond the Israeli consensus made by the two Ehuds, Barak and Olmert, the first of whom he views with contempt. Goodman says that Arafat's goal was not to make peace but to keep the "Palestinian question" alive as Arabs grew stronger and "the Jews became weaker as they fought one another."
Unlike some Israeli critics, however, Goodman also cites Israel's many virtues, adding that although Arab Israelis can't identify with the state, most enjoy living in it and want neither to move out nor to have their towns put into a Palestinian state.
Goodman notes Israel's low international standing and blasts its incompetence at getting its story out. "Delegitimization is the new tool the Palestinians and their supporters have found to hurt Israel," he says. "For Israel to be fighting for its legitimacy is an insult. The country should stop dealing with the question."
And despite Israel's problems and shortcomings, "if the rest of the Middle East looked like Israel, it would be a different world."
***
Neal Gendler is a Minneapolis writer and editor.
(American Jewish World, 12.9.11)