The size of the non-Orthodox section of the Western Wall will double and a single entrance will lead to both sections
By BEN SALES
TEL AVIV (JTA) — Israel's government on Sunday approved a compromise to expand the non-Orthodox Jewish prayer section of the Western Wall, putting to rest the decades-long fight between Women of the Wall and Israel's haredi Orthodox religious establishment.
The deal achieves what had been an elusive goal: an interdenominational consensus on Judaism's holiest site with official recognition. The non-Orthodox prayer section at the wall will become much larger and more accessible. But haredi control of the Orthodox section will also be solidified, though non-Orthodox leaders have long protested that monopoly.
The deal, a copy of which JTA obtained ahead of the Cabinet vote, still contains a few unknowns. It is unclear how long construction will take. It does not say whether clear signage will direct visitors to the non-Orthodox section. Nor does it say exactly when Women of the Wall, an embattled women's prayer group, will move its monthly services from the Orthodox Jewish main prayer section to the non-Orthodox one.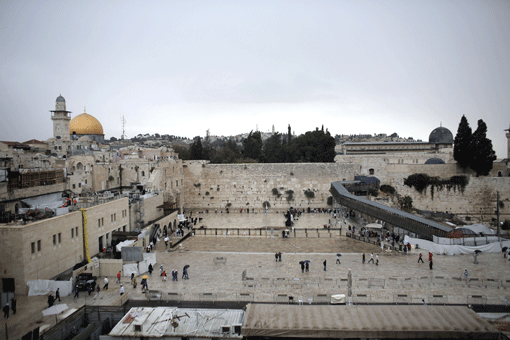 Still, the Conservative and Reform movements can declare victory. The size of the non-Orthodox section of the Western Wall will double to nearly 10,000 square feet — half the size of the Orthodox main section just to its north. A committee of non-Orthodox leaders and government officials will manage the non-Orthodox section. And a single entrance will lead to both sections.
The Western Wall's haredi Orthodox management, called the Western Wall Heritage Foundation, also safeguarded its interests. Non-Orthodox leaders had campaigned for a share of control of the Orthodox section of the wall, but the Heritage Foundation will retain full authority over it and the larger plaza behind the prayer sections. And when the plan is implemented, Women of the Wall will move to the non-Orthodox section, one of the Heritage Foundation's long-standing demands.
"They all came to the conclusion that they must make serious compromises because they want it to remain one Kotel for one people," Jewish Agency for Israel Chairman Natan Sharansky told JTA, using the Hebrew term for the site. "It's the place that must unite us more than anything else, and it turned into the most ugly war."
Plans for the non-Orthodox section's expansion, spearheaded by Sharansky, began in December 2012. In October of that year, police had arrested the Women of the Wall's chairwoman, Anat Hoffman, for wearing a tallit during the group's monthly service — an act that at the time was illegal at the site.
Talks on a plan to expand the non-Orthodox section of the wall, located in an archaeological park known as Robinson's Arch, began in April 2013. Sharansky and outgoing Israeli Cabinet secretary Avichai Mandelblit led the negotiations, which included representatives of the Reform and Conservative movements, the Heritage Foundation and Women of the Wall.
Nearly three years later, the deal enacted Sunday calls for the creation of an "official and respected," 9,700-square foot prayer space in the non-Orthodox section of the Western Wall, running along a 31-foot segment of the wall, that Sharansky said will fit approximately 1,200 people. It will have a government-funded staff, Torah scrolls and other ritual objects, and be open to all forms of Jewish prayer. Sharansky estimated its construction could take up to two years.
Even after it is completed, the non-Orthodox section will remain smaller than its Orthodox counterpart. The Orthodox section measures some 21,500 square feet, adjacent to a nearly 200-foot segment of the wall, and has some 27,000 visitors on an average day.
‪The area is divided into two sections: a larger one for men and a smaller one for women.
The rules prohibit women from reading from Torah scrolls in the Orthodox section.
A committee composed of two Reform leaders, two Conservative leaders, two non-Orthodox women representatives, the Jewish Agency chairman and six government officials will run the non-Orthodox section.
The Orthodox and non-Orthodox sections of the Western Wall will share an entrance near the Old City of Jerusalem's Dung Gate, one story above the Western Wall plaza's current entrance. Currently, the path to the non-Orthodox section is long, narrow and accessible only through a gateway tucked in a back corner of the plaza. The deal will create a wide and visible walkway to the section.
The deal does not specify, however, whether there will be signs at the entrance informing visitors of the non-Orthodox section or anything else notifying visitors of its existence.
"The vision of the new section of the Kotel is a physical and conceptual space open to all forms of Jewish prayer," a statement from Women of the Wall read. "Instead of splitting up the existing pie into ever more divided, smaller pieces, we are making the pie much larger and sharing the new space."
The Western Wall's haredi management, headed by Rabbi Shmuel Rabinowitz, has long pushed for Women of the Wall to leave the site. Under the deal, the women's group has agreed to move to the non-Orthodox section only once the deal is implemented. And a faction of Women of the Wall has vowed not to budge from the Orthodox section — regardless of what the deal says.
The Western Wall's religious status has been under contention for decades. Women of the Wall was founded in 1988 to advance women's prayer at the site, which is prohibited under haredi Orthodox Jewish law. Until 2013, much of the group's activity contravened the Heritage Foundation's regulations and thus was illegal. Police regularly detained members of the group.
Non-Orthodox groups also suffered persecution at the site. In 1997, an egalitarian Conservative Shavuot celebration behind the prayer section was attacked by protesters throwing bottles, diapers and refuse at the worshippers. The incident led to the establishment of the non-Orthodox prayer section at Robinson's Arch in 2000.
Following an international backlash to Hoffman's 2012 arrest, Prime Minister Benjamin Netanyahu tasked Sharansky with forging a compromise solution to the dispute. An outline Sharansky proposed in April 2013 called for the non-Orthodox section to be equal in size and elevation to the Orthodox section, but it proved unworkable due to objections from the Israel Antiquities Authority and the Waqf, the Islamic body that governs the Temple Mount.
In August 2013, Diaspora Affairs Minister Naftali Bennett tried for an interim solution by building a 4,800-square-foot platform that created more space in the non-Orthodox section. Women of the Wall rejected the platform, calling it a "sundeck." Now the architects of Sunday's compromise hope that all sides of the debate will be able to put their differences behind them for the sake of the Western Wall's symbolism.
"This contains the hope that the Western Wall will no longer be an arena for disputes, and will regain the uniting character that befits its special place for the entire Jewish people," the agreement reads. "May this also bring peace among us."