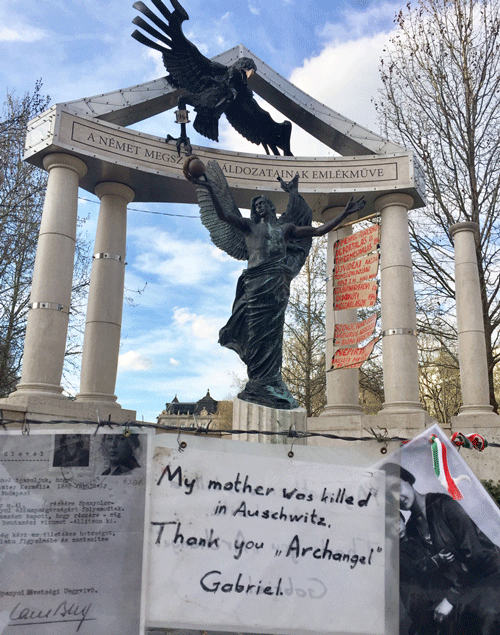 Photos and story by
MORDECAI SPECKTOR
BUDAPEST, Hungary — I arrived in Budapest two days after the April 8 parliamentary elections. Hungarian Prime Minister Viktor Orbán's Fidesz party again won an overwhelming majority of the vote. Orbán campaigned on an anti-immigrant agenda; Fidesz billboards depicted a scene of refugees on the march with a large red STOP sign superimposed on the photo.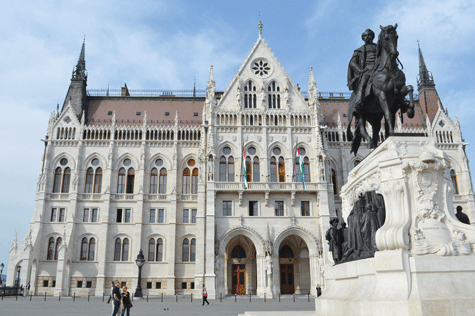 Orbán also vilified the American financier and philanthropist George Soros, a Jewish native of Budapest. Soros has supported civil society initiatives in Europe following the dissolution of the Soviet Union, including the creation of Central European University, in 1991. CEU moved to Budapest in 1993.
As The Guardian newspaper reported, "Orbán attacked Soros using language that critics have said contains antisemitic undertones: 'We are fighting an enemy that is different from us. Not open, but hiding; not straightforward but crafty; not honest but base; not national but international; does not believe in working but speculates with money; does not have its own homeland but feels it owns the whole world.'"
It should be mentioned that Orbán's government is mired in a number of scandals related to his doling out government funds to family members and cronies. In March, Reuters reported that European Union's anti-fraud office recommended that Hungary repay the EU about $1 billion for "projects that have been overpriced, involved collusion with bidders, or pointed to conflicts of interest."
In an article for Project Syndicate last year, Bálint Magyar, a sociologist and former Hungarian minister of education, referred to Hungary as a "mafia state," which will be will be "very hard to dismantle. Its pyramidal patronage network, similar to that created by Vladimir Putin in Russia, appears to be nearly indestructible."
Magyar also noted: "Fidesz has tightened its control over the judiciary and politicized law enforcement, by turning the Chief Prosecutor's office into what is essentially an arm of the party. Moreover, most newspapers and radio stations are now owned by oligarchs close to Orbán, and state television has become a vehicle for government propaganda."
In popular parlance, Orbán is the "Viktator." In May, Soros' Open Society Foundations (OSF), which funds nongovernmental organizations, said it will move its operations from Budapest to Berlin, Germany.
The BBC reported the statement of OSF president Patrick Gaspard: "The government of Hungary has denigrated and misrepresented our work and repressed civil society for the sake of political gain, using tactics unprecedented in the history of the European Union."
Although Jewish culture and community in Budapest seems to be on the upswing, the Jews I talked with in April generally were glum about the outcome of the recent national elections. Non-Jews, too.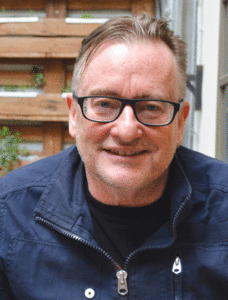 Bernard Rorke, an Irish expat who has lived in Hungary since 1997, works for the European Roma Rights Centre in Budapest. In a pleasant restaurant courtyard near his office, we had a lengthy conversation about Hungary's far-right politics.
In 2014, after Fidesz won its second parliamentary majority, Rorke wrote an article for the Open Democracy website (opendemocracy.net) about the government's promotion of both historical anti-Semitic figures and some odious extremists operating today.
For example, in planning events to mark the 70th anniversary of the Holocaust in Hungary, "the Orbán government inaugurated a new historical institute named Veritas, whose purpose was 'to strengthen national awareness,'" wrote Rorke. "To carry out this 'historically important patriotic task,' the institute was placed under the leadership of Dr. Sándor Szakály, who soon after publicly described the 1941 round up and deportation of 18,000 Jews, most of whom were subsequently murdered near Kamenets-Podolsk, as nothing more than a police action against illegal aliens."
According to Rorke, the establishment of Veritas prompted the historian Randolph L. Braham to return "a high state award to Hungary, in protest at the 'brazen attempt to falsify history' and exonerate the country from its role in the Holocaust."
In returning his award, Braham wrote: "As a survivor whose parents and many family members were among the hundreds of thousands of murdered Jews, [I] cannot remain silent, especially since it was my destiny to work on the preservation of the historical record of the Holocaust."
From his outsider position, Rorke said that the Jews in Budapest acknowledge that there is an anti-Semitic climate in Hungary, but they will not allow it to stifle their efforts to lift up the Jewish community. "They're wary of creating the impression that people are afraid," he said.
Rorke agreed with the proposition that Orbán seeks good relations with the Hungarian Jewish community, despite the anti-Semitic dog whistles that crop up in his rhetoric.
"When it comes to anti-Semitism, it's a dog whistle; when it comes to anti-migrant, anti-refugee, anti-Muslim prejudice, it's a megaphone, it's in your face," Rorke commented. "The Fidesz government has always been very defensive and quick to repudiate any accusations of anti-Semitism."
The Fidesz government will host an international forum against anti-Semitism and restore derelict synagogues around Hungary; but it also "will give awards to vile anti-Semites: the top award in journalism goes to Bayer Zsolt," said Rorke, whose article in Open Democracy quoted Zsolt writing in regard to Hungarian Jews, of "a stinking excrement called something like Cohen from somewhere in England," and expressing regret that "they were not all buried up to their necks in the forest of Orgovány," the latter a reference to massacres of Jews in the 1919-1920 White Terror in Hungary.
Rorke also pointed out that Jobbik, a neo-Nazi party whose members used to assemble on the streets in paramilitary garb, is the largest single opposition party in the Hungarian parliament. Jobbik, which "emerged as a fascist party" and has targeted Roma (also known as Gypsies) for physical attacks, received 20 percent of the vote.
"Jobbik has tried to refashion itself as a mainstream, patriotic party," said Rorke. "It sent Hanuka greetings to Jewish organizations. They have made apologies to Romani organizations." And as Jobbik tries to rebrand itself, Fidesz has become more extreme — it has "hijacked the rhetoric of the neo-Nazi Jobbik party," according to Rorke.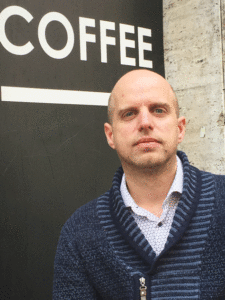 I first heard about Hungary's recent round of troubled politics in 2014, when the American Jewish Joint Distribution Committee (JDC) held an international forum in Minneapolis, in concert with Jewish federations from around the Midwest.
At a breakout session, I met András Borgula, founder and artistic director of the Golem Theater, the only professional Jewish theater company in Budapest. I got in touch with Borgula ahead of my April visit to Budapest and he was amenable to our meeting.
On a Friday morning, Borgula met me in front of the Blue Bird Café, which was next to my apartment building in the historical Jewish quarter. He suggested that we go to another coffee shop around the corner. There is a strong coffee culture in Budapest.
When I met Borgula in Minneapolis four years ago, he discussed the previously mentioned formation of the Veritas Historical Research Institute, which many Hungarian Jews decried for propounding a revisionist history of the Shoah. Borgula's theater ended up turning down a $20,000 grant that was offered as part of the government's commemorations marking 70 years since the end of World War II.
Apart from the Veritas controversy some years ago, Borgula said that his theater was thriving.
"We doubled or tripled our operation in the last couple of years, and it's because there is a need — people want to come, we're selling more and more tickets," said Borgula. Regarding the attraction of Golem Theater, he said that the productions are good, and that "there is a new voice, a new Jewish theater, that we represent a completely different voice than any Jewish organization before us. On the other hand, I'm pretty sure that this is also a demonstration against what is going on in the political or public life in Hungary. People are coming to the Jewish theater to support us, to support minorities, to say, 'When I'm coming to the Jewish theater, I agree with András' — 'cause you can see me on TV, you can hear me on radio…. I'm always speaking as a Jew. The first thing I'm telling in any interview is that I'm a member of the Jewish community. I'm making it clear that I'm a Jew, and I'm not against immigrants who are coming," regardless of whether they are Muslim or what views they have of Jews. "We should not close all the doors, build fences…"
Borgula allowed that he expresses himself more forthrightly than do most Jews in Budapest. This owes somewhat to having lived for eight years in Israel, where he served in the IDF. A certain Israeliness characterizes his approach.
I asked Borgula if young Hungarians knew about the Jewish experience in the 20th century, the Shoah and the mass murder of Hungarian Jews.
"No, that's really interesting that you're asking that," he replied. "We have this project, we're visiting high schools, we have a 45-minute performance, it's called Recipes for Survival," which is based on a female Holocaust survivor's story of creating cookbooks with her friends while they were interned in a concentration camp.
Her book was published by the Centropa organization, and Golem Theater adapted it for the stage. The project was a big success, so it was decided to abridge the play and tour it in Hungarian high schools, with each performance followed by a discussion of the issues raised in the play.
The discussions expose a gap in the students' grasp of history.
"Some of them don't even know that in Hungary there was a German occupation," according to Borgula. "They have no idea about the Jewish community — sometimes they truly believe that there are more than a million Jews living in Hungary." (Experts estimate that there are 75,000 to 100,000 Jews in Hungary.)
Some students say that they're not Jewish, "but my grandmother and grandfather were in concentration camps."
Students know "less and less," remarked Borgula, who added — "I'm sorry to always involve politics" — that the current government is changing school textbooks to revise Hungary's complicity in the Holocaust. Borgula mentioned the statue to Hungarian victims of the German occupation, as an example of the Fidesz party's efforts at Holocaust revisionism (see photo at top).
Like many young Hungarians, Borgula inadvertently learned about his Jewish identity in 1989, after the Iron Curtain came down. His family's apartment had the only landline phone in the building, "because my grandparents were active in the Communist Party." One day he answered the phone and a caller was looking for "Chaim." There was no Chaim, he replied. It's not a Hungarian name.
The caller persisted and asked Borgula if his grandfather was still alive. He replied that his maternal grandfather had died 10 years earlier, to which the caller said that he had a brother who had died; his name was Chaim but he changed it to Henryk. Then the caller asked about Borgula's grandmother, "Malka." Borgula said that his grandmother was alive, but her name is Elizabeth.
At this point, Borgula's grandmother came into the room, having overheard some of the conversation. She cautioned Borgula that the last time someone called asking for Chaim and Malka, "they took all my family and nobody came back."
Borgula turned the phone over to his grandmother, who then talked for 45 minutes with her long-lost brother-in-law, her late husband's youngest brother, who left for Israel in 1945, and had just returned to Hungary for the first time, 44 years later.
"We have relatives in Israel?" Borgula asked. "How come we have?"
His grandmother replied, "Because we're Jews. And the dinner is ready, come to the kitchen."
(American Jewish World, 6.1.18)