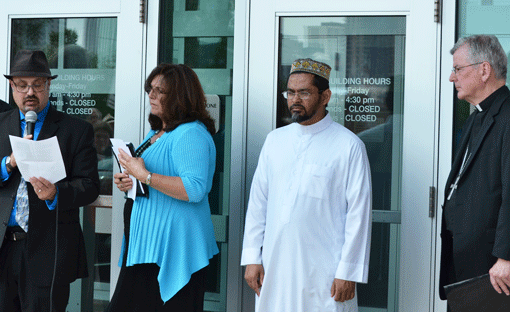 Jewish Community Action (JCA) was among the groups co-sponsoring an Aug. 3 Faith Action Vigil, under the umbrella of the Interfaith Coalition on Immigration. The event took place in front of the main entrance to the Ramsey County Law Enforcement Center in St. Paul.

The event, the 59th monthly Sunday vigil in St. Paul, was attended by Jews, Christians, Muslims and others concerned about the United States government's policy of detaining and deporting families and unaccompanied minors fleeing violence and poverty in Central America. Among those addressing the 150 attendees was Archbishop John Nienstedt, of the Catholic Archdiocese of St. Paul and Minneapolis.
"Children are being forced to leave family and friends behind to escape violence," said Ana Vasquez, of the Minnesota Immigrant Rights Action Committee (MIRAC).
Imam Asad Zaman, of the Muslim American Society of Minnesota, expressed his "sorrow" for "for those who have sought shelter at our doorstep" and have been turned away.
"We need to reclaim the soul of America," said Zaman. "This is not about foreigners taking over our country, this is about faith."
Zaman added that America has historically been open to immigrants, whose talents have enriched our society.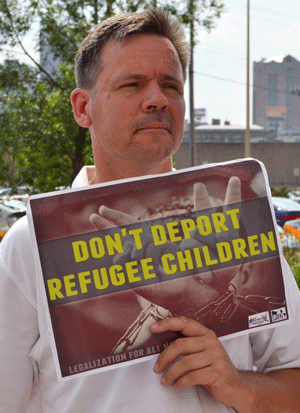 Rabbi Alan Shavit-Lonstein told the story of the Israelites' exodus from slavery in Egypt. "This particular story has become a universal story," he commented.
Shavit-Lonstein explained that during the Passover seder, Jews are commanded to put themselves in the story. "We are duty bound to consider as if we ourselves left Egypt," he said, and added that it is the experience of being "strangers in a strange land" that should lead Jews to deal compassionately with immigrants seeking a better life in America.
"It is time for the Congress and the president to act in support of the thousands of children who have come and are coming to the U.S. seeking refuge and connecting with families," said Vic Rosenthal, JCA executive director.  "As people of faith, we must come together to make sure our country welcomes these children, connects them with their families and provides strong legal protections."