Videos of an Israeli soldier shooting an incapacitated Palestinian attacker are contributing to the debate over how far Israeli soldiers should go
(UPDATE: JTA reported March 31 that Israeli authorities will charge the soldier held in the Hebron shooting with manslaughter, rather than murder.)
By BEN SALES
TEL AVIV (JTA) — It began as an all-too-common story: A Palestinian assailant in the contested West Bank city of Hebron stabs and wounds an Israeli soldier. Israeli forces shoot him dead.
But hours after the March 24 incident, a political and moral firestorm engulfed Israel. A video showed a soldier executing the already incapacitated attacker. One day later, after condemnation from the highest reaches of Israel's government, a second video appeared to show that the attacker might have still posed a threat. In response, the IDF released results of an investigation indicating the soldier was at fault. Then came a third video showing the soldier shaking hands with a far-right activist after the incident.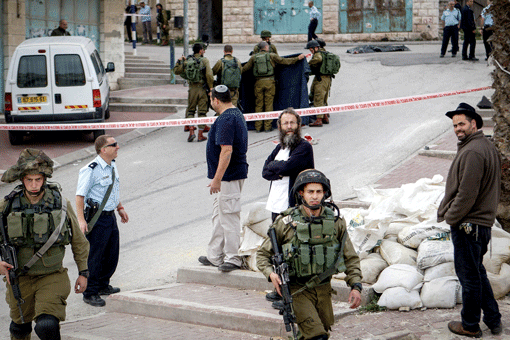 The dueling views of the clash are the latest installments in a running debate over how far Israeli soldiers should go in responding to the ongoing wave of Palestinian knife attacks. The incident has raised questions about the Israel Defense Forces' rules of engagement, how the army should treat soldiers who break protocol and — within Israeli society — the limits of criticism of the IDF.
Here's what happened, how it has played out and what it says about Israel's response to the terror wave.
A video showed an Israeli soldier killing an already incapacitated attacker.
Last Thursday morning, two Palestinian men armed with knives attacked an Israeli soldier at a checkpoint in Hebron, lightly wounding him. Nearby soldiers shot the two men dead.
But a video taken by the Israeli human rights group B'Tselem shows that one of the attackers was killed only after the attack, while he was lying on the ground. In the video, an Israeli soldier approaches the scene, cocks his gun, aims and shoots the man as an ambulance passes by. After the shot, blood flows from his head onto the pavement.
The IDF arrested the soldier and senior Israeli officials criticized his response. Last Friday, the army charged the soldier with murder.
"What happened today in Hebron does not represent the values of the IDF," Prime Minister Benjamin Netanyahu said on the day of the attack. "The IDF expects its soldiers to behave level-headedly and in accordance with the rules of engagement."
Right-wing Israelis are defending the soldier and say the attacker may have still posed a threat.
Backlash soon followed the criticism. Four-fifths of posts about the shooting on Israeli social media support the soldier, according to Buzzilla, a social media analytics startup. And a video of the attack released one day later seemed to corroborate the claim that the attacker could still be dangerous: Paramedics urge people to stay away from the attacker, as he could be preparing to detonate explosives.
Politicians to Netanyahu's right have criticized him for rushing to condemn the incident and insufficiently supporting Israel's troops. Last Saturday, Education Minister Naftali Bennett wrote on Facebook that officials should withhold criticism until the IDF finishes its investigation. Bennett and Netanyahu argued over the incident at Sunday's Cabinet meeting, according to Israeli reports.
"Are we out of our minds?" Bennett wrote. "We're at war. A war against cruel terror. It's possible the soldier erred. It's possible he didn't. It's possible he felt that the terrorist had an explosive and could detonate it at any time, and by shooting him he would save lives and prevent a subsequent attack."
In response to the criticism, the IDF released the results of its investigation thus far, which indicate the soldier arrived at the scene only several minutes after the terror attack and acted independently. His officers had checked the attacker and rejected the possibility that he had a bomb.
On Sunday, a third video surfaced showing the soldier shaking hands with far-right Kahanist activist Baruch Marzel after the attack.
"On the professional front, we have found that the [other] soldiers acted appropriately, and we praise their actions and their quick foiling of the terrorists," IDF spokesman Brig. Gen. Moti Almoz wrote on Facebook Sunday. "On the values front, after an initial investigation by the commanders, we have found that this is a severe incident."
The video comes amid criticism of Israel's response to a wave of stabbing attacks.
Netanyahu is hardly the first to criticize Israeli soldiers' response to the terror wave. Since its outset last year, perceived oversteps in the IDF's response to the stabbing attacks have drawn criticism from leaders both within and outside of Israel.
Since September, more than 200 Palestinian stabbing attacks have left 34 Israelis dead and hundreds wounded, according to Israel's Foreign Ministry. Israeli forces have killed more than 200 Palestinians, most of them attackers, according to news reports. Centrist and right-wing Israeli politicians, including Yesh Atid Chairman Yair Lapid and Public Security Minister Gilad Erdan, have encouraged soldiers to kill attackers on the spot.
The U.S. State Department, as well as Sweden's Foreign Ministry, have criticized Israel for a disproportionate response to the attacks. Even IDF Chief of Staff Gadi Eizenkot told high schoolers last month that he "doesn't want a soldier emptying a magazine on a girl carrying scissors," while Defense Minister Moshe Yaalon said the next day, "We need to know how to win and still remain human." Eizenkot, in turn, was criticized for not defending his soldiers.
The problem is not with the IDF's rules of engagement, but rather with how they're enforced, former Deputy Foreign Minister Yehuda Ben Meir told JTA. He said "99.9 percent" of IDF actions are appropriate, but that the army needs to make a concerted effort to educate soldiers about conduct in fighting terror and to enforce norms.
"When there's continual terror, it creates pressure and tension, so what we need to learn from this situation, the most important thing, is to keep the rules of engagement," said Ben Meir, who heads the National Security and Public Opinion Project at Tel Aviv University's Institute for National Security Studies. "If everyone does whatever they think, everything will fall apart."

Here is the video of the soldier shooting the Palestinian attacker (WARNING: GRAPHIC VIOLENCE DEPICTED):