by MAX SPARBER
Community News Editor
Victor Vital, who died Jan. 20 at the age of 86, survived the Holocaust by hiding.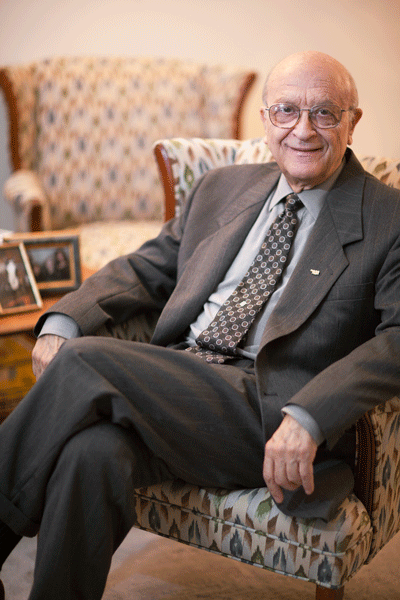 Vital was born in Patras, Greece, a city that had a Jewish presence that dated back to the Hellenistic Period. The city Jewish community had grown enough that in the 16th century it boasted four synagogues, three of them Sephardi and one of them Ashkenazi.
Remembrance
It was a community that suffered repeated hardships, including losing a majority of its population to slavery during the 1860's Turko-Venetian War and the surviving community experiencing persecution during the Russian-Turkish War of 1770 and had dwindled to 17 families by the end of the Ottoman Period.
The city gained and lost Jews over the next centuries until the Nazis arrived in 1944, when most families, including Vital's, fled. The 12 families of Jews that remained were deported, while those that had fled were cared for by Greeks in the region, often hidden in cellars or in the woods.
The Transfer of Memory project described how Vital and his family of eight survived: "When the Nazis invaded Greece in 1941, word spread to Patra that Victor's entire maternal family of 90 had been murdered in Salonica," the project explained. "Friends urged Victor's father to take his family and flee before the Nazis entered Patras. With the help of his father's friend, the Chief of Police, the family obtained Christian IDs and escaped to hide in a series of mountain villages.
"We were all hungry. One day my father was in the hills looking for food, he ran in to a man from our town. 'What are you doing here, the Nazis are looking for you and your family.' As my father turned to leave, the man handed him a small bag of wheat. It was all he had. That bag of wheat helped keep us all alive until we came out of hiding.
"I am alive today because of the people who protected us. I feel obligated to let people know."
At the end of the war, Vital remained in Greece, where he started a family. Political unrest in the country caused him to flee to America, where he had a sister who settled in St. Paul; there he worked as an accountant until his retirement. He was a constant presence at Mount Zion, where he was eventually convinced to start teaching about his experienced in the war. Vital explained in the book Witnesses to the Holocaust that he didn't consider himself a Holocaust survivor because he had not been in a concentration camp, but eventually became certain of the value of his story and became a Holocaust educator.
His son Joseph Vital explained his decision in an interview with American Jewish World: The community of older survivors had aged out of telling their story, many had died. Vital did not want the story to go untold, and so made himself available to anyone who wanted to hear his story.
Joseph recalled his father as being "very spirited." He told of going with his family to see Hubert H. Humphrey speak when he was a boy. At the speech, a group of neo-Nazis gathered to protest, some waving signs (including one that read "Humphrey is a jerk.")
As he arrived, Joseph saw his father grow very agitated and walk past him, shouting. Vital was intercepted by several of his friends who calmed him down, but after the event Joe realized that his father had not been yelling at the Nazis. "He was more angry with the police that they were protecting the Nazis," Joseph explained. "He did not remain quiet."
During his eulogy, Rabbi Adam Stock Spilker of Mount Zion said the following of Vital: "I am going to miss Victor at Torah study. For years he would sit opposite where Rabbi Adler or I would sit. To our right would be Esther Winthrop who also survived the Shoah in Greece. And then almost any Torah verse could be a launching pad for our built-in Greek chorus, sharing stories of life in Greece, going to cheder, the rituals, the community life that brought a connection so close and we were all the richer for it.
"When I first came to Mount Zion, I taught a class about the origins of Torah, the possibility that there were different authors beyond the traditional understanding that God handed the complete Torah to Moses on Sinai. After class, Victor came to me. With deep consternation, he asked how I could be teaching such things. The innocence and strength and legitimacy of that question was profound. I knew then that the Jewish world that Victor grew up in and the American Jewish world of today were worlds apart. I had a duty to learn as much as I could about a perspective that was literally foreign to me, before we lost a part of our Jewish people's history. And I learned from Victor in Board meetings, Torah studies, conversations at oneg and when he shared his story of survival in Greece."
Vital was one of the subjects of a series of portraits of survivors painted by Felix de La Concha for a program at the University of Minnesota in 2015. Vital, then 82, posed attentively, telling his story; the resulting portrait shows him with an open, downturned mouth. " I could not smile telling him all those things that happened," Vital explained to MPR news.
Vital is survived by sons, Joseph and Demetrios; daughter, Rachel Vital Davis; and three grandchildren.