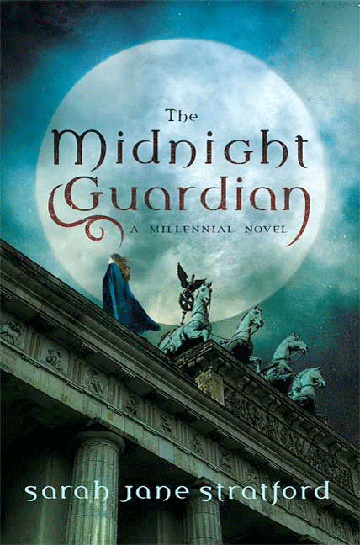 The pop-culture mania for vampire stories meets the Holocaust in Sarah Jane Stratford's debut novel, The Midnight Guardian, according to Marc Tracy's article, "War Diary of a Vampire," for Tablet Magazine.
Following on the popularity of Stephenie Meyer's Twilight series — the movie adaptation of Meyer's first book grossed nearly $200 million in the U.S. — Stratford's book follows a group of English "millennials," vampires who have been undead for more than 1,000 years, from 1938 to 1940, as they try to undermine the Third Reich's drive for global domination.
Here's more explication from Tablet:
Stratford's elegant plot device establishes that war, by killing too many humans, leads to vampire famine. "This was defense of what both humans and vampires held dear," Stratford writes of the millennials' quest, "although the humans did not count among their own delights their status as delicious, and necessary, food."
But as Hitler's intent to cleanse Europe of vampires — as well as certain other undesirables, particularly the Jews — becomes apparent, the mission's urgency grows. Yes, that's right: Stratford has given this latest vampire revival its first Holocaust novel.
This, of course, is not without its problems. Vampires — a secret cult with an ancient tradition, bent on world domination and feeding on human blood — fit a bit too snugly with the demented stereotypes that more imaginative anti-Semites have cultivated for centuries. Emory University professor Erik Butler traces this connection in his forthcoming book, Metamorphoses of the Vampire. Originating in 12th-century England, the blood libel — the idea that Jews ritualistically slaughter gentiles and feast on their blood—was so common by the late 19th century that Blutsauger, or "bloodsucker," the German word for vampires, was a common derogation for Jews. Karl Lueger, the notoriously anti-Semitic mayor of Vienna, amplified the charge, in turn inspiring his admirer, Hitler, to call Jews parasites in Mein Kampf.
The Encyclopaedia Judaica devotes a major entry to the blood libel, including a map of Europe "showing sites and periods of blood libels" from the 12th to 19th centuries — from Gloucester to Kiev, and from Berlin to Corfu. The entry notes: "In the 19th century the ringleaders of Jew-hatred in its modern form of antisemitism made conspicuous use of the blood libel for incitement against Jews in various countries. It was also used as a weapon to arouse the uneducated masses for specific political reasons, as occurred, for instance, in the Damascus Affair (1840) in the struggle among the western powers for influence in the Near East."
The entry continues: "The Nazis used the blood libel in full force for anti-Jewish propaganda. They revived old allegations and instituted reinvestigations and trial in territories under their rule or influence… On May 1, 1934, the Nazi daily, Der Stuermer, devoted a special illustrated number to the blood libel, in which German scientists openly served the Nazi aims."
As classical European anti-Semitism has migrated to Arab countries in our day, the Encyclopaedia Judaica notes that the Egyptian government-sponsored newspaper Al-Ahram published a full-page article in 2000 titled "Jewish Matzah Made form Arab Blood"; and, in 2003, al-Jazeera and the Hezbollah TV network Al-Manar broadcast The Exile, a series propagated the blood libel to millions of views: "The image of the Zionist… is that of the Der Stuermer Jews, bloodthirsty and frighteningly ferocious."
In his Tablet article, Marc Tracy compares Stratford's novel to the Twilight tradition, and find's that The Midnight Guardian's "obsession is heart-rending, ecstatic, all-consuming, impossible, way too graphic, and, in one scene, pretty raunchy vampire love. Unlike Meyer's goyishe Edward Cullen, Stratford's protagonist is Eamon, the ex-Jew; his soulmate, Brigit, is the vampire who 'made' him by biting his neck. To complicate this interfaith vampire love even further, one of the book's subplots has to do with Leon Arunfeld, a legendary Jewish vampire-hunter, who, rather than kill Brigit, has asked her to save his children by smuggling them to safety in England. Thus, the destinies of the vampires and the Jews, those similarly persecuted, traditional, and benevolent creatures (in Stratford's world, vampires are good, even if they literally live off murder), are sensitively intertwined."
Tracy concludes that "Stratford's vampire-Jew connection is too crudely done…. She should have made her book either more realistic or more fantastical." — Mordecai Specktor