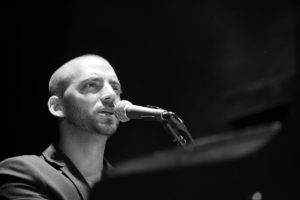 Israeli music luminary Idan Raichel talked with the American Jewish World this week, via telephone from his home in Tel Aviv. Topics included his group's most recent album, Quarter to Six; his four-month-old daughter; and the upcoming U.S. and Canada tour of the Idan Raichel Project, which includes a May 14 stop at The O'Shaughnessy in St. Paul.
The show is presented by The O'Shaughnessy and the St. Paul JCC.
A feature story will appear in the AJW's April 25 edition.
Raichel last appeared here about two years ago, at the Dakota Jazz Club in Minneapolis, with the Malian singer Vieux Farka Touré.
Raichel mentioned that his musical ensemble is marking 10 years of recording and performing. In 2003, the Idan Raichel Project's song "Bo'ee (Come to Me)" got radio play in Israel, and introduced the sounds of Ethiopian music — and the Amharic language — to the mainstream. The group continues to meld ethnic musical modes from around the globe into its unique and exciting sound.
The Idan Raichel Project — three vocalists and seven musicians — will play music from the Quarter to Six album (which achieved double-platinum status, selling 80,000 copies in Israel), and popular tunes from previous albums, when they take the stage on May 14 in St. Paul.
The concert is co-sponsored by the Jewish Federation of Greater St. Paul, the Israel Center of the Minneapolis Jewish Federation, the Russian American Project, and the Genesis Foundation.
Here's a video of the song "Im Ha'ita Ro'eh (If You Would Have Seen)," featuring vocalist Liat Zion, from the Idan Raichel Project's 2013 album Quarter to Six: