By ADRIAN GLASS-MOORE / Assistant Editor
The Minneapolis and St. Paul Jewish federations are responding to the COVID-19 pandemic by giving out emergency grants, helping agencies secure government loans, supplying face shields and setting up a weekly phone call among local Jewish leaders.
Grants are a much-needed form of aid as organizations struggle financially, and the Minneapolis Jewish Federation has committed a large sum to this purpose. CEO James Cohen said in an interview that the federation is prepared to give out $3.36 million as part of its pandemic response, of which $2.1 million has already been granted.
The $3.36 million includes $1 million for Jewish summer camps, $1.1 million for other agencies and $360,000 is for Jews overseas.
"The financial contribution that we've done is substantial," Cohen said.
The St. Paul Jewish Federation, whose budget is significantly smaller than its Minneapolis counterpart, has given out a total of $50,000 in emergency grants, to Jewish Family Service of St. Paul, senior care nonprofit Sholom and the St. Paul JCC, CEO Ted Flaum said in an interview.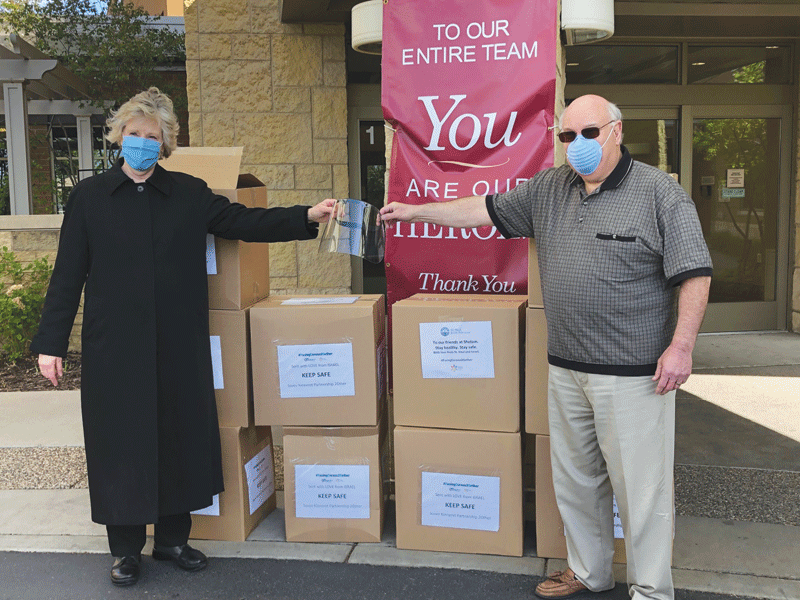 Flaum said the JCC used the money to meet increased demand for Meals on Wheels and for virtual programs; Sholom used it for training and technology; and JFS used it for Meals on Wheels and other programs.
Flaum said the Federation decided "not to conduct an emergency campaign" to raise money because it could "cannibalize" the annual campaign, which is underway. The success of the annual campaign is key because "at the end of the day our agencies are going to look to us to continue our regular support for them," he said.
The Minneapolis Federation set up a COVID-19 Emergency Relief Fund which has raised almost $40,000.
Last month, the St. Paul Federation donated 1,000 high-quality face shields to Sholom, the result of a partnership with Israel's Sovev Kineret region. An Israeli manufacturer "worked with Korea to develop a new face shield which was the Cadillac of face shields. It was anti-fogging, it was lightweight and we were able to… have them sent to St. Paul," explained Flaum.
The CEOs said the federations have been working together. They organized a weekly Monday call among Jewish leaders where they discuss the state of affairs amid COVID-19.
"Representatives or leaders from all agencies across the Twin Cities are invited to hear updates from not only Gov. Walz's office and the JCRC [Jewish Community Relations Council] but what's going on community-wide," Cohen said.
Bailing out summer camps
The pandemic has led Jewish camps to shut down this summer. One of those is Herzl Camp in Webster, Wisc., which announced May 9 that families would be offered a full refund.
"This decision is guided by recommendations of the American Camp Association, the Centers for Disease Control and Prevention, our own Health and Safety Committee, and the State of Wisconsin," the camp said.
The development didn't come as a surprise to the Minneapolis Federation. The camps are considered a priority because kids who participate tend to value Judaism more as they grow up, Cohen said.
"Jewish camping is probably the most impactful program on Jewish kids remaining part of the community, and if you look at the number of people that end up leading in the community, whether it be professionally or volunteer-wise, camp does such an important role producing leaders," he said. "That's the reason that we felt we had to act, we saw that this was coming down the pike."
Cohen said a total of $1 million will be given to the six most popular camps so they can bounce back in 2021.
The Minneapolis Federation's $1.1 million in grants to other agencies were awarded in two phases. The first phase focused on immediate needs. "A lot of the phase 1 grants went to organizations that needed to ramp up their IT platform so that they could do their business online," including the religious school at Temple Israel and Heilicher Minneapolis Jewish Day School. A $51,000 grant was given to Sholom for personal protective equipment (PPE).
Phase 2 grants were to compensate for loss of revenues and went to organizations such as Sholom (an additional $250,000) and special needs agency Sha'arim ($36,000).
Both federation CEOs discussed helping organizations apply for loans through the Small Business Administration's Paycheck Protection Program.
Asked about how the pandemic could impact the federations financially, neither CEO said they were expecting a major dip in fundraising this year.
"We've already raised over $1 million for our campaign, so the response has been tremendous and we are cautiously optimistic," Flaum said. "I think our donors who are in the position to respond generously are doing so."
Cohen said the Minneapolis federation has frozen hiring and made budget cuts. But he said that "we anticipate that we will have a successful campaign this year despite COVID-19."
Rabbis unanimous against reopening
In other COVID-19 news, the Minnesota Rabbinical Association said Jews should continue to worship from home for the time being, "even as certain rights to access houses of worship expand."
In a unanimous statement May 24, the 42 rabbis said that synagogues would remain closed for the sake of public health.
"As a Jewish people our commitments to one another, to Torah, and to our fellow Minnesotans flow from a language of responsibility," the rabbis said. "It is essential to continue drawing from that responsibility as the peak of COVID-19 has yet to come."
On May 18, Walz let the state's stay-at-home order expire, replacing it with a less strict "Stay Safe" order that allows small gatherings and houses of worship to reopen with restrictions.
Sholom is also reacting cautiously. In a June 2 statement, the nonprofit said "the new Stay Safe directive from Gov. Walz takes initial steps to re-open Minnesota, but the spread of the COVID-19 virus is only anticipated to grow in the weeks ahead. Our mission to protect our residents and staff remains our priority."
Sholom recently began publishing detailed information about the number of COVID-19 cases in its facilities. Forty residents have tested positive for the virus and 18 have died. There have 18 "staff cases" and one staff member has died.
TC Jewfolk reported that David Kolleh, who worked for Sholom as Roitenberg Hodroff Memory Care program manager in St. Louis Park, died last month at age 62 from COVID-19. He is survived by his wife Joetta and 13 children, according to TC Jewfolk.
A GoFundMe fundraiser was set up on May 19 on behalf of Joetta Kolleh. An accompanying message reads: "Yesterday we lost a Health Care Hero to the COVID -19 virus, David Kolleh. David served the seniors with compassion love and dignity.
"He was a bright light in the lives of all that encountered him. Please help us to raise money to help pay for his funeral and for his family to get through this very difficult time."
As of June 2, the fundraiser had raised nearly twice its goal of $15,000.
(American Jewish World, June 2020)