As the Guthrie Theater's unprecedented celebration of his work comes to a close, the playwright talks with the American Jewish World
By MORDECAI SPECKTOR
Renowned playwright Tony Kushner returned briefly to Minneapolis last weekend. He wanted to see another performance of Caroline, or Change, before the end of its run at the Guthrie Theater (5-1-09 AJW). Kushner wrote the book and lyrics for the show, and Jeanine Tesori wrote the music.
"I love this production and I'm eager to see it once more," he told the Jewish World last week, during a phone interview from his office in New York City.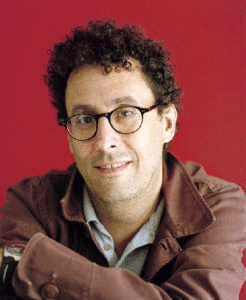 The Kushner Celebration, which saw the playwright's productions on all three of the Guthrie's stages in May and June, is drawing to a close. Kushner's new play, The Intelligent Homosexual's Guide to Capitalism and Socialism with a Key to the Scriptures — which had its world premiere on May 22 at the Guthrie — will have its final performances this weekend (5-29-09 AJW).
"I'll be doing a lot of rewrites before it comes to New York [next spring]," said Kushner, who mentioned that he has been rewriting the play, which was commissioned by the Guthrie, since its opening night.
"It certainly plays better now than it did on opening night," Kushner said, and added, "A couple of scenes have been fairly extensively rewritten."
The controversial gay, Jewish, socialist playwright, who was raised by classical musicians in Lake Charles, La., is known for works that reflect on modern historical events; his epic play Angels in America is subtitled A Gay Fantasia on National Themes.
In his June 8 talk at the Guthrie, part of the theater's Global Voices series, Kushner discussed his vision of theater as an attempt to portray the "doubleness of life," reality and illusion, which we must apprehend if we are "to live in history, and not be the fools of history." In discussing the origins of Angels in America, Kushner called this viewpoint the "antithesis of Reaganism," which presented the symbols of patriotism as reality. According to Kushner, the "Reagan counterrevolution" was a "terrifying" new political and social experiment that sought to dismantle the governmental social safety net at the same time as a "biological catastrophe," AIDS, was cutting a swath through an "unprotected and persecuted minority."
Regarding Kushner's political leanings, a recent article on the Tablet magazine Web site suggests that many American Jews are shifting their "mental model" of the Israeli-Palestinian conflict "away from unquestioning support of Israel." The Tablet story — headlined "Tony Kushner, Post-Zionist Mascot," with the subhead: "The standard-bearer for the Jewish left?" — is based on research by Merle Lefkoff, president of the Madrona Institute. Lefkoff argues that Israel's recent Gaza war was a tipping point for American Jews, who are now gravitating to the political positions represented by Tony Kushner.
"I certainly don't want to be anyone's mascot," the 52-year-old playwright responded. "That's no fun."
Kushner added that the "Jewish left is a wildly heterogenous place," where no one really needs a "mascot" or symbol.
"I am of the left and I'm Jewish, and very proudly of the Jewish left," Kushner added. "Why would anyone want to be anywhere else on the spectrum? But I don't consider myself a post-Zionist, anti-Zionist or Zionist; I consider myself a diasporan Jew and a Jewish American."
Kushner, who has been pilloried in print by some Jewish conservatives, allowed that he has "a complicated relationship to Zionism, as a historical entity and a way of thinking."
New York Times columnist Roger Cohen is another American Jew who has been in the crosshairs of controversy lately. In an interview in the June 12 edition of the Jewish Week in New York, Cohen said that Israel's war in Gaza was a watershed: "Something did break in me at the time of the Gaza attack. I couldn't see the strategy behind" Israel's military moves, "and I was appalled at the extent of the loss of life" among the Palestinians in Gaza.
Asked about this view, Kushner said, "I think the Gaza war — or atrocity, or whatever you call it — is absolutely a turning point for me and for most Jews. I think that we're in the middle right now of beginning of trying to process what happened and what the consequences of it are really going to be for our community."
Kushner termed Israel's war in Gaza as "a complete catastrophe… a human rights debacle." Further, Israeli leadership has taken a turn for the worse, according to the playwright, who called Prime Minister Benjamin Netanyahu "a man for whom I have nothing but immense contempt… a man I frankly find repulsive." And the Israeli Cabinet now features "even more repellent figures, like Avigdor Lieberman," who have come to power in the aftermath of the Gaza war.
At the same time, Kushner is sanguine about President Barack Obama's emerging policies in the Middle East.
"I'm certainly very hopeful," Kushner told the AJW. "I believe that there is still the possibility of a negotiated peace in the Middle East. And whether there is or not, is something we are only going to find out if we try it; and if we really seriously try it, as opposed to pretending to try it. The Bush administration didn't even do that; they made a dreadful mess of the thing."
However, Kushner said, "It's just very unfortunate" that Obama has to deal with an Israeli government led by Netanyahu.
Apart from the dire politics in the Middle East, Kushner called Israel "an amazing place, and I love going there." He also mentioned his visits to the West Bank and Gaza. During one visit to Israel in the mid-'90s, he saw a Hebrew production of Angels in America at the Cameri Theatre
As for current projects, Kushner said that he has completed a screenplay about the life of Abraham Lincoln, for director Steven Spielberg. The project, which is based on the Doris Kearns Goodwin biography of the 16th U.S. president, is slated for release in 2011. Also, Kushner is working on another musical with Jeanine Tesori; but he didn't want to comment on the specifics of the work.
During his Global Voice conversation with Joe Dowling, the Guthrie Theater's artistic director, Kushner said that he was "electrified" by his time in Minneapolis.
He told the Jewish World that he didn't have much time for socializing during his recent sojourns in Minneapolis — he was busy trying to finish Act III of The Intelligent Homosexual's Guide.
"I was tremendously impressed by audiences that came to see the plays… it was very moving to me," Kushner reflected. He said the Guthrie staff and building were "amazing." All in all, Kushner said he "felt very supported and encouraged by the experience. Everybody made a big fuss about me; and that was just very embarrassing and very nice at the same time."
Perhaps when his schedule lightens, Kushner, and his spouse, Michael Mayer, can return to the Twin Cities and ride bicycles along the Midtown Greenway — or do some walleye fishing at Mille Lacs.