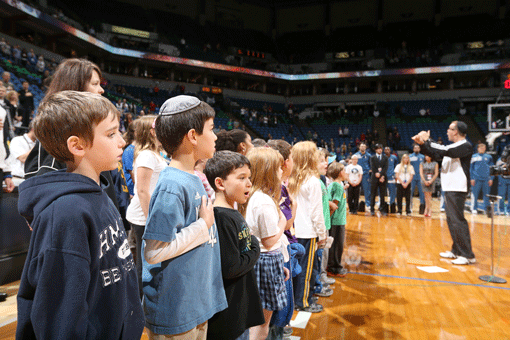 HMJDS chorus sings before Timberwolves-Maccabi Haifa game on Tuesday night at Target Center. (Photo: Courtesy of Minnesota Timberwolves)
The chorus of the Heilicher Minneapolis Jewish Day School sang "Hatikvah," the Israeli national anthem, and "The Star Spangled Banner," prior to Tuesday night's basketball game between the Minnesota Timberwolves and Maccabi Bazan Haifa.
The exhibition game marked the first time that the Wolves played an international team at Target Center.
The contest was close at halftime, with Minnesota up 45-42. Then the Wolves shifted into a high-flying gear and scored 39 points in the third quarter. Minnesota finally proved to be too much for Maccabi Haifa, winning 114-81, before a crowd of 11,192, including some fans waving Israeli flags.
The halftime entertainment was provided by the Sababa Dance Group, a collaboration involving several local groups that do Israeli dance.
Maccabi Haifa — which is owned by Miami-based, Jewish American billionaire Jeff Rosen — also played the Golden State Warriors, on Oct. 11, and lost that hard-fought game 108-100. The Maccabi team includes six Americans, including three with previous NBA experience. Paul Stoll, who has dual U.S. and Mexican citizenship, and Pat Calathes, who is a citizen of both the U.S. and Greece, led the scoring for Haifa on Tuesday night, with 17 points each.
Kevin Love led the Timberwolves with 24 points and eight boards. However, on Wednesday, Love broke two bones in his right hand during a workout, and is expected to be out of action for six to eight weeks, which is a big blow to the team's hopes for a successful season. — Mordecai Specktor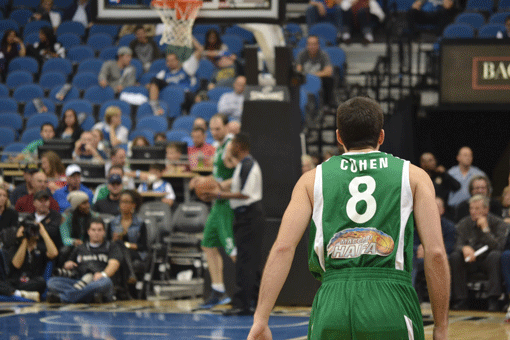 Maccabi Haifa guard Bryan Cohen, who played his college ball at Bucknell University, sets up on offense. (Photo: Mordecai Specktor)