Bikel was best known as Tevye in the Broadway production of
Fiddler on the Roof
By JTA Staff
(JTA) — Theodore Bikel, an actor and folk singer who was recognized in 1997 with a Lifetime Achievement Award from the National Foundation for Jewish Culture, has died at 91.
Bikel, who won fame playing Tevye in Fiddler on the Roof, doing more performances of the role than any other actor, died Tuesday morning of natural causes at the UCLA Medical Center in Los Angeles, according to the Hollywood Reporter.
Remembrance
Born in Vienna, Bikel fled Austria at age 13 with his family after the 1938 Nazi Anschluss. The family settled in prestate Palestine, and in 1946 Bikel went to London to study at the Royal Academy of Dramatics Arts.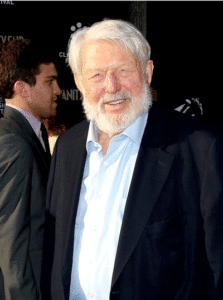 In his autobiography, according to Variety, he expressed regret about not returning to Israel to fight in the 1948 War of Independence: "A few of my contemporaries regarded what I did as a character flaw, if not a downright act of desertion. In me, there remains a small, still voice, that asks whether I can ever fully acquit myself in my own mind."
Bikel moved to the United States in 1954 to appear on Broadway in Tonight in Samarkand, becoming a U.S. citizen in 1961. Also on Broadway, he played Captain Georg Von Trapp in the first Broadway production of The Sound of Music. During his career, Bikel appeared on stage, film and television in musicals, dramas and comedies.
In 1958 he was nominated for an Academy Award for his performance in The Defiant Ones, and in 1959 he co-founded the Newport Folk Festival with Pete Seeger and George Wein.
Along with his arts work, Bikel was active in many left-wing causes, from the civil rights movement to the anti-apartheid movement in South Africa to the Soviet Jewry movement to progressive Zionism and the Democratic Party. He was a longtime board member of the American Jewish Congress. In 2010, he was one of more than 150 American artists to sign a letter in support of Israeli actors boycotting performances in the West Bank settlement of Ariel.
Bikel also was a labor activist, serving as president of Actors Equity Association for 11 years and as the longtime president of the AFL-CIO-affiliated Actors and Artistes of America, according to Deadline Hollywood.
In a 2007 interview with Hadassah Magazine, Bikel linked his activism to his experience living through the Anschluss, the Nazi invasion of Austria in 1938.
"It became clear that I would never ever put myself in the place of the nice people next door who said 'It's not my fight,'" he said. "It's always my fight. Whenever I see an individual or group singled out for persecution, there's a switch thrown in my mind — and they become Jews."
Tevye was not Bikel's only Jewish role. In 2007 he was nominated for the Drama Desk Award for outstanding solo performance in Sholom Aleichem: Laughter Through Tears. And in 2014, Bikel produced and starred in the documentary Theodore Bikel: In the Shoes of Sholom Aleichem.
In 2013, at an event marking the 75th anniversary of Kristallnacht, the Austrian government honored Bikel with its highest honor in the arts. As a finale, Bikel asked the distinguished audience to rise, as he sang the Song of the Partisans in Yiddish.
Many of Bikel's 27 albums featured Hebrew and Yiddish folk music — two languages that he spoke fluently, along with German, French and English. In a 2013 interview, he said that of all his accomplishments he was proudest of "presenting the songs of my people, songs of pain and songs of hope."
In the same interview, Bikel said he had planned the inscription for his tombstone — "He Was the Singer of His People" — in Yiddish.
(JTA correspondent Tom Tugend contributed to this article.)