Struck by lightning at camp, Ethan Kadish is now battling a catastrophic brain injury
By TALIA LAVIN
NEW YORK (JTA) — On Aug. 24, two weeks after Ethan Kadish's 13th birthday, the members of his family gathered around a Torah scroll in the chapel of Cincinnati Children's Hospital for a small ceremony marking his entrance into adulthood.
This was not the Bar Mitzva that Scott and Alexia Kadish envisioned seven weeks ago when Ethan was still at the Goldman Union Camp Institute, a Reform Jewish summer camp in Zionsville, Ind.
Scott and Alexia had just finished mailing Ethan's Bar Mitzva invitations and were making final plans for a week of vacation when they received the call: While helping younger campers learn the rules of Ultimate Frisbee, Ethan and two other children had been struck by lightning.
The other children were released from the hospital soon afterward. But Ethan, who suffered cardiac arrest as a result of the strike, was in critical condition. Nearly two months later he is still fighting the effects of a catastrophic brain injury.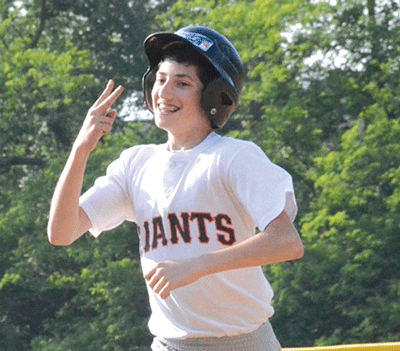 "We know that Ethan will be in the hospital for many months," Scott said. "But the progress we have seen — which we are measuring week to week and month to month, not day to day — has been in a forward direction."
Initially hospitalized in Indianapolis, Ethan was airlifted to Cincinnati Children's Hospital in early July. After two weeks in intensive care, he has regained the ability to breathe on his own, but he remains unable to engage in purposeful movements. Although he has irregular periods of open-eyed wakefulness, his parents told JTA they are not sure of the extent of his vision.
The family has benefited from the support of their community, including their rabbi, Sissy Coran, of Rockdale Temple in Cincinnati, who spent the night with the Kadishes on the second day of Ethan's hospitalization. Meals have been delivered to them three times a week, and hundreds have signed up for Team Ethan on the Lotsa Helping Hands Web site, which assists families caring for a sick relative.
"We have experienced the best of humanity," Alexia said.
Now the family is seeking another kind of help.
In cooperation with the HelpHOPELive fundraising Web site and the Great Lakes Catastrophic Injury Fund, the Kadishes are hoping to raise money to cover Ethan's medical expenses, many of which will not be covered by insurance, they say.
In an interview, the couple — who also have set up a webpage to keep well-wishers informed of Ethan's condition — were candid about the emotional difficulties of the preceding weeks, from the anguished ride from Cincinnati to the hospital in Indianapolis, to the emotional pain of having an unresponsive child. But they remain hopeful.
Recently they took Ethan outside into the sunlight and were rewarded with a response from their son: a tiny but unmistakable laugh.
Nonetheless, as they prepare for the months and years ahead, the Kadishes are cognizant of the many challenges facing their family. They have two other children, ages 16 and 10.
"Our other children certainly know there has been a huge change in our family lifestyle," Alexia said. "They see how many hours Scott and I spend at the hospital. But we're trying really hard to create a schedule as the school year starts to provide some source of normalcy in our family unit."
"This," Scott added, "is our new normal."