Director Candace Barrett Birk looks forward to presenting the story to a new audience
By ERIN ELLIOTT BRYAN / Community News Editor
Minnesota Jewish Theatre Company (MJTC) has announced the return of its holiday show, The Chanukah Guest, which will run Dec. 6-22 at the Highland Park Community Center in St. Paul. This original MJTC commission by Jenna Zark, based on the book by Eric A. Kimmel, sold out in 2014.
Candace Barrett Birk, who made her Twin Cities directorial debut with the 2014 production, returns to helm this year's show. She says it's an opportunity to present the story to a new audience.
"The ultimate payoff is seeing that new audience come in and be delighted and surprised and thrilled by something that we get to present to them as a gift," Barrett Birk told the AJW in a recent phone interview.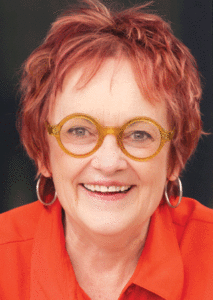 In The Chanukah Guest, the audience meets David's grandmother, Bubba Brayna. She may be losing her vision and hearing, but she always makes the best potato latkes in the village. As she prepares her kitchen for the first night of Hanuka, a knock at the door reveals a most unexpected visitor.
The play features Alex Brightwell as the Rabbi/Guest, Kirby Bennett as Bubba Brayna, and Soren Thayne Miller as David. MJTC describes the show as a "charming, heartwarming and imaginative tale," and recommends it for children ages three and older.
The show also explores the cultural traditions of Hanuka, which was somewhat unfamiliar to Barrett Birk and her trio of actors, none of whom are Jewish. For the first reading of the play, Barrett Birk and her husband, local actor Raye Birk, hosted the cast, producers and MJTC's producing artistic director, Barbara Brooks, for a night of latke making.
"We all made latkes, and then we all sat around the dining room table and learned how to play the dreidel game and did a lot of singing," Barrett Birk said. "It's some of what theater does best, you're always exploring new cultures and new ways of thinking and being and learning in the world."
The show will also include a 10-minute pre-show presentation that introduces young audience members to the theatrical elements, including the lights and sound system.
"We've taken that responsibility seriously, of introducing a whole new group of kids to the theater," Barrett Birk said. "We're seeing this play as a transition place between sitting on your mom's lap and hearing a story read and going into a formal theater setting."
Children will also have the opportunity to learn how to make the sound of the wind, which features prominently in the story set in the woods, and to learn a song that will be sung during the show.
"Most of the kids, by the time they come to us, have read the story," Barrett Birk said. "We're just introducing them to a new way of hearing the story. And, hopefully, a way that they can also…make costumes and make sound effects and tell their own stories."
This engagement of the young audience is in line with Barrett Birk's previous experience as director of the Children's Museum of Los Angeles. A native of Des Moines, she has been involved in theater since high school and last appeared on the MJTC stage in Our Class.
In the Twin Cities, Barrett Birk has worked at the Guthrie Theater, Live Action Set, Hippocrates Café, Theatre in the Round and Open Eye Figure Theater. She also teaches acting at the Guthrie and serves as lead artist for its Theater and the Healing Arts program.
She said The Chanukah Guest is an enjoyable way to spend an hour with "enormously fun visuals."
"The whole spirit of Hanuka is alive in this particular story," Barrett Birk said. "It's a good way either to be introduced to the notion of Hanuka or to kick off your Hanuka season and be part of that celebration of light at the dark time of the year. And we can all use that right now."
***
Minnesota Jewish Theatre Company (MJTC) will stage The Chanukah Guest Dec. 6-22 in the theater at the Highland Park Community Center, 1978 Ford Pkwy., St. Paul. This production is appropriate for children ages three and older.
For tickets and information, call 651-647-4315 or visit: www.mnjewishtheatre.org.
(American Jewish World, 12.4.15)