KARE 11 News meteorologist embraces Judaism and tries to live its values each day
By SAMANTHA EZRILOV
KARE 11 News meteorologist Sven Sundgaard was raised as a Lutheran in Cottage Grove. He was not regularly exposed to Jewish people or Jewish culture, and had only stepped foot in a synagogue maybe once or twice growing up.
But he found himself connecting to Judaism.
"I would find it interesting that through my life, most of the friends that I felt really close to or people that I dated would end up being Jewish," Sundgaard told the AJW. "Ever since I can remember I've always had a real interest in Judaism."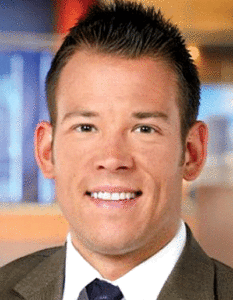 Backed by a supportive family who value a relationship with God above all else, Sundgaard's connection to Judaism grew, similar to his passion for meteorology.
"Part of it is the whole curiosity factor that led me into science," Sundgaard said. "I've always had a spiritual curiosity."
Sundgaard graduated from the meteorology program at St. Cloud State University in 2003 and explored different job opportunities along the way. He ultimately chose to be a television meteorologist to foster his interests in the weather and educating others.
"The thing that has ultimately won me over with TV is that I genuinely get excited about the weather and explaining it. What I would really like is to teach, so to me this is the closest thing to that," Sundgaard said. "That's the biggest difference between a meteorologist and the app on your phone. It's that they're explaining it to you. A meteorologist can provide a little more value."
He worked for a few years in Duluth before taking a job at KARE 11 in 2006.
"Where I am is where I've always wanted to be," Sundgaard said.
Three years later, in July 2009, Sundgaard took a short trip to Israel at the recommendation of a friend who works as a flight attendant for El Al Airlines.
"I was just blown away. It felt like home to me. I had never felt that anywhere else," Sundgaard said. "Like a lot of people, I was pretty ignorant to what Israel was even like. You run into this all the time, where people think that there is barbed wire everywhere and people are dodging bullets all the time."
Sundgaard went back to Israel a year later to enjoy Tel Aviv Pride, Israel's largest gay pride festival, with friends. It was then that he felt inspired to investigate "what it takes to become Jewish."
Once back in Minnesota, Sundgaard enrolled in a class at Shir Tikvah Congregation to learn basic Israeli history and meet the rabbis. Later that summer, he began the conversion process — embracing the Kabbalistic tradition that everyone who converts to Judaism has a Jewish soul.
"Every step of the way just made me more confident and more excited," Sundgaard said. "I like the Jewish concentration on what we're doing and how we're living. Judaism doesn't really pretend to know the answers about the afterlife… I appreciate Judaism more because I grew up in a religion that didn't really make sense to me."
Sundgaard now considers Jewish values like tikkun olam (repairing the world) in his daily life and always strives to think in a more positive light. With such a deep connection to the Jewish religion, values and homeland — and a job at a news organization — Sundgaard is concerned with the way the media discusses Israel.
"It's been frustrating how the conflict has been portrayed," Sundgaard said. "There's a lot of ignorance when it comes to that part of the world."
To counter the often-disappointing news coverage, Sundgaard steps in and suggests that an anchor or producer look into another side of the story if he thinks they are being unbalanced. He is a proud supporter of Israel and its actions, and would like to see more of the Israeli perspective in the news.
"I don't think that should be a cop-out for us not to dig a little more, even if it is just going to be a 40-second thing at the beginning of our news," Sundgaard said. "Standing up for what's right is important, and while I don't feel violence is ever completely morally justified, this is really a matter of Israel's defense.
***
Sven Sundgaard will speak about the weather 11:30 a.m. Saturday, Aug. 2 at Adath Jeshurun Congregation, 10500 Hillside Lane West, Minnetonka.
Samantha Ezrilov is an editorial intern at the American Jewish World.
(American Jewish World, 8.1.14)