Suzanne's Children: A Daring Rescue in Nazi Paris, by Anne Nelson, Simon & Schuster, 318 pages, $26
Reviewed by NEAL GENDLER
Suzanne Spaak, a wealthy, well-connected Belgian living with her unfaithful husband and his mistress in France, had no reason to risk her life saving Jewish children.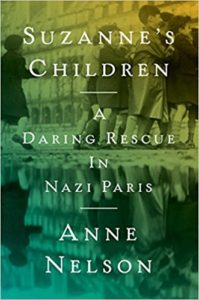 But after helping first Spanish Civil War refugees, then a stranded Russian Jewish couple, one small step led to another until she wound up working early morning to late night to get Jewish children into the hands of other gentiles willing to risk their lives hiding them.
In Suzanne's Children, author Anne Nelson says: "Suzanne was directly responsible for 45 children" and was "an essential thread in a network that served hundreds more. She had been responsible for delivering some 50,000 to 60,000 francs a month for the children's upkeep."
Fund sources included her Belgian banker family allowance and well-off acquaintances.
Suzanne, sister-in-law of Paul-Henri Spaak, Belgian prime minister, had moved to Paris in 1937 with playwright and art connoisseur husband Claude and two children. Claude had been pursued by both Suzanne and her close Canadian friend, Ruth Peters. Ruth had gone back to Toronto, but Suzanne asked her to return.
"If Claude was going to have a mistress, it might as well be someone she liked," Nelson says. For some time, Claude alternated beds.
Apolitical Suzanne found her way into a resistance group begun by Polish Communist Jews called Solidarité. She began employing foreign-accented "maids" who disappeared after Solidarité supplied false papers. Then she joined the National Movement Against Racism, racism meaning anti-Semitism.
She became its banker and business manager, raised funds, carried blank ID documents in her clothes, brought BBC news and became the group's "ambassador to the elite non-Jewish world," where sympathetic people could help.
Essential to rescues was Protestant Pastor Paul Vergara, and his assistant, Marcelle Guillemot, who ran his Oratoire du Louvre church's charity kitchen, La Clairière, already a resistance center. They agreed to La Clairière's use as a transfer point for Jewish children, many facing deportation from orphanages run by the UGIF, a sort of French Judenrat.
The transfers included a one-day, 60-child "kidnapping": Women — a quarter of them Protestant — went to orphanages claiming to be relatives taking children on an allowed weekly walk. They walked to La Clairière, from which the children were taken to safe houses and then to institutions, to gentile families paid support money and to Pastor Trocmé's Chambon-sur-Lignon.
Suzanne's émigré Russian couple had become Soviet spies, leading to the Spaaks' contacts with and brief hiding of Soviet spymaster Leopold Trepper. Arrested in 1943, he saved his life by betraying agents, then escaped, Nelson says.
Two difficulties that don't diminish the book's value are the number of names to keep straight and some imprecision about what Suzanne did and when. The latter is understandable, given the passing of 75 years — and of many of the participants — and Claude's burning of the few papers she left.
Nelson, college teacher and member of the Council on Foreign Relations, has written previously about wartime resistance. For Suzanne's Children, she searched publications and interviewed surviving underground colleagues and Suzanne's children, especially daughter Pilette, who as a teenager participated with Suzanne.
The book is richly complete: photos, map, categorized participant list, bibliography, index and "Aftermath" chapter about participants' postwar lives.
Suzanne's Children brings to mind the 2016 book Irena's Children, revealing the story of another heroic gentile, Warsaw social worker Irena Sendler. She used her position and a close-knit circle of colleagues and friends to save an estimated 2,500 people, most of them Jewish children, plucking many from the Warsaw ghetto. Sendler was arrested but spared execution by a huge bribe.
Suzanne was not so fortunate. As police edged closer in Paris, she fled with her children to Brussels, then hid herself in the Ardennes. Betrayed in November 1943, she was imprisoned in France and executed Aug. 12, 1944.
She was 39.
***
Neal Gendler is a Minneapolis writer and editor.
(American Jewish World, 11.03.17)