Hell Is Other Parents
presents an honest and gritty look at family life in hard times
By MORDECAI SPECKTOR
After completing college in 1988, Deborah Copaken Kogan set off to photograph the world's political hot spots. She signed on with a Parisian photo agency, then traveled to Israel and covered the first intifada, the Palestinian uprising. Over 1988 and 1989, the young photojournalist documented the pullout of Soviet troops from Afghanistan.
She returned to Israel and lived with an Orthodox Jewish family in a West Bank settlement. Work also took her to Zimbabwe, and to Romania, where a popular uprising deposed the dictator Ceausescu.
In response to a question about witnessing grisly scenes, the 43-year-old writer recalled, "I saw dead bodies in Afghanistan, and I saw a man who had just gotten shot in Zimbabwe. And during the Soviet coup, I got stuck between some burning trolley buses and pro-Communist tanks that were shooting into the crowd. The three people that died on the last night of the coup died right at my feet."
That event, in August 1991, was a turning point in Copaken Kogan's journalism career. "It was really when I said to myself, I don't want to do this anymore," she remarks.
She opted not to go to Sarajevo. She had met her husband-to-be several years earlier; and, after seeing death at close range, chose instead "to create life. I know that sounds so reductive and cliché, but it was very real."
Copaken Kogan realized her dream of creating a family — she and her husband, Paul, have three children — and has written a vivid account of domestic joy and squalor, Hell Is Other Parents (Voice).
The author discussed her new book and updated family developments during a recent phone conversation with the Jewish World from her home in New York City.
Hell Is Other Parents is not for squeamish readers, who might recoil from graphic descriptions of childbirth — or of the teenage mother in labor and screaming foul oaths in the next hospital bed. The pages are full of blood, sweat and tears, which is not to diminish the passages of uproarious humor and keen observations about a social order that puts innumerable stumbling blocks on a family's path to the American dream.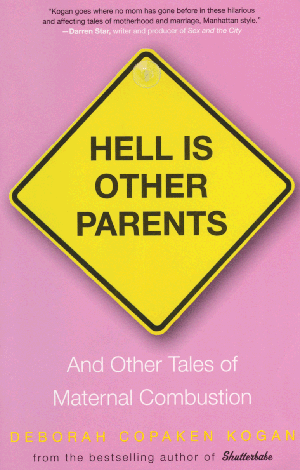 Since we are now enmeshed in a discussion of health care reform that has loosed itself from norms of civility and rationality, the author's words are exceedingly topical.
Copaken Kogan writes that in the United States "our social safety net seems limited to the guarantee of a Starbucks on every corner… family life can often feel as if it's stacked like a house of cards, with one small gust of air — an absent babysitter, another day off from school, a medical emergency — knocking the whole structure to the ground. One can plan theoretical contingencies in the event of each occurrence, but life doesn't always offer a single gust at a time. Sometimes the perfect storm blows into town, and then you're left in triage limbo, with a bum appendix, a dying man at your feet, three kids scattered to the four winds, your sitter in Manila, and your wits and whatever karma you've accumulated back on earth to save you."
Regarding the Darwinian struggle to keep our families functioning, Copaken Kogan tells the AJW: "We've been so bad about addressing this. First, we have to get health care fixed; and then the next item on my agenda, at least, is child care. It will be too late for me at that point; but my children, I want them to have children and be able to safely leave them in a neighborhood day care center subsidized by the government."
She adds that the U.S. is alone among the industrialized nations in not having a government-backed day care system, so that "both parents can work" without having their entire paychecks go to maintaining their work routines.
Copaken Kogan mentions that her husband was able to get a month of paternity leave from his job at Microsoft when their third child, Leo, was an infant. "Even that small amount of time, I thought, was spectacular," she comments, "just for bonding, and for Paul to understand what it takes to deal with a child all day by yourself."
Her husband, Paul Kogan, is a Russian Jew whose mother became a refusenik (a Jew who applied for an exit visit during the Soviet era and became persona non grata with the state) in 1973. Copaken Kogan adds that she is in the midst of finishing a magazine story about a family reunion of sorts in Moscow this past summer, where Kogan met his biological father for the first time.
In her memoir, and during our interview, Copaken Kogan frankly discusses how her husband reenacted his family legacy of an absent father in their relationship, straining their marriage nearly to the dissolution point.
In another period of friction, when the author is having problems with various methods of birth control, she suggests that Paul get a vasectomy. He responds by "ranting about Hitler," arguing that they should have a third child — one to replace "the Jews lost in the Holocaust."
"My husband promised to be more present," she writes. "He began Freudian analysis to deal with his baggage: the father who'd abandoned him at birth; the mother who'd died when he was 15; the adoptive parents who survived the Holocaust."
Her husband begins to shape up, as the argument about a third child continues for eight-and-a-half years. Nine months after another argument and a night of passion, "Leo was born."
In the end, Copaken Kogan is glad her husband won the argument. "I looooove this little baby we have in our house," she says, about the four-year-old who she refers to in the epilogue as "Hitler's Love Child."
And she adds that going from two to three kids in the household "just created this strange chaos, which was the impetus for the book."
In addition to Hell Is Other Parents, Copaken Kogan wrote a memoir of her years as a photojournalist, Shutterbabe. She also wrote a novel, Between Here and April, which was published last year. The novel was set in the author's hometown, Potomac, Md., and based on the true story of a young classmate who "disappeared"; in reality, she and her brother were murdered by their mother, who then committed suicide. The story sounds grim — "it's an allegory of Dante's Inferno" — but "there's some funny parts," she says, and begins laughing.
Hell Is Other Parents is loaded with humor and some strange detours. Scenes of a New York City family struggling to hang on unfold, then the reader is suddenly transported to a movie set in Los Angeles, where the author's son, Jacob, has been cast as the young Spock in Star Trek (2009). (In addition to Jacob Kogan, Star Trek director J.J. Abrams and Leonard Nimoy, "Spock," are Jews; William Shatner, who played Captain James T. Kirk on TV and in the movies, and is also Jewish, was passed over for this film version of the outer space saga.)
Copaken Kogan is blasé about her son's Hollywood role; but she soon learns that those who hear the news about Jacob are awestruck — starting with her husband, who responds: "Star Trek is… huge."
She's quick to point out that Jacob, who's now 14, was paid scale for his Star Trek role — not superstar money — so he has a "tiny little" college fund. He is still pursuing acting, most recently in a TV show called Delocated, which is about a Jewish family in the witness protection program that "delocates" to New York in order to appear in a reality TV show. He has also been cast in an indie film, Under the Influence.
"I'm a little wary," says the busy author and mother of three, who has some qualms about her eldest child's career. "He's going into ninth grade this year — high school, you know, he needs to keep his nose to the grindstone…. I have a feeling it's going to be hard for him to be in this TV show and the film, and get all of his homework done."