String of incidents are unnerving to Orthodox Jews in East New York neighborhood
By JULIE WIENER
NEW YORK (JTA) — Chava, a student at a Chabad seminary, has lived in the Crown Heights section of Brooklyn for six years, but it's only in the past few days that she started carrying pepper spray in her handbag.
Her younger brother gave her the deterrent after news hit of a string of recent attacks against Orthodox Jews, seven of them in Crown Heights.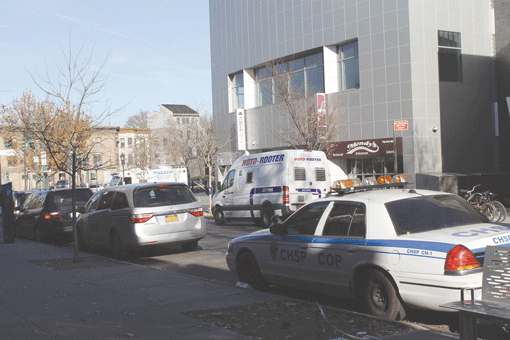 The assaults, believed to be part of a national wave of so-called "knockout game" attacks in which black teens punch random white strangers for sport, are unnerving Jews in the racially mixed neighborhood still haunted by the days of rioting there in 1991.
The latest attack came Nov. 25, when a 72-year-old Russian-speaking Jewish woman was punched in the East New York neighborhood, according to the Daily News.
"I've definitely been more cautious since [the attacks] started," Chava told JTA as she waited to pick up a hot drink at Chocolate, a kosher cafe inside the Jewish Children's Museum. "I've been hearing about it, and I saw the footage. I'm looking around. I'm always aware of my surroundings."
In other American cities, knockout victims have been non-Jewish whites. In New York, the victims of all nine punching attacks reported so far appear to be Jewish, and the New York Police Department's Hate Crimes Unit is investigating.
It is unclear whether the attacks, none of which have involved robberies, are linked. A police spokesman interviewed Nov. 22 declined to share details about the incidents but said that eight of the Brooklyn attacks fall into the hate crimes category.
For the time being, the NYPD has deployed more police officers to Crown Heights. On Nov. 25, several police vans, a mobile command center, police cars and two officers on horseback were stationed near the corner of Eastern Parkway and Kingston Avenue, a bustling commercial street with bakeries, groceries and Judaica stores, and home to the world headquarters of Chabad-Lubavitch and the Jewish Children's Museum.
Inside the museum, Michael Harel, the manager of Chocolate and an Israeli who has lived in Crown Heights for 13 years, said there is plenty of tension between blacks and Jews in the neighborhood, some of it attributable to class resentment.
"Back in the days there were a lot of problems here," he said. "Looks like it's coming back."
But Pinchas Woolstone, a cafe patron, said Crown Heights is "light years away" from the era of the riots. Although he has lived in Crown Heights for only six years, Woolstone said he used to visit the neighborhood in the 1970s, when it resembled "a war zone."
"No black person or Jewish person would speak to each other; they hardly looked at each other," recalled the Australia native, who works for a commercial cleaning company. "The latest little flareup is not good, but we shouldn't contemplate it's anything like it used to be."
The Rev. Al Sharpton publicly condemned the knockout attacks.
"There is nothing funny or even remotely entertaining about attacking innocents walking down the street," he wrote in a column for the Huffington Post. "This is not a 'game'; it is inhumane behavior that has no place in our country or the world."
Zaki Tamir, chairman of the Crown Heights Jewish Community Council, said black and Jewish community leaders have enjoyed good relations in recent years, and the neighborhood has become safer over the past decade, in part due to gentrification. He acknowledged that the latest attacks are shattering the sense of security that had been built up.
"Suddenly this is reminiscent of old times and it makes everyone feel very vulnerable," Tamir said.
Civilian patrols working in conjunction with the police have been stepped up to help escort children home from the train at night, as well as women and those considered easier targets, according to Tamir.
The community is "more organized than ever before in terms of preventing crime and keeping streets nonviolent," he said. "People realize Crown Heights is not a haven for hoodlums anymore."
At a press conference Monday at the Crown Heights Youth Collective, several Brooklyn elected officials, including Eric Adams, the incoming borough president, condemned the attacks, and  Tamir's group offered a $1,500 reward for information leading to the arrest of perpetrators.
Nathan, a Chocolate cafe employee who did not want to give his last name, said news of the attacks prompted him to stop allowing his three children, the oldest of whom is 8, to play unattended outside the lobby of his apartment building.
On Nov. 23, Brooklyn resident Amrit Marajh was arraigned for an attack from the previous day in Borough Park. Police initially said Marajh was being charged with a hate crime but later told The New York Times he had been charged with assault, harassment and menacing.
Marajh, who apparently has a Jewish girlfriend and has never been arrested, denied the charges and was released on $750 bail.