Reviewed by NEAL GENDLER
World War I ended the power of European monarchs, but a final palace would yet arise — built by a Jew.
"The last palace built in Europe" was the consuming project of Otto Petschek, one of the richest Jews whose name few now know.
His family was "was the local equivalent of the Rothschilds," says Norman Eisen, who lived in the palace three years as U.S. ambassador to the Czech Republic.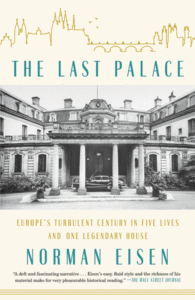 It was quite something for a Shoah survivor's son.
"My mother may have been the poorest Czechoslovak Jew, and Otto Petschek the richest," Eisen writes in The Last Palace, his engrossing history of Petschek and the curving Prague palace, "a Beaux Arts masterpiece… chockablock with antiques, old-master paintings, rare books and other precious objects." Room counts disagree; Eisen says 100, others 65.
Eisen, a former assistant to President Obama, presented his ambassadorial credentials in January 2011. Smitten by Petschek's palace, he worked for three years to tell its fascinating story.
Eisen brings to life the Petschek clan, with fabulous wealth from coal mines and banking; the palace's wartime survival under erudite German Gen. Rolf Toussaint; its looting by Soviet soldiers, and its rescue by the first postwar U.S. ambassador, Laurence Steinhardt, who began renting it with his own money.
We also learn of the fastidious care by longtime steward Aldof Pokorny; the eventful, courageous ambassadorship of Shirley Temple Black, and the story of Eisen's mother, included at the insistence of editor Domenica Alioto.
That's a lot for 358 narrative pages, newly out in trade paperback, but Last Palace is easy to read and hard to put down.
Otto Petschek was born in 1882 to "two of the most prosperous Jewish families in the Austro-Hungarian provinces of Bohemia and Moravia," Eisen says. Cultured and German-speaking, Otto and his extended family came to control almost half the continent's coal trade.
Otto envisioned the palace in 1924. Poring through architecture books, he chose disparate features to combine, ordering many costly revisions. He reproduced some entire rooms. One wall opened to the outside and his garden with mature trees brought from around Europe and 40,000 other plants.
In 1931, Otto, wife Martha and four children moved in. He began to suffer mysterious abdominal attacks, the final one killing him in 1934. With Hitler in power next door, Czechs were becoming hostile to German-speaking countrymen who agitated for German annexation.
May 21, 1938, 50 Petscheks fled almost overnight, abandoning homes and contents. Faithful Pokorny buried some of Otto's treasures and tenderly tended the place during Germany's occupation.
In 1941, Toussaint, new Wehrmacht commander in Prague, moved in. Respecting and protecting the palace, he entertained Nazi bigwigs in a library still stocked with Jewish books. In 1945, Toussaint negotiated a peaceful surrender of Prague, after which Soviet troops stole the palace's furs, gowns, china, silver and linens.
Arriving that year, Steinhardt realized that "Otto Petschek's palace was in danger" and he "was determined to save it," a struggle with U.S. and Czech officials until 1948. A small victory was recovery of Otto's heavy silver flatware, after Steinhardt's daughter, Dulcie Ann, embarrassed the Soviet ambassador — living in Fritz Petschek's former house — into returning it.
Eisen also tells of Frieda Grünfeld of Sobrance, now in Slovakia, a Hasidic rabbi's teenage daughter deported with her family in 1944. She and two siblings survived. Frieda began a long struggle for employment, education and emigration. Eisen refers to her in the third person; it's easy not to notice she's his mother.
Eisen describes Steinhardt's work to restore the palace and to save Czech democracy. But Communists won the 1946 election, with disastrous consequences for their opponents. Steinhardt called the outcome "heartbreaking," with friends "arrested or hunted like animals."
After a segment about Frieda and her surviving family leaving for Israel, Eisen focuses on Black, in Prague in August 1968 for a charity as the USSR invaded to end the liberalizing "Czech Spring." Stepping outside her hotel, she saw a woman lying dead, shot for raising a defiant fist. The impression lasts decades. Eisen tells how Black escaped the country, unexpectedly leading a 100-vehicle convoy.
Service as a delegate to the United Nations in 1989 began decades of government work. She became ambassador to Ghana, then to Czechoslovakia during the massive 1989 protests ending Communist rule, some of which she observed from their edges, once fleeing riot police.
Hugely researched, The Last Palace grabs attention and doesn't let go. Included are notes, bibliography and photos.
One question: How many rooms does the ambassador use, and what's done with the others?
***
Neal Gendler is a Minneapolis writer and editor.