The stage adaptation of Abigail Pogrebin's book aims to enlighten audiences about the Jewish roots of some creative Americans in the 20th century, including Al Franken, Joan Rivers and Norman Lear
By DORIS RUBENSTEIN
In order to ensure the Semitic accuracy of the personalities highlighted in Minnesota Jewish Theatre Company's production of Stars of David, I have referenced that guardian of all persons claiming (or not) to be Jews: www.jewornotjew.com.
There has been much ado across the United States recently about "truth in journalism." Hence, I have included Jew or Not Jew's 1-to-15 scale — with 15 being of 100 percent Jewish blood and identity (although not laboratory-tested) — as subjects are first mentioned in this article.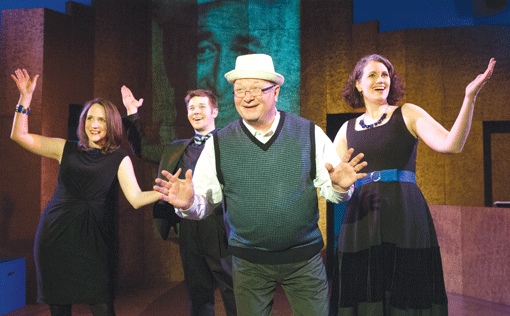 Stars of David is the first theatrical script created by Abigail Pogrebin (not rated). It is based on her book of the same title with co-author Gordon Greenberg (also unrated). Both aim to enlighten their audiences about the Jewish roots — and sometimes the Jewish faith — of a cross-section of creative Americans in the 20th century. The gamut runs from politicians, such as Minnesota's own Al Franken (12), to Leonard Nimoy (13) and Gloria Steinem (12).
Pogrebin has adapted interviews from her book with the help of many musical geniuses, such as Michael Feinstein (unrated), who is also a featured personality in the play, and Sheldon Harnick (unrated), the lyricist of Fiddler on the Roof.
The musicians turned or adapted Pogrebin's interviews into songs that tell a story or deliver a message. Many of these songs — for example, "Smart People" sung by "Aaron Sorkin" (11), of television's West Wing fame — shed light on how some seeming compliments can be code words for anti-Semitism. I found the adagio aria sung by "Ruth Bader Ginsburg" (a perfect 15!) to be a heartbreaking confession of her grief at being prevented from reciting Kaddish at her mother's funeral.
On the complete opposite end of the spectrum, "Joan Rivers" (13) and "Fran Drescher" (11) rock the stage with their sass and their unabashed Jewish chutzpa. And "Edgar Bronfman, Sr." (12) closes the show with the most important message of all. He tells why these stories must be told — or sung: to preserve and advance our Jewish faith and culture to future generations in "L'Dor V'Dor."
Speaking of rocking the stage, Stars of David is the first MJTC production in the newly refurbished theater at the Highland Park Community Center (formerly Hillcrest Library) in St. Paul. Fresh carpeting and upholstery give a new sense of class to the auditorium; it seemed to me that there was a bit more performance room for the actors and musicians, too.
Stars of David features a live four-piece orchestra under the direction of Kevin Dutcher. The musicians played well, but the room is still a bit small to keep the music from nearly overwhelming the singers on several occasions.
This could not be said of the team who created the set, lighting and projection. Names and faces of those represented or mentioned in the script are projected onto the backdrop and help the audience know whom, exactly, the actors were portraying.
Liz Josheff Busa, similarly, did a lot with a little to help us recognize personalities by some of their iconic items of clothing; Steven Spielberg (15) and his baseball cap or Norman Lear (13) and his white cloth porkpie hat, for example.
The singing, dancing and acting ensemble of Bryan Porter, David Carey, Daisy Macklin Skarning and Laura B. Adams push their energies to the limit here. Changing personalities this often is a challenge for any actor. Director Michael Kissin, a stalwart of MJTC and Mixed Blood Theater, has worked hard to create a cohesive performance out of such a diverse and disjointed book.
So much talent has gone into creating this play; to have assembled such an all-star cast of composers and lyricists alone is noteworthy. The subject matter is rich, and perhaps a bit too much so. Several of the featured characters dwelled on the subject of Jewish food (how could they not?), rich in itself and a rich subject.
But unlike most Jewish food, with these peeks into the Jewish lives of some of America's best-known Members of the Tribe, we were left wanting a little more. Perhaps in future adaptations of this play, some characters might be weeded out — Kitty Carlisle Hart (unrated) and various others have all left for Gan Eden (the Garden of Eden).
My "under-30" companion didn't recognize several characters, despite her career in the theater. Might their time on the stage be better used to recognize more contemporary Jews? Yes, Gwyneth Paltrow (9!) and Natalie Portman (14) are seen onstage, but how about — dare I say the name? — Eric Cantor (12) or some other younger MOT who is not connected to Hollywood?
MJTC has gone all-out with this play to showcase its renovated digs. Stars of David is a light entertainment that in some ways reminded me of A Chorus Line — with music by Marvin Hamlisch (14) — each piece is like a hamantash: sweet and can be enjoyed on its own.
***
Minnesota Jewish Theatre Company (MJTC) is staging the regional premiere of Stars of David through March 8 at the Highland Park Center Theater, 1978 Ford Pkwy., St. Paul. For tickets and information, call 651-647-4315 or visit: www.mnjewishtheatre.org.
(American Jewish World, 2.27.15)