By DORIS RUBENSTEIN
Throughout history, there are numerous examples of outstanding artists who are married to other artists: Clara and Robert Schumann in classical music; Hume Cronyn and Jessica Tandy on Broadway (as well as the Guthrie during its earliest years); and artists William and Shirley Siegel Schulman in Menomonie, Wis.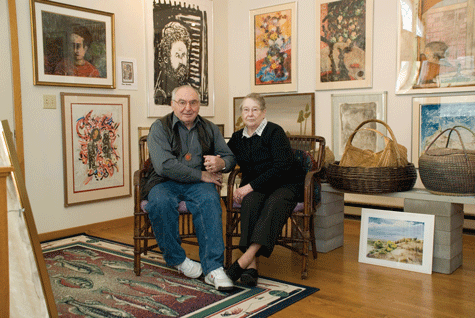 Bill and Shirley Schulman were a duo who spent nearly a combined century creating and teaching the visual arts in West Central Wisconsin. From our neighbor state's rolling landscape and dairy farms, their students and arts have traveled and are represented around the region in homes, synagogues and on exhibition center walls.
It has been 22 years since Bill Schulman's work appeared in exhibit, then at the St. Paul JCC; now Jews and art lovers on the Mississippi's west bank can have their turn to enjoy this eclectic collection.
To describe Bill's output as prolific would be an understatement. The exhibition catalog contains 228 pieces, but only a fraction of them are on the walls of the Tychman-Shapiro Gallery, with a few more spilling out onto the walls and hallways of the building. Similarly, to describe his choice of media as varied would only tell a small part of his story.
The story begins in Winnipeg, Manitoba, where William Schulman was born in 1929 and raised. He came south to follow his artistic drive and study at the University of Wisconsin/Milwaukee. A summer job at the Art Institute of Chicago's Ox-Bow Summer School of Art introduced him to another artist working there that summer, Shirley Siegel. Shirley had fled small-town life in Hawthorne, Wis. (near Superior), to pursue her artistic passions in Milwaukee too. After Bill's military service in Korea, the couple married in 1956.
Bill's interest always included art education and he did advanced academic studies at the Ohio State University. After teaching art in Milwaukee schools for six years, he was tapped to develop an art education program at UW/Stout in 1966; he worked there — graduating some 200 art educators — until retiring in 1992. Bill says that his motivation in teaching was "… to take the fire in my stomach for art and put it in theirs!"
While his classroom lessons focused mostly on classical techniques and methods, Bill's creativity became unfettered in his private studio. There, as shown in exhibit paintings such as the "Winnipeg Ghosts" series, "Fire in the Brush," and "Afterglow," he combined an ancient method called encaustic (combining pigments with beeswax) with base materials as common as canvas and as innovative as sheets of copper and aluminum found in surplus outlets. A collage that harkens back to a Torah scroll includes selections of Bill's own hand-written poetry. There are lithographs and drawings. His themes and subjects are wide-ranging, too.
Bill's inspiration comes mostly from the current events of the day, history and his own Jewish spirituality. "Painting Jewish subjects was natural to me and I didn't suppress on canvas what I felt inside," he explained.
These inspirational sources are obvious in the encaustics on copper "Battle for Sarajevo-Queens of Hearts" and "Ethnic Cleansing-Sarajevo," painted during the civil war there in the 1990s. A variety of Jewish themes appear in "Near the Temple of Manhood" and "Torah's in the Ark."
Shirley Siegel Schulman's artistic production ended about 10 years ago with her diagnosis of Alzheimer's disease.
The works on display demonstrate what a loss this is to the arts. In particular, her special talents in collage, which demonstrates the skill she honed by gaining an M.S. in fibers and related arts can best be appreciated in the piece "East Meets West" that greets visitors upon entry to the Tychman-Shapiro Gallery,
Shirley's work reflects a kind, gentle worldview. She sees the world and portrays it on canvas and paper in uncomplicated landscapes, the way a mother would want her child to see them or a teacher show them to her pupils. She, too, was an art teacher and her studio and classroom must have looked remarkably alike. Yet she and Bill were both dedicated to the same goal: to show their students ways to find their own paths in artistic expression.
Bill's poetic expression goes beyond the frame. A volume of his poetry, illustrated with his artwork, "Late Winter Blues," can be found on-line. The art, of course, will be at the Sabes JCC through December 20.
(American Jewish World, 12.01.17)