Treuer wrote extensively about northern Minnesota and the history of Leech Lake Ojibwe
By ERIN ELLIOTT BRYAN / Community News Editor
Robert "Bob" Treuer seemed like an unlikely person to write about the Leech Lake reservation. But Larry Aitkin, tribal historian for the Leech Lake Band of Ojibwe, told the Star Tribune that Treuer knew "very much about the history of Leech Lake" and tribal leaders often borrowed from Treuer's extensive papers.
Treuer — who called Minnesota's Northwoods home for more than six decades and was ceremonially adopted by two Ojibwe families — was born in Vienna, Austria, in 1926. He narrowly escaped the Nazis in 1938 and came to the United States with his parents in 1939, where he became involved in the civil rights movement, and later worked as a labor organizer and advocate for American Indian rights.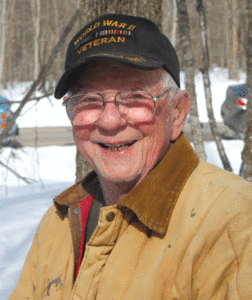 "I think from his experience with the Nazi Holocaust, he could not suffer any kind of injustice," Treuer's son, Anton, told the Star Tribune. "He was like that with everything he saw later in life."
Treuer, a longtime Bemidji resident, died Jan. 8 in Duluth. He was 89.
At the age of 17, Treuer enlisted in the U.S. Army. He received specialized training in Japanese at Yale University and was stationed in the Philippines, where he organized food distribution for the city's starving residents.
Treuer participated in sit-ins during the civil rights movement and became a labor organizer in Wisconsin. He came to Minnesota with his first wife, Nancy, and their three sons, Smith, Paul and Derek, in the late 1950s to teach English on the Leech Lake reservation. He later worked as a community organizer for the Bureau of Indian Affairs and as a program director for Red Lake's Community Action Program. He was also elected as Beltrami County Commissioner.
The Fairbanks and Wilson families of Ball Club, members of the Loon Clan, gave him the Ojibwe name Waasegaabaw, or Stands with the Light.
"He was a moral force in an indifferent and often hostile world," novelist Kent Nerburn, a Minnesota native, told the Star Tribune.
Treuer wrote extensively about the wildlife and wilderness of northern Minnesota, and planted a tree farm on 200 acres of land near Bemidji — the inspiration for his first book, The Tree Farm. He also wrote hundreds of columns, including many that were published in the Star Tribune.
Treuer married his second wife, Margaret "Peggy" Seelye, an Ojibwe woman and tribal judge. Together they had four children, Anton, a professor of Ojibwe at Bemidji State University; author David, who penned Rez Life: An Indian's Journey through Reservation Life; and twins Micah, a doctor, and Megan, an associate judge at Leech Lake.
He is also survived by 26 grandchildren, each of whom Treuer announced with the same cry: "Another victory over Hitler!"
(American Jewish World, 1.29.16)