Shir Tikvah Congregation will welcome Rabbi Mordechai Liebling, director of the Social Justice Organizing Program at the Reconstructionist Rabbinical College (RRC), as its Lou Wiener Memorial Scholar on April 24 and 25.
Liebling will present "The Shmita Revolution: Forgiveness, Fallowness and Fecundity" during Shabbat services 8 p.m. Friday, April 24 at the synagogue, 1360 W. Minnehaha Pkwy., Minneapolis. He will also join the Torah study 9 a.m. Saturday, April 25, followed by Shabbat services at 10:30 a.m.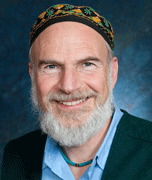 Liebling is the first to direct the unique Social Justice Organizing Program, which invests rabbinical students with the clarity of purpose, vision and voice to become effective, spiritually strong leaders in the drive toward social justice and environmental sustainability. It is the first Jewish seminary-based initiative to offer a specialized certificate in justice organizing for rabbis.
He has also spoken out for justice for people with disabilities, and his family was the subject of the award-winning documentary film Praying With Lior.
Recently, Liebling traveled to Ferguson, Missouri — along with Shir Tikvah's Rabbi Michael Adam Latz and more than 20 other rabbis — to join the protesting for a weekend of solidarity.