By MORDECAI SPECKTOR
Growing up in St. Louis Park, Sharon Isbin had a passion for model rocketry. When the Jewish World interviewed Isbin many years ago, when she was visiting her family, she posed for a photo holding her classical guitar in one hand and a tall model rocket in the other.
However, as a teenager she prioritized music above rocket science.
As Isbin told MinnPost's Britt Robson, in 2008: "I won the Minnesota Orchestra's Young People's Symphony [award] and the reward was playing Northrop. It became more exciting than launching my model rockets and therefore was a pivotal point in my life. I'd like to thank the orchestra for that."
Since taking the Northrop stage at the age of 14, Isbin has become the face of contemporary classical guitar and an inspiration to young female musicians. She's appeared as a soloist with the Minnesota Orchestra on several occasions, and with dozens of other orchestras around the world — from the New York Philharmonic to the London Symphony, and to Milan, Prague and Jerusalem. Isbin's catalogue includes more than 25 recordings, and she displays three Grammys on the mantelpiece in her New York City apartment.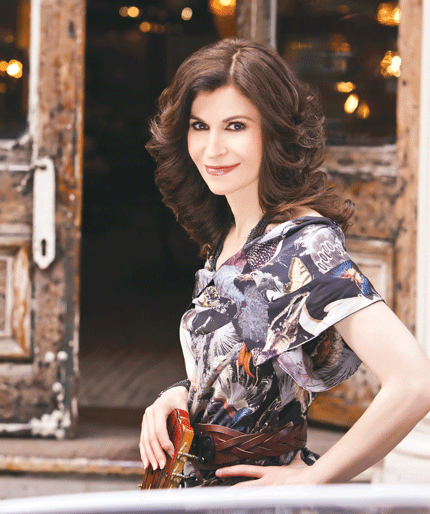 Isbin returns to her Minnesota launch pad next month, when she will perform with popular jazz guitarist Stanley Jordan and Brazilian guitar virtuoso Romero Lubambo on two nights, Feb. 19-20, at the Dakota Jazz Club in Minneapolis. The show is called "Guitar Passions" — Isbin's most recent album, from 2011, is titled Sharon Isbin & Friends: Guitar Passions (Sony) — and it will be a spin-off from the album, with a melding of classical, jazz, Latin and Brazilian music.
During a recent phone interview with the AJW from her home in New York, Isbin talked about her upcoming Minneapolis shows, her recent recordings and the new documentary film, Sharon Isbin: Troubadour, which traces her illustrious career.
Regarding her upcoming shows at the Dakota (one stop on a tour of 18 cities in one month), I mention the beautiful song "Chovendo na Roseira (Double Rainbow)," which she performs with Lubambo, on the Guitar Passions album. The song is by the late icon of Brazilian music Antonio Carlos Jobim.
"Romero and I were part of the Carnegie Hall tribute to Jobim, after Jobim passed; because I knew Jobim very well," Isbin explains. "We collaborated on his music, which I recorded. I even opened one of his shows in New York City, at Lincoln Center."
Lubambo and Isbin will perform "Chovendo na Roseira" for the Dakota shows. "And we will be doing a number of other things, too.… Romero and I will have several duets that range from Bach to Colombian music, by [Gentil] Montaña, to Paraguayan music. So, there will be a lot of different styles and repertoire represented; and what's really great about the program is that it gives Romero and Stanley, who are phenomenal improvisers, a chance to do their thing. And I'm bringing them into the classical world, but we're turning it into something that's unique… because of that spontaneity of the improvisation."
Isbin points out that Jordan "is known for his remarkable tapping technique, which uses the fret board almost like a keyboard."
She and Jordan played together here some years ago, it was in a "Guitar Summit" show at O'Shaughnessy Auditorium in St. Paul, Isbin recalls. "He and I performed together recently at his jazz club show in New York City, the Iridium, and, of course, on the [Guitar Passions] album. We have a long history going back a long time."
The Dakota show will include some music from the Guitar Passions album, in varied formats — trios with all of the featured guitarists, duos and solos.
"So there will be a lot of variety," comments Isbin. "And the music will include the wonderful arrangement [by Laurindo Almeida] of the [Joaquin] Rodrigo adagio from his famous ["Concierto de Aranjuez"], and this is set for three guitars, and it has a bossa nova, improv free-for-all at the end, in which Stanley will have a chance to do his improvisational wizardry in a jazz style. And I play the solo part that Rodrigo wrote, so it's a really fun centerpiece that's also featured on the album. But it's different each time, because the improvisation takes you to new places that are one-of-a-kind."
Jordan and Lubambo — she calls them her "co-conspirators" —  "are both phenomenal. Anyone who comes [to the Dakota] is in for a treat."
The other big news for Isbin fans is the release of an hourlong documentary, Sharon Isbin: Troubadour, produced by Susan Dangel. Isbin recently attended a preview screening in Belgium while on tour; and the film will have its New York premiere in April at the Bruno Walter Auditorium in Lincoln Center.
Isbin mentions that both Garrison Keillor and the Minnesota Orchestra are featured in the documentary, which also includes Martina Navratilova, Michelle Obama, Joan Baez, Steve Vai, David Hyde Pierce, Janis Ian, Lesley Gore, et al. (A Twin Cities screening of the film is in the works, so stay tuned for details.)
Troubadour also includes appearances by some of the famed classical composers who have written works for Isbin: Christopher Rouse, Tan Dun and John Corigliano. A review quoted in the film points out that Isbin "has commissioned more new concertos for the instrument than any living guitarist."
Speaking of the position of classical guitar, in Troubadour, Isbin says, "As a guitarist, I was always aware that it was an instrument that had to catch up… we didn't have Chopin, Mozart, Beethoven. I always felt like, I want more, I want more to play."
Through her persistence and adventurous musical spirit, Isbin has found more to play on guitar. For example, her album, Christopher Rouse: Concert de Gaudí and Tan Dun: Concerto for Guitar and Orchestra (Teldec New Line) won a Grammy. More recently, Isbin's album Journey to the New World (Sony Classical) — featuring John Duarte's "Joan Baez Suite," and Mark O'Connor's "Strings and Threads Suite" — won the Grammy for Best Instrumental Soloist Performance (without orchestra). Baez sings two songs on the album.
As a longtime fan of Baez, I wondered what it was like performing with the folk music legend.
"That was so inspiring," Isbin responds. "I'll never forget, she came to my home in New York for our first rehearsal, pulled up a chair, and said, 'Please play something for me, before we rehearse. I'd love to hear you.' She sat about four feet in front of me, and I started to play, and she had tears streaming down her face. She said it reminded her of when her father used to play Segovia recordings for her, and her father was a big guitar fan. It really was a remarkable experience to meet my folk music idol and have that kind of intimate and spiritual connection."
***
The "Guitar Passions" show, featuring Sharon Isbin, Stanley Jordan and Romero Lubambo, will take the stage 7 p.m. Wednesday, Feb. 19 and Thursday, Feb. 20 at the Dakota Jazz Club and Restaurant, 1010 Nicollet Mall, Minneapolis. For tickets, call 612-332-1010, or go to: dakotacooks.com.

(American Jewish World, 1.31.14)