Reviewed by NEAL GENDLER
An adoring biography by a famous and controversial man's son hardly is a surprise, yet Gilad Sharon's large book contains interesting insights into the life of one of Israel's most famous military leaders turned politician.
The book may not settle arguments over Ariel (Arik) Sharon's virtues and faults, but it makes abundantly clear that he always saw himself as a defender of Israel and Jews.
Sharon, the Israeli the West loved to hate, perhaps behind only Menachem Begin, also had his enemies in Israel; ironically and sadly, some were in the army he served so long. Although a member of the pre-state underground army, the Hagana, Sharon wasn't in the Palmach strike force; its members later led the Israel Defense Forces, and Sharon was not part of the club.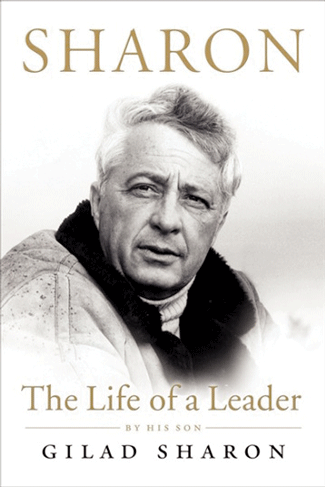 His success, fame and closeness to David Ben-Gurion were accompanied by a lack of patience with incompetence — none of which endeared him to other officers. Sharon built the IDF's early paratroop unit into an example for the entire army and developed innovative tactics for fighting and reducing terrorist incursion. But peacetime armies, like most bureaucracies, don't tend to embrace outsiders with unconventional ideas. After a rapid early rise with Ben-Gurions' sponsorship, he was stuck for a decade as a colonel.
Later, after three years heading Israel's southern command — which faced Egypt across the Suez Canal — Sharon was retired in July 1973. When Egypt struck on Yom Kippur, he returned to uniform — but only as an armored division commander. The irony is that his crossing the canal, encircling an entire Egyptian army, ended the war in Sinai and made him a national hero.
Arik apparently engendered little indifference; some despised him, others, including many of his troops, were intensely loyal. In Gilad's account, Arik had two of the most important qualities of a military leader: concern for his troops' welfare and careful planning to achieve objectives with minimal risk.
Still, Sharon lost dear friends and had family tragedy. Wife Margalit was killed in a car crash in 1962. Her sister, Lily, helped raise their son, Gur, changed her low opinion of Arik and married him, bearing sons Omri and Gilad. Gur, 11, died in Arik's arms on Erev Rosh Hashana 1967. The Sharons' house burned in 1999. Lily died of cancer in 2000.
One might question the need for this massive book atop others, one an autobiography. But Gilad's portrait of Arik as a family man is interesting. A generous sprinkling of photos and fluid translation by Mitch Ginsburg make the pages move quickly. Ginsburg should be embarrassed, though, at using "snuck" instead of "sneaked." Four times.
Minuses include a few typos, a couple of garbled sentences and — worst — lack of an index.
Arik gets credit for bringing together Begin's Herut with smaller parties, creating the Likud that brought Begin to power. However, Sharon got personal blame for Israel's 1982 invasion of Lebanon, and ministerial blame for the slaughter of Palestinian Arabs at the Sabra and Shatila refugee camps by Christian Phalangists. Arik was accused of deceiving Begin about the invasion; Begin denied it and Gilad quotes Begin's close aide of 50 years, Yechiel Kadishai, as saying: "Ariel Sharon did not lie to him."
Appointed minister of housing and construction in 1990, Sharon started 170,000 homes in two years. He created entire towns in Israel's north.
In 2001, Sharon became prime minister, and the accounting of his term is the book's strength — especially the heavy irony in transcripts of conversations with foreign leaders and United Nations Secretary General Kofi Annan.
Typically, the leaders call to express condolences over a terror attack, Sharon thanks them, the callers urge Israel's restraint, and Sharon tells them of new attacks since the one about which the officials have called. The callers promise to pressure Arafat to end terror, then more attacks occur, sometimes within hours. The inescapable conclusion is one of foreigners' futile naiveté.
It is supposed warmonger Arik — called "the bulldozer" — proponent of so-called settlements, who pulls Israel from despised Gaza — very painfully for its 8,000 Jews, who'd created 21 towns and prosperous farms — transforming him instantly from international pariah to dear peacemaker.
We know how much peace that brought.
***
Neal Gendler is a Minneapolis writer and editor.
(American Jewish World, 11.11.11)