by MAX SPARBER
Community News Editor
This past week was Shane Baker's birthday, which was turned into an event by New York's Yiddish-speaking community. The tall, wry actor turned 50, and to celebrate the Congress for Jewish Culture decided to roast him at a public event.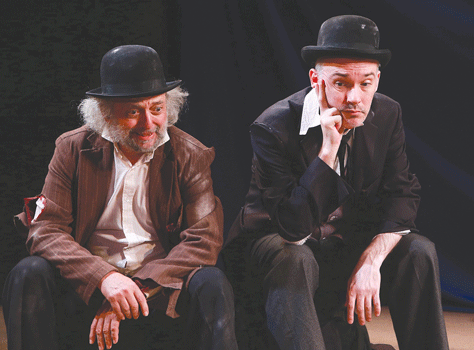 It's strange to write about Yiddishists as celebrities, but I am going to, as if there is such a thing as a Yiddish celebrity, Baker's birthday brought them out. The event was emceed by Michael Wex, whose puckish and nimble books about Yiddish have landed him on the New York Times bestseller list. The show had an additional host: Eleanor Reissa, former artistic director of the National Yiddish Theatre Folksbiene and a Tony Award-nominated director.
Also speaking at the event: Rokhl Kafrissen, Yiddish columnist for Tablet, New Yiddish Rep director David Mandelbaum, and YIVO's Eddy Portnoy.
Reports of the event sound raucous and ribald. I am friends with many of the participants, at least through social media, and tweets and Facebook posts went up through the night.
Speaking about the event in an interview with American Jewish World, Baker confessed there wasn't much that he could relate that might be appropriate for a newspaper.
"There is one thing I can tell you," he said. Amanda Seigel, the singer, had performed a Yiddish song called "Der alte Zigeuner," which translates as "The Old Gypsy"; Seigel had altered it to "Der alte Shane Baker."
"It's one of my favorite things to hear her sing," Baker said.
Among the crowd at his party, Shane Baker was a bit of a star. He regularly takes the lead roles in live Yiddish theater, including the recent sold-out run of God of Vengeance at the New Yiddish Rep. He's adapted plays to Yiddish, including the New Yiddish Rep's critically lauded version of Waiting for Godot (which he also co-starred in). And he tours regularly with a Yiddish cabaret show of his own devising.
He will be bringing much of this material with him to the Yiddish Vinkl on Oct. 21, along with Amanda Seigel, whose mixture of Yiddish songs and sprightly stage presence has brought comparisons to the beloved Yiddish performer Molly Picon.
People like to make a fuss about something in particular regarding Shane Baker: He is not Jewish. Instead, Baker grew up Episcopalian in Kansas City, Mo., and has never expressed any interest in converting to Judaism. ("I already have a religion that I'm not very good with," he told the New York Times.)
I don't know how interesting this fact is — after all, people develop interests in all sorts of things, and it is no odder that a non-Jew would be interested in Yiddish than film actor Edward Norton being fluent in Japanese or actress Mira Sorvino being fluent in Mandarin, which both are.
Baker did come to Yiddish along an unusual path — he had a youthful interest in vaudeville and stage magic, which put him in touch with the once-flourishing world of Yiddish vaudeville. (He used to claim that he had been visited by the ghost of a Yiddish vaudevillian named Ludwig Zats, who urged him to move to New York and become a star of the Yiddish stage.)
According to Baker, the Jewish community has largely responded to his multi-decade involvement in Yiddish with curious approval. For instance, he doesn't often have the experience Jewish Yiddishists say it's chronic — that of older Jews coming up and correcting their grammar and pronunciation.
It happens once in a while, but he's sanguine about it, comparing it to a story he once read in a collection of jokes his mother owned. In the story, a man is given a cocktail shaker at his retirement party. When he asks why, he is told if he ever gets lonely after retirement, he should just make a martini. "The moment you do, someone will appear to say that's not the way to make a martini," Baker said.
Asked about the audience for his traveling shows, Baker said he gets a mix of older and younger audience, although the audience for Yiddish performance does tend to skew older. "If you can frame it the proper way, get the right publicity, you can draw younger people," he said.
"Yiddish has a kind of hepness nowadays."
"Of course, now that I'm 50 I have a different definition of older," he added. "It doesn't include me."
There are even a few non-Jews who typically show up for his performances; this has especially been true of his work with the New Yiddish Rep, where Beckett and Arthur Miller fans of all backgrounds have shown up to see the author's plays in Yiddish.
"It hass to be done with a little bit of kop," Baker explained, using the Yiddish word for "head" and indicating intelligence. "But it can be done.
"You don't have to be Jewish to love Yiddish theater," he said, and then waits a practicedcomic beat. "But it helps."
***
Shane Baker and Amanda Seigel will perform at the Yiddish Vinkl 2 p.m. Sunday, Oct. 21, at the Sabes JCC theater, 4330 Cedar Lake Rd, St Louis Park. Presentation will be in English and Yiddish. Tickets are $10 for guests; free for paid-up Vinkl members. Light reception and meet and greet follows the performance.