Cooperstown's Jewish mayor and Hall of Fame chief greet baseball's elite
By HILLEL KUTTLER
BALTIMORE (JTA) — For Jeff Idelson, the director of the National Baseball Hall of Fame and Museum in Cooperstown, N.Y., induction weekend is all about teamwork.
"When you get to signature events [and] you're in a small community, all the pieces have to come together effectively for it to be a grand slam," Idelson said recently from his office in the central New York village of 1,852.
The team includes Mayor Jeff Katz, like Idelson a passionate baseball fan, and they'll be overseeing this weekend's festivities as the unofficial welcoming committee for the game's elite and the tens of thousands of fans who come to pay them homage.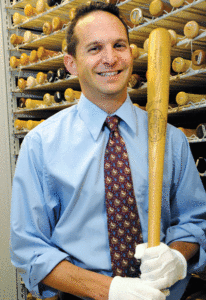 Former players Frank Thomas, Greg Maddux and Tom Glavine, and ex-managers Joe Torre, Tony LaRussa and Bobby Cox will be inducted Sunday.
Calling Cooperstown home is heavenly for the two officials.
"To be the mayor of a place like Cooperstown is a special thing," Katz said, sitting in Idelson's office filled with shelves of bobbleheads representing baseball and pop-culture figures as well as Idelson's Little League bat — a Mike Schmidt model — on the side.
The men have been friends ever since Katz, his wife and their three sons moved to Cooperstown more than a decade ago. The families gather for Passover seders, and Aaron Idelson and Joey Katz were classmates who graduated Cooperstown High School in June.
The two Jeffs work together occasionally — and always when induction weekend rolls around.
"The village has always been there to work with hand in hand, whether it's parking issues [or] dealing with crowds," said Idelson, 50. "That's enhanced now because we have a mayor who really loves baseball." He adds quickly that previous mayors "have all been great," too.
On induction weekend, the eyes of the American sports world turn annually to the one-square-mile, one stoplight village that has been revered as baseball's birthplace ever since the myth arose of Abner Doubleday inventing the game there in 1839.
Besides the large induction class of 2014, this midsummer's gathering is notable for falling near the museum's 75th anniversary and the centennial of the major league debut of slugging icon Babe Ruth, a member of the Hall of Fame's inaugural class.
The weekend also follows on the heels of another spectacle: President Obama becoming the first chief executive to tour the Hall of Fame when he visited Cooperstown on May 22 to deliver a speech promoting tourism.
Idelson guided Obama and Hall of Famer Andre Dawson through some exhibits. Obama even grasped the baseball used by William Howard Taft when, in 1910, he became the first president to throw a ceremonial first pitch at a game.
The days prior to Obama's visit felt "like I was cramming for a final," Idelson said. "I was so nervous he'd ask a question I wouldn't have an answer to."
Katz, 52, is kept busy responding to queries, too.
His home on Chestnut Street is a 10-minute stroll from work, but it often takes an hour to get there when residents stop him to chat. That's been a common occurrence, especially since paid parking was instituted in 2013 on village streets during the summer tourist season.
The measure wasn't universally popular.
"People would say, 'Go back to Chicago,'" Katz said.
That was where Katz had lived and earned a hefty income as an options trader, enabling his family to relocate to Cooperstown, where Katz had wanted to purchase a second home. He's served in unpaid positions as a Cooperstown board of trustees member, deputy mayor and, since 2012, mayor.
Katz is also president of the Society for American Baseball Research's local chapter, and being in Cooperstown allows him easy access to the Hall of Fame's library. That's where he researches the book he's writing about the oddity of 1981, when the players' strike from June to August split the season in two and created first-half and second-half champions.
In a previous book, Katz examined the 13-year existence of the Kansas City A's, when the franchise, in many experts' view, was exploited by the New York Yankees before being sold and decamping for Oakland.
Growing up in the Canarsie neighborhood of Brooklyn, Katz was a diehard New York Mets fan. Idelson, a native of the Boston suburb of Newton, worked in public relations for his hometown Red Sox before taking a similar position with the Yankees.
Now in his 20th year of working for the Hall of Fame and his sixth as its president, Idelson takes the diplomatic stance that "you don't love an individual [player] or an individual team — you love the game."
The numbers likely to arrive for this weekend's festivities — Idelson expects "one of our largest" crowds ever — prompted Katz and the board to decide to close Main Street to vehicles. That was last done in 2007, when the induction of Baltimore Orioles infielder Cal Ripken drew a record crowd of 82,000.
"Every mayor, every board, has understood the importance of the Hall of Fame in the village," Katz said. "We certainly do everything we can to accommodate the hall's needs."
Speaking of Idelson, he added, "And because we've been friends for almost 11 years now, there is a comfort level. I think there is an extra level of cooperation because of the nature of our friendship."