Minnesota's junior senator and his wife, Franni, visited the Jewish state and Palestinian Territories in February
By MORDECAI SPECKTOR
In late February, Al Franken made his first senatorial visit to Israel. In the course of a busy week, Franken met with Israeli Prime Minister Benjamin Netanyahu and Palestinian National Authority Prime Minister Salam Fayyad.
"We had a wonderful time… I had a packed schedule," Franken told the AJW, during a recent telephone interview from his office in Washington, D.C.
The trip was organized by the American Israel Education Foundation, which works in support of AIPAC, the American Israel Public Affairs Committee.
Franken traveled with his wife, Franni, and Ben Olinsky, his legislative director.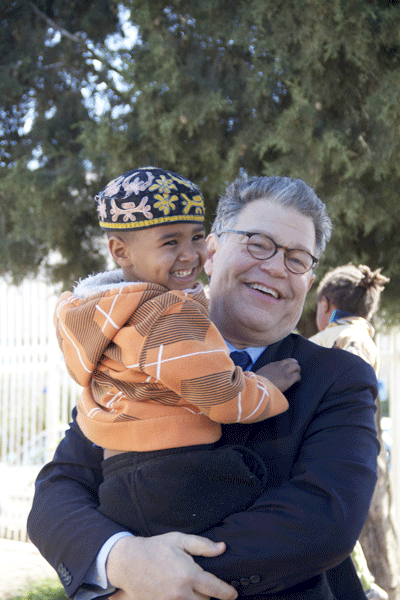 Al Franken made friends with a young Israeli on the playground at an absorption center for Ethiopian Jews. (Photo: Courtesy of Sen. Al Franken)
Among the highlights of the trip were a visit to Minnesota-based Medtronic's facility in Herzliya; talks with Knesset members Benny Begin and Isaac Herzog, and Supreme Court Justice Elyakim Rubinstein; a tour of an absorption center for Ethiopian Jews; and visits to Israeli firms pioneering new energy efficient technologies, including Better Place, which is developing the infrastructure for battery-powered cars.
On his first evening in Israel, Franken had dinner with David Horovitz, the former editor of the Jerusalem Post, who now edits the online news site The Times of Israel. Horovitz framed some of current issues for the visiting senator.
Franken's hour-long discussion with Netanyahu ranged over the Israeli-Palestinian peace process; the course of the uprisings in North Africa and the Middle East referred to as the "Arab Spring"; and "of course, about Iran."
Attending the meeting with the Israeli premier, and some of his aides, and the Frankens, were Mark and Amy Rotenberg, AIPAC activists from Minneapolis.
"The next day we had lunch with Fayyad, and the Rotenbergs' daughter, Ariella — she's going to Harvard, and she's taking her junior half-year abroad, and studying Arabic at Hebrew University [in Jerusalem] — came to lunch with us in Ramallah," Franken recalled.
Ariella Rotenberg conversed, in Arabic, with the Palestinian premier, which was "pretty impressive," according to Franken.
The senator also was favorably impressed with the Palestinian leader, who has been directing an economic resurgence in the West Bank.
"I would like to see Fayyad do well politically," Franken commented. "Both Netanyahu and he were agreeing that the peace process seems stalled for now."
In a period of no movement toward a negotiated peace, Franken said that Fayyad is focused "on using that time to develop economically and to develop civil institutions to make the Palestinian Authority, to make the West Bank ready to be a state."
Franken said that Israeli officials, and knowledgeable political observers who he met, said that Israelis — about "80 percent" of the citizenry — support the two-state formula for a negotiated peace deal.
"While things are stalled for now, there does seems to be, with all the complexities and all the problems, some hope there," he concluded.
Pressed about the sticking points in realizing the goals of the Oslo peace accords, which were signed on the White House lawn in 1993, nearly 19 years ago, Franken pointed to the specific problem of the recent reconciliation between Fatah, which controls the West Bank, and Hamas, the Palestinian Islamist faction that controls the Gaza Strip.
Bringing Hamas into a unified Palestinian political entity is "certainly unacceptable," said Franken, "unless Hamas accepts the basic conditions of Oslo… recognition of Israel as a Jewish state and renunciation of terrorism."
The senator had hoped to meet with Mahmoud Abbas, the Palestinian president, but it didn't happen.
A looming confrontation between Israel and Iran has dominated the Middle East discourse lately, as well as the recent AIPAC gathering in Washington, where both President Obama and Netanyahu delivered speeches.
In the days before Franken met with Netanyahu, a parade of U.S. administration officials and members of Congress met with the Israeli premier.
Franken acknowledged that there is a discussion between U.S. and Israeli officials over "timeframes" related to the progress of Iran's uranium enrichment program — and the use of military means to forestall the possibility of an Iranian nuclear weapon.
In mid-February a group of U.S. senators, led by Joe Lieberman, I-Conn., and Lindsay Graham, R-So. Carolina, introduced a resolution that urges the U.S. government essentially to take a position closer to that of Israel, regarding establishing a red line at Iran's capability to produce a nuclear weapon (3-2-12 AJW).
Franken said that he has not signed the nonbinding resolution. He mentioned that there is an important distinction to be made between Iran actually building a nuclear weapon, and enriching uranium and developing the capability to build a bomb.
The U.S. strategy, according to Franken, is to maintain the economic sanctions, which are putting pressure on the Iranian regime and "to give enough time for diplomacy to work."
Speculation has been rife about an imminent Israeli military strike on Iranian nuclear facilities.
Asked if he inquired about Netanyahu's plan to attack Iran, Franken replied, "He didn't tell me the day that he was thinking of, no. I didn't feel like it was my role in the meeting to ask him what his plans were. I didn't think he would tell me."
Franken mentioned that Netanyahu had been in meetings recently with Thomas Donilon, the Obama administration's national security advisor, and "looked a little tired."
The senator has been known for his attention to health care, telecom and banking issues; but his recent trip to Israel should spur his interest in the Middle East, where political unrest in several countries has spun out of control lately.
Franken said that he "really had a great time" meeting and dining with a range of Israelis. The Frankens attended a Saturday morning Shabbat service at Congregation Kol Haneshama, the renowned Reform shul in Jerusalem, and had dinner at the home of Rabbi Levi Weiman-Kelman and his wife, documentary filmmaker Paula Weiman-Kelman. Also attending the diner was "Sarah Silverman's sister," Rabbi Susan Silverman, and her husband, Yossi Abramowitz, president of Arava Power Company, a solar energy firm.
Touring Yad Vashem, especially the memorial to the one and half million children murdered in the Shoah, was "so overwhelming," he commented. And that was followed by a visit to an absorption center for Ethiopian Jews, where the Frankens were delighted by the curious and friendly small children on the playground.
"It was just fun," Franken summed up. "And I gained a couple pounds, I think."