Daniel Lincoln, a keyboards player in The Wizard of Oz orchestra, feels he's 'the luckiest kid in show business'
By MORDECAI SPECKTOR
Daniel Lincoln, a Jewish actor and musician from Los Angeles, is in St. Paul with the first American national tour of Andrew Lloyd Webber's The Wizard of Oz. He plays keyboards in the orchestra and also serves as the band tech, the technical supervisor of all the musical equipment used by the orchestra. "It's a very high-tech pit," he says.
During an interview with the AJW from Los Angeles, Lincoln mentions the moment that he was "bitten by the show business bug" as a child. It was a musical.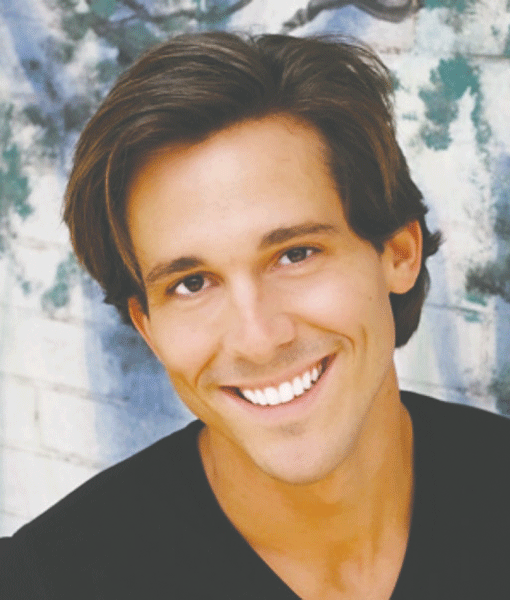 "It was another Andrew Lloyd Webber show," Lincoln recalls. "It was Phantom of the Opera. I remember sitting in the audience, and the grandeur and the majesty of the music, and, of course, the stage magic that was happening, I realized, I want to do that. I want to be a part of that."
So, Lincoln remarks that he has "come full circle," and is part of an Andrew Lloyd Webber musical, "because he was the one who made me fall in love with this art form to begin with."

Andrew Lloyd Webber's The Wizard of Oz plays at the Ordway in St. Paul through Dec. 29.
The production is based on the classic 1939 Metro-Goldwyn-Mayer film, with some additional music.
"I like to think of it as the movie 'plus'; because it's all the original Harold Arlen tunes that we know and love," says Lincoln. "It's the same story, it's the same characters. But things have now been fleshed out. There are two new songs for the Wizard; a song for the Wicked Witch; and a new anthem for Glinda and the residents of Oz at the end of the show, when Dorothy has her realization that there's no place like home."
Lincoln adds, "The new music is truly quite extraordinary and beautiful. And it's Andrew Lloyd Webber — the man knows his way around a catchy tune."
And not to worry, "Over the Rainbow" is still in the mix. "We wouldn't dare do The Wizard of Oz without 'Over the Rainbow,'" Lincoln says emphatically.
In fact, MGM tried to cut "Over the Rainbow" from the 1939 film, because they thought it made the Kansas sequence too long. Some of the producers and director Victor Fleming fought to keep the signature song in the movie; it went on to the win the Academy Award for Best Song of the Year.
In addition to the previously mentioned Harold Arlen, the composer, E.Y. "Yip" Harburg wrote the lyrics for the memorable songs in The Wizard of Oz. The Jewish songwriting team of Arlen and Harburg holds an indelible place in the Great American Songbook.
The 29-year-old musician will be on the road for a year with this production. The national tour launched at the end of August, with a three-week run at the Pantages Theater in Los Angeles. The Wizard then traveled to Seattle, San Francisco and Vancouver, British Columbia.
"And now we are very excited to come to St. Paul and get to enjoy a nice white Christmas with you all," Lincoln says.
(Just a reminder: You don't have to be Jewish to read the American Jewish World.)
Actually, Lincoln credits his "Jewish background" for his musical theater career. "My grandfather was a professional opera singer and my grandmother was a concert pianist. For many years they were the cantor and organist at Temple Isaiah," a Reform shul in west Los Angeles.
"It was because of them and the community around the temple — and what a rich musical community it was — that music was brought into my life at an early age," he says.
"I grew up in Los Angeles, but at the age of 22, I moved to New York to do the Broadway thing," adds Lincoln.
The young musician, who also has taught at New York University and the New York Film Academy, cannot conceal his delight with being part of the traveling show.
"All of us who are part of this company truly believe that we are the luckiest kids in show business," he comments toward the end of our phone chat. "Because there's so much joy in the production and also in the company; and what's a thrill is that every night we get to share that joy with our audience, and a large percentage of that audience tends to be children. So we could very well be changing children's lives every night we go out there and perform; because all of us who are in the theater, we remember that moment when we were bitten by the show business bug as a child…. It's so incredibly fulfilling to know that we have the opportunity to do that for children all around the country this year."
And why is The Wizard of Oz different from all other shows?
"Unlike any show I've ever done, at the end of the curtain call, when the orchestra plays the exit music, the orchestra rail fills with children," Lincoln concludes. "They want to come up and watch the orchestra play. And to see the awe and wonder in their eyes, and then hearing the questions that they ask us afterwards, about how long we've been playing, and how we get to do this — what other job do you get to have where you not only share your joy with others, but also profoundly affect the lives of kids around the country?"
***
Andrew Lloyd Webber's The Wizard of Oz. runs through Dec. 29 at the Ordway Center for the Performing Arts, 345 Washington St., St. Paul. For tickets, go to: ordway.org, or call the Ordway Ticket Office at 651-224-4222.
(American Jewish World 12.6.13)