By MORDECAI SPECKTOR
Richard J. Schwartz, who was hired in July 2018 as the cantor for Bet Shalom Congregation in Minnetonka, has bounced around a bit over the years.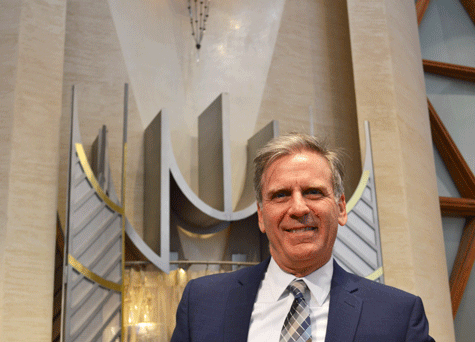 The native of Far Rockaway, N.Y., came to our cold climes after 30 years in California. Schwartz, 58, has been a cantor for 25 years; however, he set out to be a singer-songwriter.
After graduating, in 1984, from the University of Massachusetts-Amherst, Schwartz spent a year living in Germany and busking on the streets of Munich. The New York native from an Orthodox Jewish home performed Israeli and Yiddish songs in the Bavarian capital. He also was drawn to the German Jewish community and to the shlichim, the Israel emissaries there. He spent one weekend as a song leader at a Jewish youth camp.
"I somehow was drawn to German culture… out of curiosity, and because I was challenged by the rigidity, or some of the aspects of the Orthodox background I had," he commented, during an interview earlier this month with the Jewish World at Bet Shalom. By going to Germany, Schwartz overcame his earlier aversion to the Germany of the Nazi era.
After Germany, Schwartz traveled to Los Angeles with the idea of pursuing a career as a singer-songwriter. He'd been playing guitar since his teenage years and was a fan of American pop music. At the same time, his traditional Jewish background exerted a pull. "It was always a touchstone for me."
Schwartz began to study for the cantorate under the auspices of Cantor William Sharlin, "one of the important teachers of cantors" on the West Coast. In 2011, Schwartz completed a master's degree in education, and a bachelor's degree in Hebrew letters at American Jewish University. On a separate track, Schwartz completed a three-year program of study to gain certification as a cantor.
"I was working in L.A. for different congregations," he commented, and mentioned that another "really important influence" in his career was the Institute for Jewish Spirituality (jewishspirituality.org), a retreat-based program that incorporates meditation and yoga. (Schwartz mentioned that he has been doing yoga for 20 years.)
"It was created to support clergy in deepening their spiritual lives, so that they can better serve their communities. It's an important contribution to the Jewish world," said Schwartz, about the institute, which is popular among a number of other local cantors and rabbis.
Schwartz lives with his wife, Lily, and daughter, Lyric, a senior at Southwest High School, in the Linden Hills neighborhood of Minneapolis.
The sandy-haired cantor has worked in both Reform and Conservative congregations. He came to Bet Shalom from a cantorial post at Temple Beth David in California's San Gabriel Valley, not too far from Disneyland.
As snow steadily fell outside of his study windows, Schwartz made a point of saying "how happy" he was to be at Bet Shalom, "to be part of a community and a leadership that embodies values that are really important to me." He mentioned the "kindness" that he's found at the suburban reform shul. "There's a level of compassion that pervades, and a commitment to excellence, also a true commitment to an inclusive Judaism that provides for families of mixed faith."
He mentioned his enjoyment in working with the Bet Shalom choir and Senior Rabbi David Locketz, and gave a shout-out to Rabbi Emeritus Norman Cohen, "and the people who formed [the congregation] who were very passionate about creating this thriving community here." He also mentioned his debt to his predecessor, the late Cantor Sarah Lipsett-Allison, who advocated for a full-time cantorial position at Bet Shalom.
After I had asked my mundane questions, Schwartz added, "What excites me most about Judaism are the aspects that are spiritual and the aspects that are creative."
Asked to clarify his terms, he explained, "In the realm of music, when I learn an interpretation of a prayer musically, the spirit of imagination and creativity that elevates a text or transforms an understanding, that excites me, that's what enlivens me as a Jew and as a musician."
He continued, "Judaism is a creative enterprise in many ways: the legends, the midrashim, the musical languages… even the laws and the structures of Judaism were created by people who were inspired, perhaps you could say, divinely, through the imagination.
"A midrash is a great example: you're looking at a text and someone is using their imagination to develop a story that helps to explain what that is. Similarly, the prayers, the liturgy… they're all products of the human imagination."
Members of the clergy and congregants are all "part of that creative narrative," according to Schwartz. "We're reenacting… in terms of our rituals, what someone else created, and we're drawing energy and a sense of belonging from that. And the future of Judaism will continue to express human imagination and creativity… People continue to create texts and settings and musical endeavors — that's the expression of God through the imagination, within a Jewish context that honors and is aware of the Jewish tradition that precedes it and adds to the treasure trove of Judaism."
(American Jewish World 2.22.19)