Mohammed bin Salman, the recently minted Saudi crown prince, has placed his rivals under house arrest
By RON KAMPEAS
WASHINGTON (JTA) — What is MBS? Why did Lebanon's prime minister resign — and why in Saudi Arabia? What's Palestinian Authority President Mahmoud Abbas doing in Saudi Arabia? Where is Jared Kushner in all this?
And what does it all mean for Israel?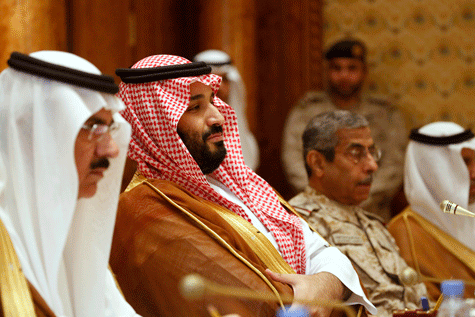 It's been a busy week in the Middle East and, for a change, the two ground-shifting stories — they may be the same story, but we'll get to that — don't directly involve Israel.
Mohammed bin Salman (the MBS contraction is so cool, it's already uncool), the recently minted Saudi crown prince, has placed a stack of his rivals under luxuriant house arrest, and Saad Hariri, the prime minister of Lebanon, has resigned, saying the country was ungovernable as long as Iran interfered in its affairs.
But of course Israel is involved: When does something happen in the Middle East that does not eventually involve Israel?
What happened, Part 1
Mohammed, 32, was named crown prince by his father, King Salman, in June. That in itself was an upheaval, as succession had been an opaque, delicate process aimed at preserving balance among the welter of descendants of the kingdom's founder, Abdulaziz. Salman's declaration that his son would succeed him rattled the extended family.
Already the defense minister since 2015, Crown Prince Mohammed moved quickly to make clear he was in charge (his father is ailing). He placed his predecessor as crown prince under house arrest, talked repeatedly about modernizing the kingdom and made good on a promise when his father decreed that women may drive.
This weekend he rounded up another 11 princes and dozens of other high-ranking officials and placed them under house arrest, many in Riyadh's Ritz Carlton. Officially, father and son were cracking down on corruption.
What happened, Part 2
Guess who else was in Riyadh? Hariri, the Saudi-backed prime minister of Lebanon. Former prime minister, that is. He said he was quitting because Iran is controlling the country through its proxy, Hezbollah, and that he feared for his life.
Hezbollah controls a militia that dwarfs the Lebanese army in firepower, and effectively has had a veto on all things Lebanon for decades. And it is widely believed to be behind the 2005 killing of Hariri's father, Rafik, who also was a prime minister.
So why quit now?
This may be the same story.
Crown Prince Mohammed has, since becoming defense minister in 2015, been behind an aggressive Saudi bid to reassert dominance in the region in the face of an increasingly assertive Iran. He is driving Saudi Arabia's war with Iran-backed Houthi rebels in Yemen. Pulling Hariri out of Lebanon is a piece with a broader strategy of keeping Iran teetering.
As he guides Saudi Arabia into bolder confrontations with Iran in the region, the crown prince may feel he needs to consolidate his power at home.
"MBS has taken a very assertive approach to Saudi foreign policy," said Tamara Cofman Wittes, a senior fellow at the Center for Middle East Policy at the Brookings Institution. "It's happening simultaneously with his efforts to consolidate internal control."

So, Saudi Arabia confronting Iran — good for Israel, right?
The Israeli government seems to think so. Ron Dermer, its ambassador to Washington, told the Israeli American Council on Monday that he was "more optimistic now because I see a change in the region."
Dermer was not referring directly to the events of the weekend but to broader changes. Still, it was significant that he delivered what has now become a familiar message from Prime Minister Benjamin Netanyahu after Hariri's resignation and the Riyadh crackdown.
"The Arab governments are in a different place than they were five years ago, certainly 10 years or 15 years ago, because they see our interests as being aligned with theirs," Jewish Insider quoted Dermer as saying. "Many things are happening underneath the surface, many remarkable things."
Israel's Channel 10 news quoted an Israeli Foreign Ministry cable to diplomats that listed pro-Saudi talking points on Hariri's resignation and on the kingdom's intervention in Yemen.
Jonathan Schanzer, the vice president of the Foundation for Defense of Democracies, said the Netanyahu government was seizing an obvious opportunity.
Hariri's resignation "is just one more indicator of a possible regional architecture that could be built between the Sunni states and Israel," he said. "If MBS succeeds in creating a modern Saudi Arabia, one can imagine a Saudi Arabia somewhere down the line where Israel and Saudi Arabia could have open ties."
Schanzer cautioned, however, "But we are in very early days."
Nimrod Novik, a former Israeli peace negotiator, said Saudi Arabia's sudden summoning of Abbas was another positive sign signaling Crown Prince Mohammed's moderating tilt.
Novik, who is now the Israel Fellow of the Israel Policy Forum, said it was significant that the summons came a week or so after a quiet visit to Saudi Arabia by Kushner, President Donald Trump's son-in-law and senior adviser. The Trump administration wants Abbas to reassert control of the Gaza Strip, which is controlled by Hamas.
Saudi Arabia, working with other Sunni moderates in Egypt, the United Arab Emirates and Jordan, is pressing Abbas to take the necessary risks by offering him a "bulletproof vest," as Novik put it — a change from previous years when the Saudi tendency was to offer only qualified backing for Israeli-Palestinian peace moves.
"I would have loved to have been a fly on the wall" in Riyadh, he said.
Let's not get carried away.
There are lots of risks for Israel in the recent upheaval.
Daniel Shapiro, a former U.S. ambassador there who is now a fellow at the Institute for National Security Studies in Israel, said Israel should be wary of being drawn into a war with Hezbollah — one that would damage Hezbollah, a key goal of Crown Prince Mohammed, but one that would cost Saudi Arabia little and Israel plenty.
"Israel and Saudi Arabia may be strategically aligned" in seeking to contain Iran, Shapiro said, "but they are not tactically aligned."
He said Hezbollah may take the bait, as it suffers from a blow to its ambitions to be a Lebanese unifier.
"It may accelerate the confrontation Hezbollah already wants with Israel because [war with Israel] would be a unifying event" for the Lebanese, Shapiro said.
And whatever Netanyahu says, a temporary tactical alliance does not mean long-term peace benefits, said two Persian Gulf scholars with the Washington Institute for Near East Policy, Simon Henderson and Lori Plotkin Boghardt.
Boghardt said the Saudis may be coordinating with Israel behind the scenes, but there are not yet incentives to make the relationship open. Henderson, joining her in a conference call for reporters, said there remained plenty of disincentives, preeminently popular opinion, noting the hostile reception for Israeli athletes at a judo competition in Abu Dhabi.
"That's an indication of the difficulty of selling a pro-Israeli policy to these people," Henderson said.
What about Jared?
Kushner said his visit to Saudi Arabia was simply to advance Israeli-Palestinian peace. Accompanying him to Riyadh was Jason Greenblatt, whose mission is brokering the peace. Greenblatt continued on to Israel and the Palestinian areas.
Iran prefers to see a conspiracy. Javad Zarif, its foreign minister, said on Twitter that Kushner's visit "led to Hariri's bizarre resignation while abroad."
That was the buzz in Washington as well.
David Ignatius, the Washington Post columnist known for his deep sources in the U.S. intelligence community, wrote after the events in Riyadh that it "was probably no accident that last month, Jared Kushner, Trump's senior adviser and son-in-law, made a personal visit to Riyadh. The two princes are said to have stayed up until nearly 4 a.m. several nights, swapping stories and planning strategy."
Trump may have boosted the conspiracy theories late Monday when he tweeted his support for Crown Prince Mohammed's crackdown.
"I have great confidence in King Salman and the Crown Prince of Saudi Arabia, they know exactly what they are doing," he said on Twitter.
The Brookings Institution's Wittes said that if anything, MBS was taking cues not from Kushner or anyone else in the Trump administration, but instead is filling a vacuum created from what at times has seemed to be a rudderless U.S. foreign policy.
"The U.S. government is not putting anything on the table," she said. "In the absence of that, what you're seeing is Israel and Saudi Arabia trying to pull the United States into the region."